On 27.06.2018, under a cloudy sky, Rail Cargo Logistics Goldair (RCLG) presented the first locomotive branded in its corporate colours. The designated 220 032 is now completely red. In September, RCLG wants to start regular mainline traffic in Greece, making it the first open-access operator active in Greece. Time to learn more about these plans.
Text and photos by Nick Fotis
Update 30.06.2018: From Thessaloniki to Strimonas by Chris Mavropoulos
RCLG is a joint venture of Rail Cargo Group (part of ÖBB) and Goldair Group. The Adtranz DE2000 locomotive no. 220 032 has been dressed in vinyls and was presented to the press during an event at the Sindos industrial park, located nearly 14 kilometer west of Thessaloniki by rail. The park has multiple rail spurs connecting various industries with the Thessaloniki rail yard. Initially, so is expected, the 032 will be used for transfer services between these two locations.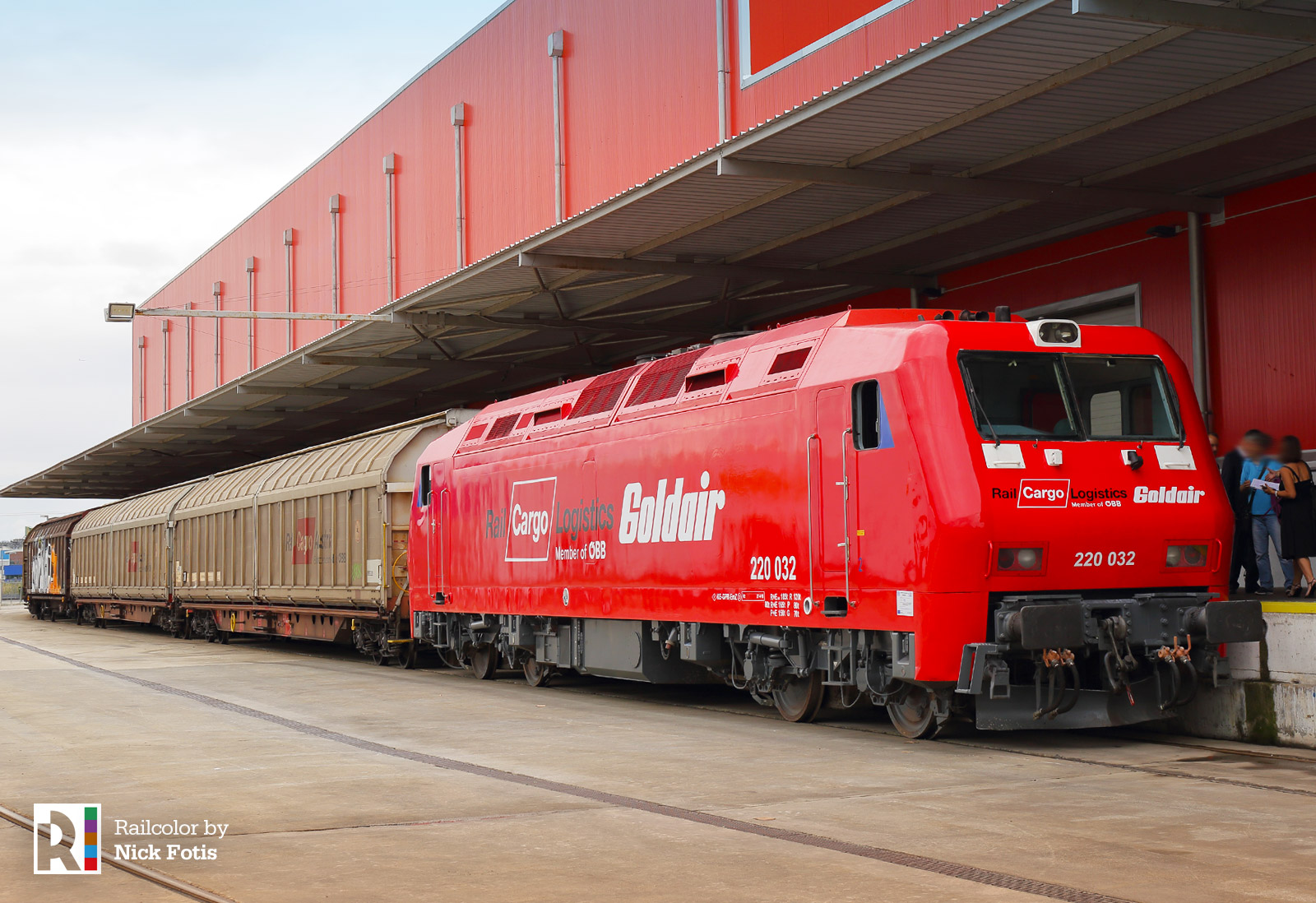 Four locomotives to start with
The demonstration train seen during the presentation should be followed by regular mainline traffic in September, both hauled by diesel and electric locomotives leased via GAIAOSE – that should be two Adtranz DE2000 diesels and two Siemens "Hellasprinter" electrics in the initial phase of commercial operation. GAIAOSE is the state owned company for rolling stock and property management.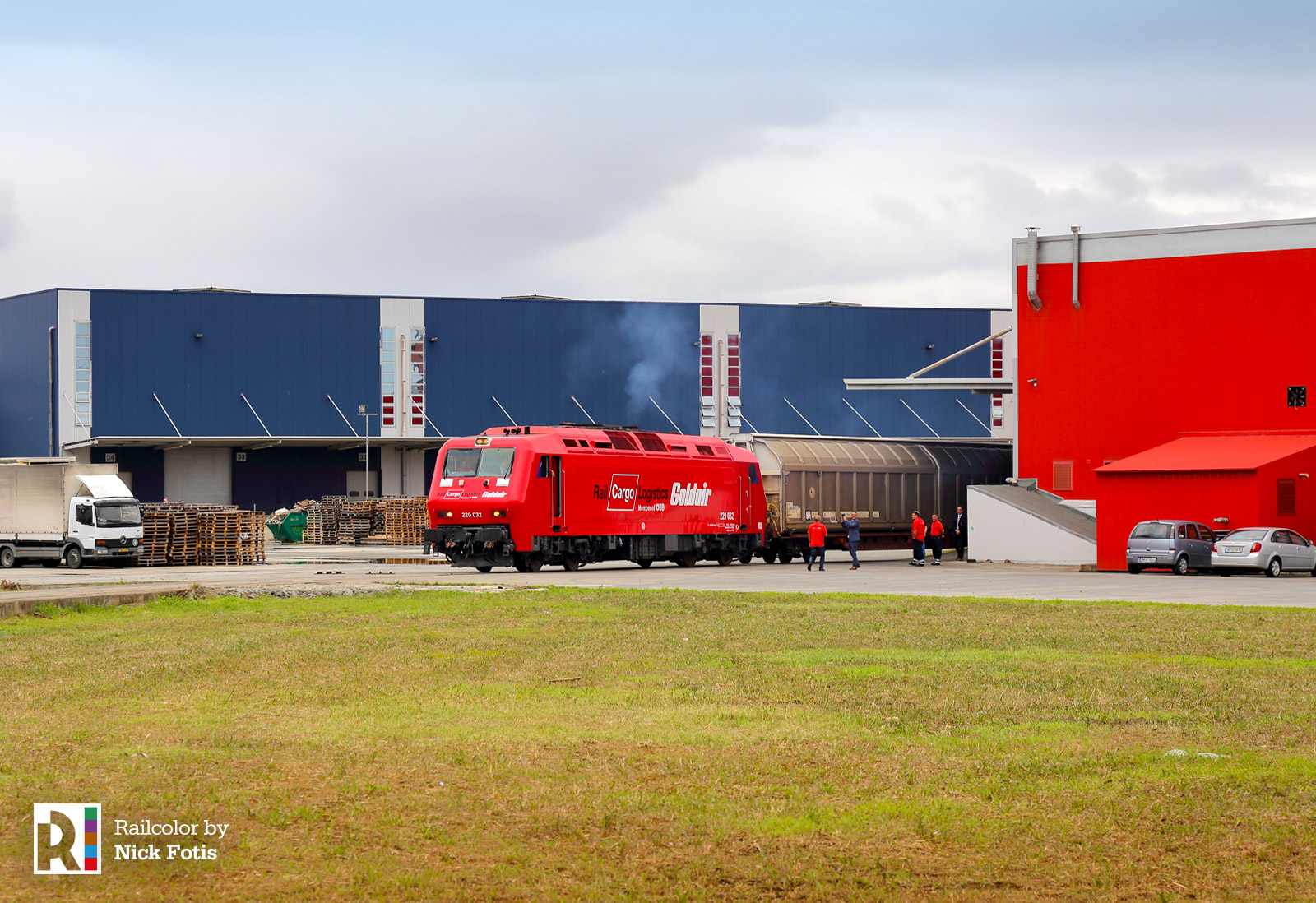 A 20 million euro investment plan
Besides transport minister Chrístos Spírtzis, the event was attended by the chairman of OSE (network manager) George Kakoulákis, Austrian ambassador Andrea Ikic-Boehm, the chairwoman of Regulator Authority for Railways Joanna Tsiaparíkou, and the CEO of GAIAOSE Athanásios Schízas.
The executive vice president of Goldair Group, Kallínikos Kallínikos, has mentioned that the investment has already surpassed 3.5 million euro, with the business plan calling for a total investment of 20 million euro, including investing in their own locomotives in the future.
Sindos and Thriássio industrial park
The logistics facilities in Sindos – built by Express Interfracht, a subsidiary of Rail Cargo Group – covers an area of around 5.000 sq.m.. There is also the 70.000 sq.m. Thriássio logistics complex concession in Attica, awarded to the same group, giving access to the two biggest conurbations in Greece. RCLG is optimistic about the opportunities of rail freight in Greece, citing the current very low modal share – 1.5% of land transport.
The open access operators in Greece
Recently Makiós Logistics from Thessaloniki has become the fourth company to possess an operator license for Greece, after TRAINOSE, RCLG, and Piraeus Europe Asia Rail Logistics (PEARL). There are rumors that Romanian operator GFR is preparing to enter the Greek market soon.