Welcome! Every week we bring you the latest news on new electric locomotives being built in Europe. New liveries and remarkable operator changes are also mentioned. Enjoy! Oh, do you have comments or questions, contact us here! When you want to receive an email every time we publish this item, you can subscribe to our mail list here.
All the new electric locomotives coming in 2018 – an overview
Have you already read our special article about the locomotives the EU industry is to delivered this year? We have collected all publicly known orders and made an overview. Click the graphic to read more: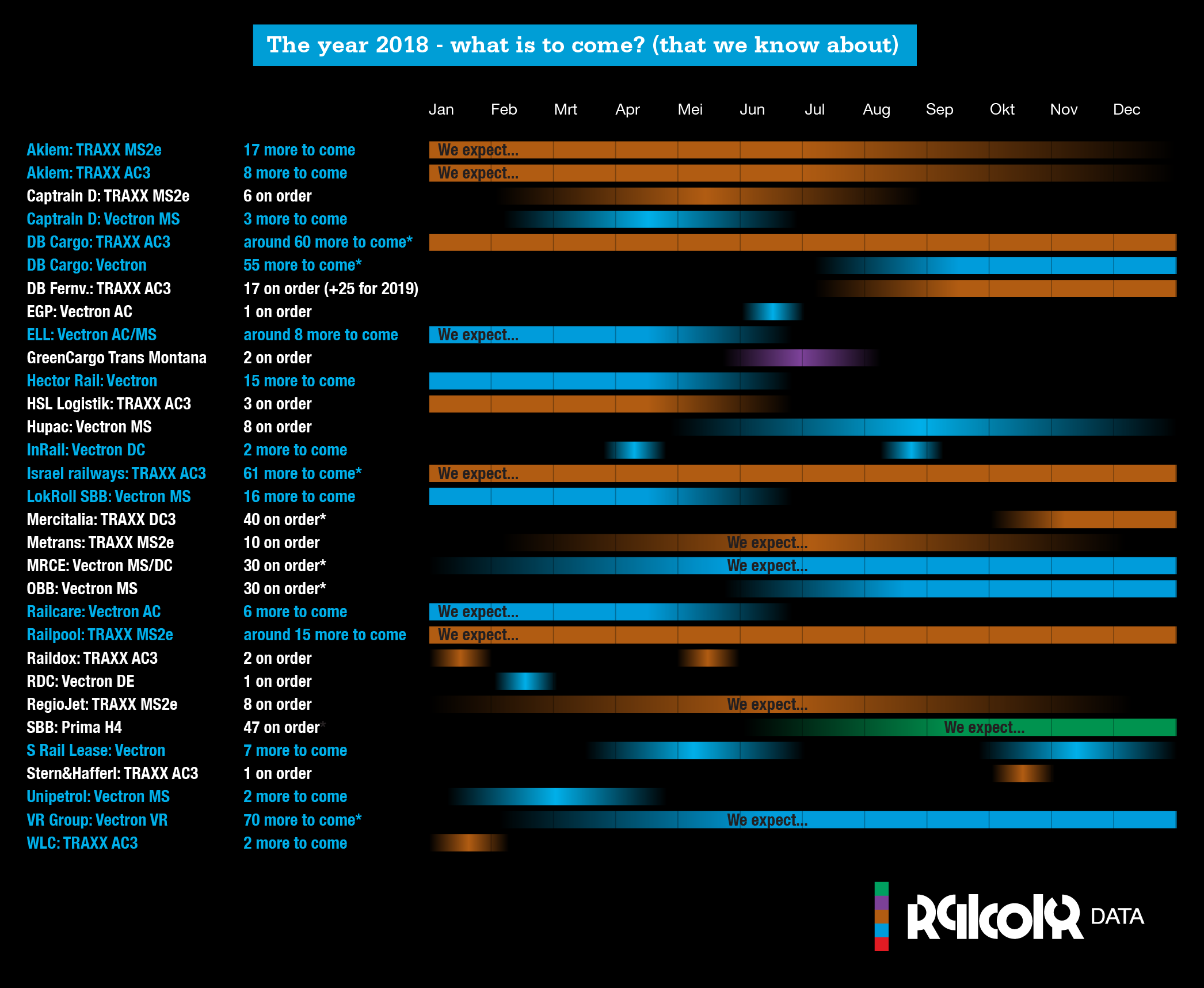 Railcolor short:
Railpool 186 102 has new logos: LTE logos
ÖBB 1116 011 lost its Rail Cargo Hungaria stickers and is back in standard ÖBB livery
SNCB 1868 crashed into a truck on 16.01.2018
Lok-report reports: Green Cargo and DB Cargo to end cooperation in Scandinavia
ÖBB 1116 031 has been re-equipped, its package: DE/AT/HU/RO/BU + a 3th pantograph
Rail Cargo Austria is re-allocating 1016 040-050 to Germany (not 1116!)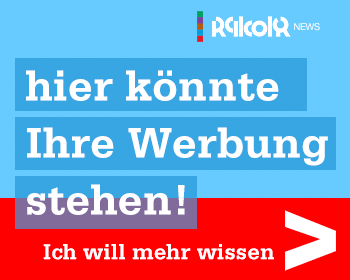 Akiem and mgw: Both blue Vectrons now hired to CTL Logistics
Last week, freight operator CTL Logistics started using both mgw Vectron locomotives: the designated 193 845 and 193 846. the fleet of CTL Logistics is currently changing. MRCE electrics are leaving, five new Akiem TRAXX AC3 locomotives have arrived. Three more should follow later.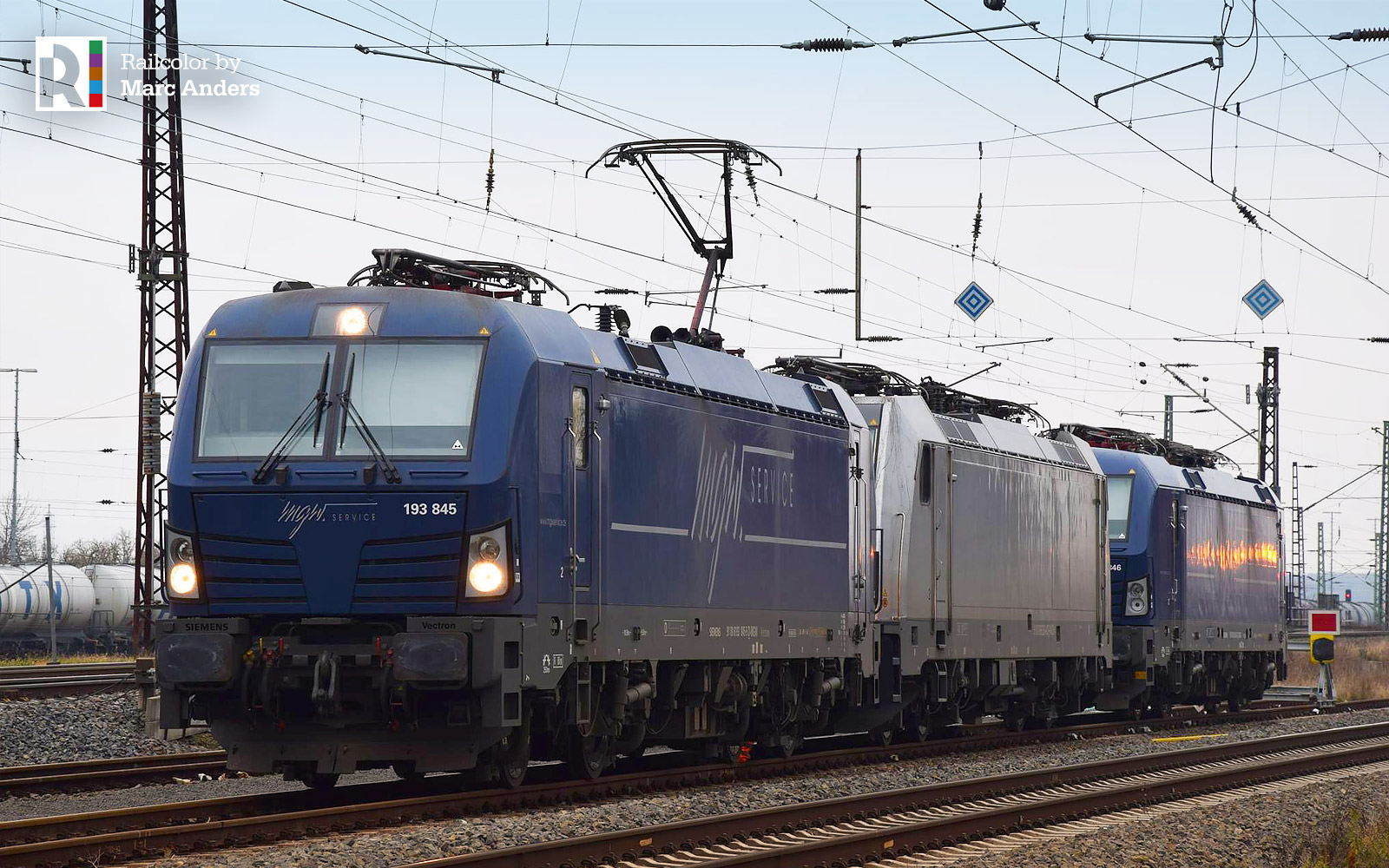 CD: driver training with Vectron in Germany
Everyone is eagerly awaiting the introduction of the Prague – Dresden – Berlin – Hamburg Eurocity service without changing locomotive in Dresden. The project is progressing, as we recorded various driver training runs with ELL Vectron locomotives during the past week.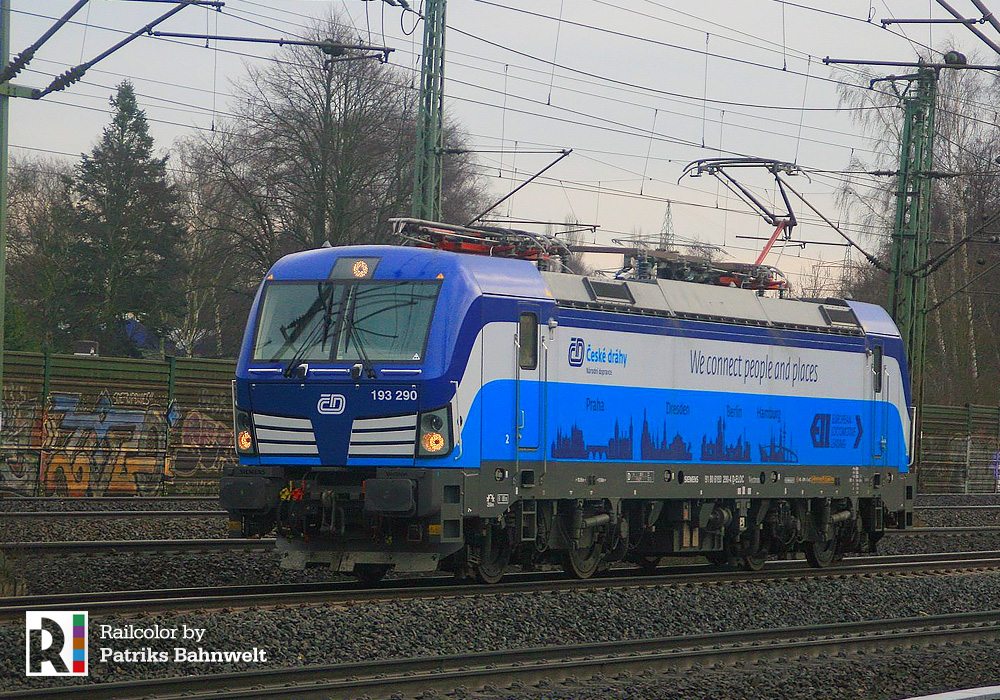 DB Cargo newest: 187 149 on maiden run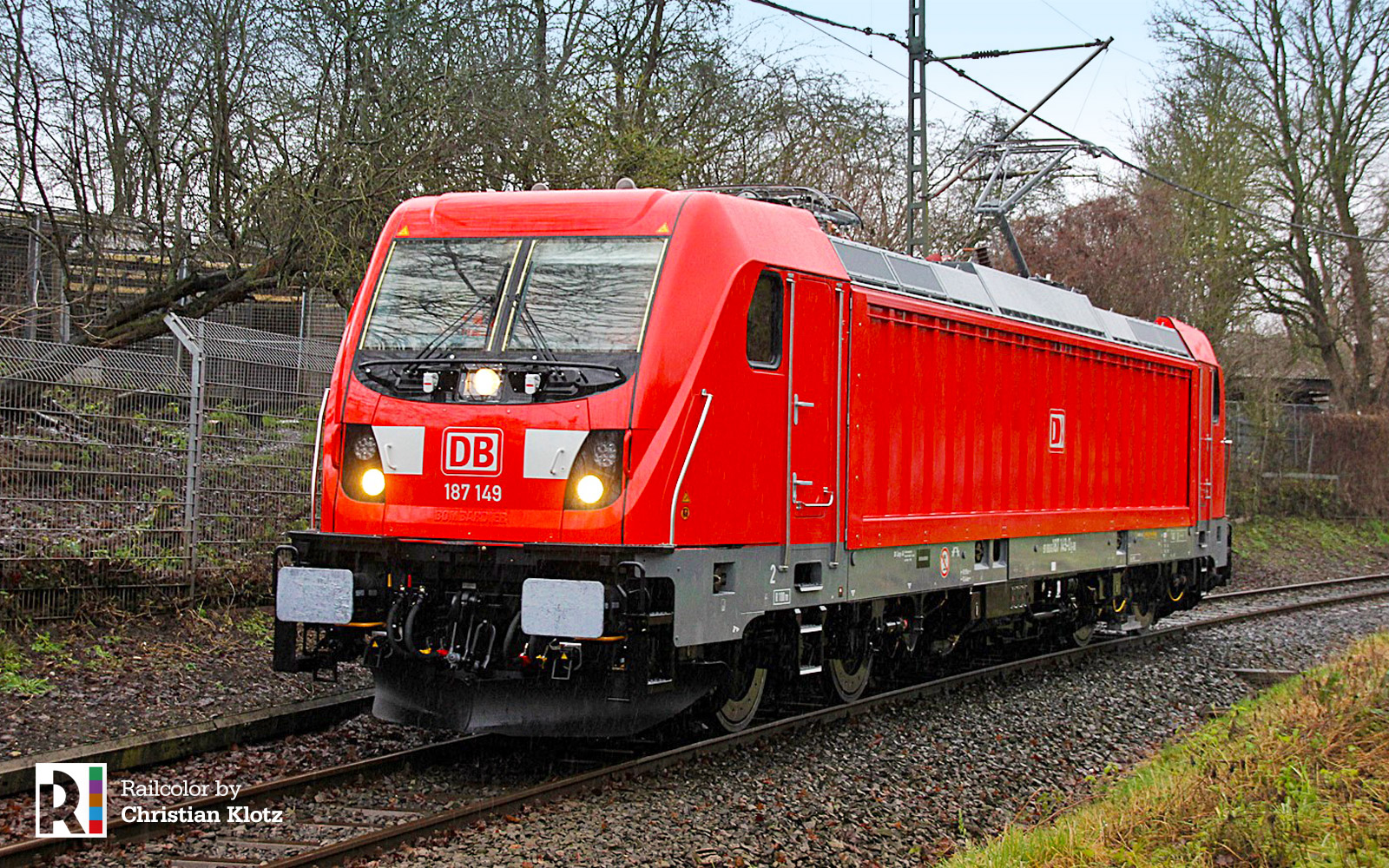 ELL: 193 232 for LTE is Vectron no.100
Tomorrow, ELL and LTE will officially present locomotive 193 232 in Vienna. It is Vectron locomotive no. 100 for lease company ELL and it now has special stickers also promoting freight operator LTE. The 232 is one of four locomotives in the fleet of ELL with the DE/AT/HU/PL/CZ/SK/RO/NL package (the others are 193 261-263) and these four machines are currently the only Vectron locomotives in use in the Netherlands. By the way, 193 232 is currently only officially certified for Germany, Austria and the Netherlands.
ELL has, as far as we know, 108 Vectron locomotives on order, of which almost all have been delivered now. Their numbers: 193 201-287, 289-299, 721, 724, 831 and 832, 102 machines in total.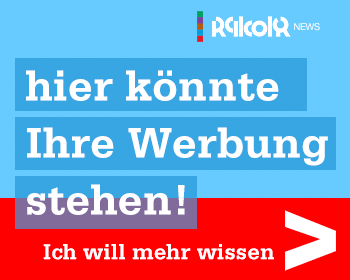 HSL Logistik: About 187 536 and 537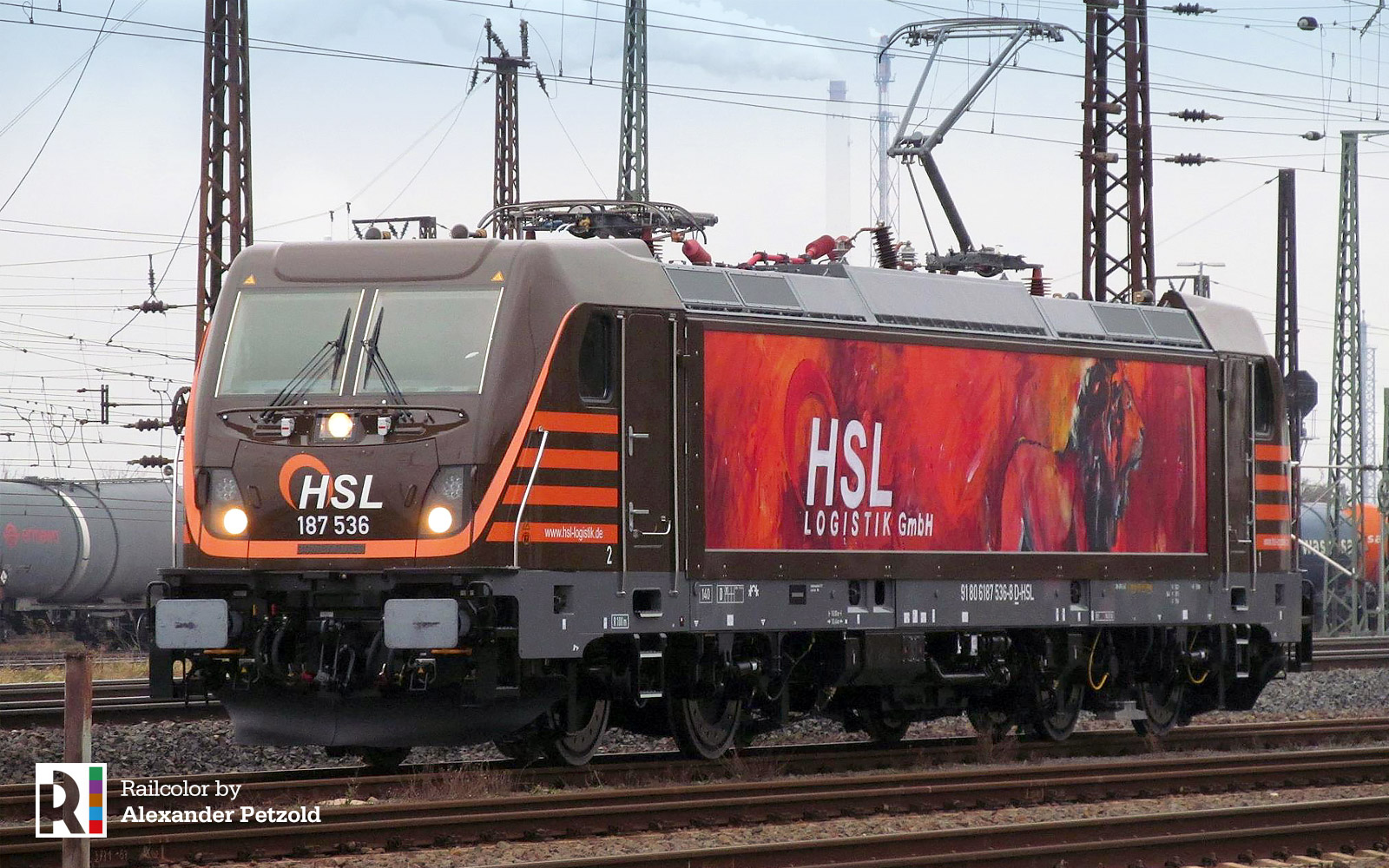 German rail freight operator now has two TRAXX AC3 locomotives (with DE/AT package) in its fleet. Last week we reported about the arrival of the 187 536, with a Flex Panel depicting a lion painted by Erwin Kastner. HSL Logistik has also released images of the 187 537 under construction in Kassel.
New contract awarded: Metronom is here to stay, until 2033
Good news for the fans of the yellow, white and blue passenger trains from the north: Landesnahverkehrsgesellschaft Niedersachsen mbH (LNVG) has awarded metronom GmbH with a new operating contract for the 'Hanse Netz' + the line Uelzen – Göttingen. Metronom had the best bid in the tender and won from various other interested operators. The contract covers all services on the following lines for the next 15 years, starting in December 2018:
RE2: Göttingen – Hannover – Uelzen
RE3: Hannover – Uelzen – Hamburg
RE4: Hamburg – Bremen
RB31: Hamburg – Lüneburg
RB41: Bremen – Hamburg
Metronom is already operating the trains on the lines mentioned since 2003. LNVG owns a considerable number TRAXX locomotives  and Bombardier Twindexx double deck cars, specially acquired for the contract. This rolling stock will be modernised, starting at the end of 2018. LNVG expects that this project will take around 4-5 years and cost several million euro. The coaches will get new/extra seats, wifi, USB connectors and power sockets. Places for disabled will be integrated into the interior and it will become possible to reserve a seat. The floors and lighting will be renewed and the cameras will be installed for extra safety. The trains will be repainted.
More details can be found on the website of LNVG under 'Pressemitteilungen'.
The LNVG TRAXX locomotive fleet:
And what about the diesel locomotives? True, LNVG also owns eight TRAXX DE locomotives, also operated by Metronom GmbH. These are used on the line Hamburg – Cuxhaven since 2007, but this will change. DB Regio will take over the contract in December 2018. It is planned to repaint the eight locomotives and the 38 Twindexx coaches in a different livery.
railCare: TRAXX is helping out [updated]
Currently, various Railpool TRAXX locomotives are being hired by railCare for pulling its 'wholesale trains'. We have recorded [update] 187 001/003 and 186 106/110/446/447/452/453/454. The photo below shows the latter on pulling a railCare train from Genève-La-Praille to Vufflens-la-Ville in Etoy on 06.01.2018.
Raildox takes delivery of second TRAXX AC3 electric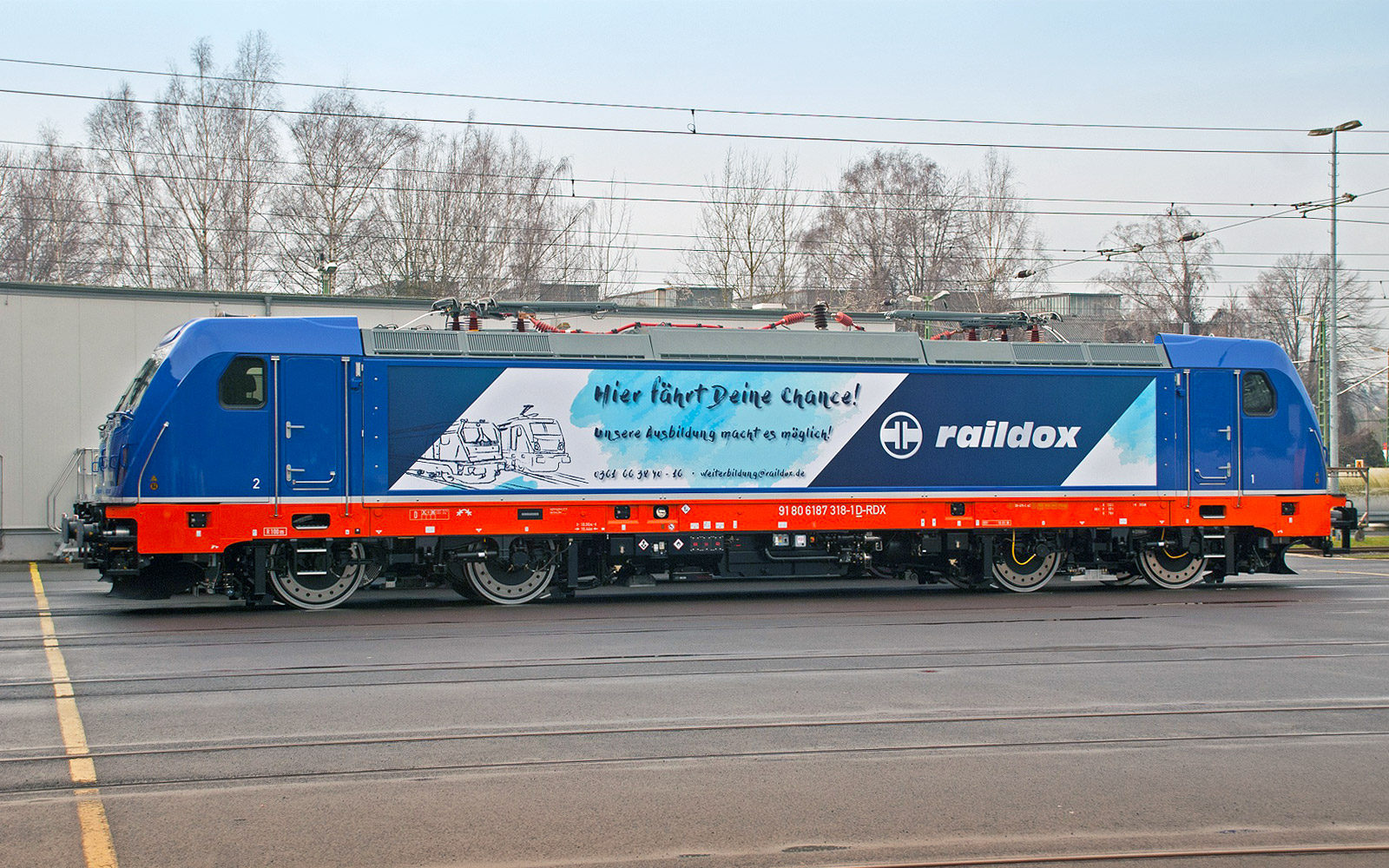 On 11.01.2018 Bombardier handed over the second TRAXX AC3 electric locomotive, with Last Mile dieseel shunting module, to Raildox. The designated 187 318 has the same country specific package as 187 317 that was delivered in 2017. This year also a third machine will be built.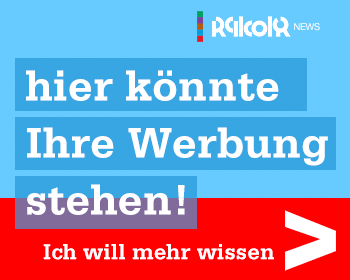 Railpool 186 258 in Rotterdam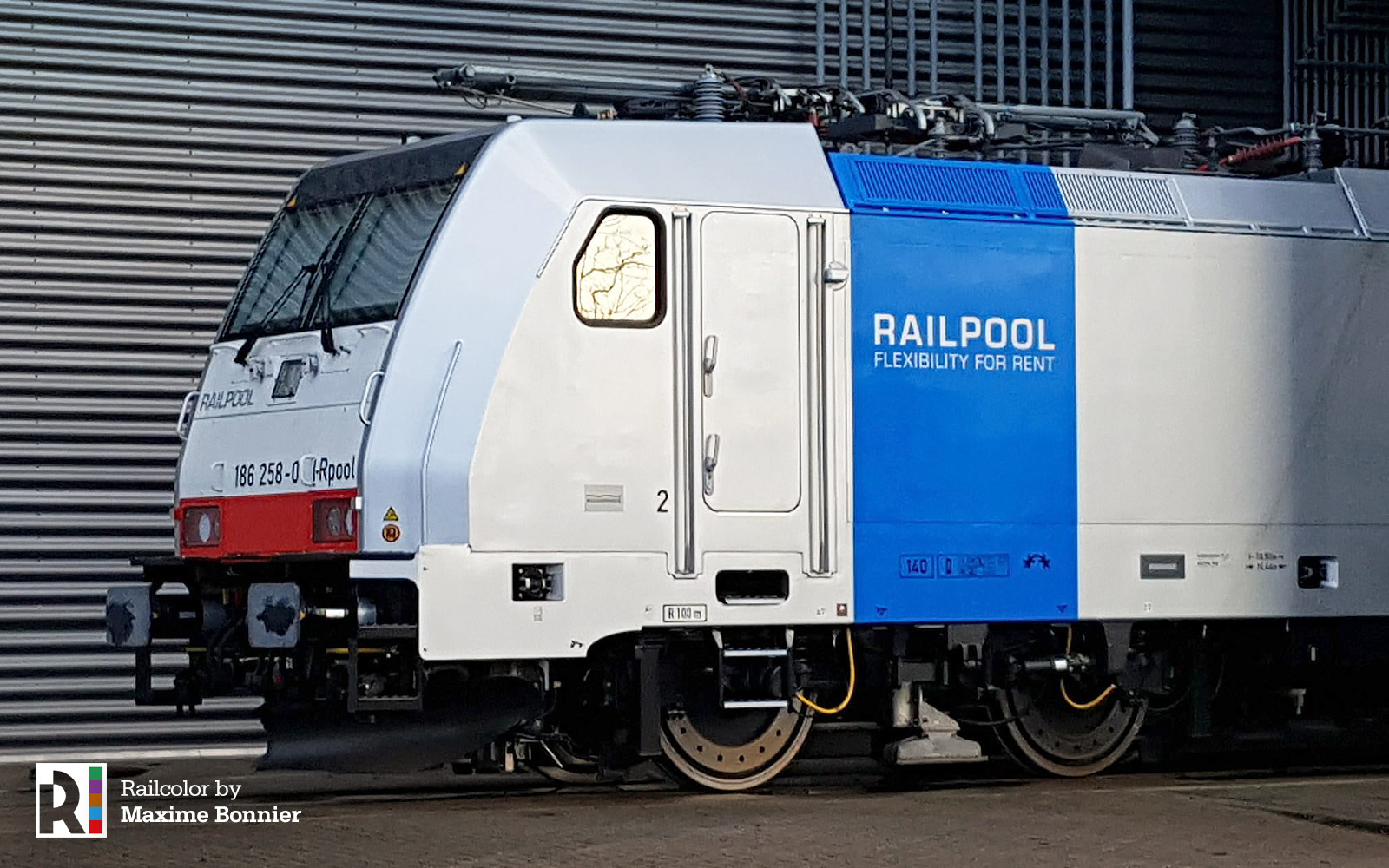 SBB Cargo International: 193 463 = Duisburg
Siemens 193 822: stickers removed, now with LTE markings [updated]
Siemens 193 822 is a special case. The Siemens stock locomotive was released from work in 2013 and since then hired to various operators. In 2015 it was retrofitted so lease company ELL could subhire the machine to Rail Cargo Austria for services in Croatia and Slovenia (DE/AT/HU/SI/HR package). But this contract has ended. Last week we recorded the locomotive in a plain white livery again. The Siemens 'Firefox' stickers are gone, the same goes for the ELL logos. Its country specific package has been changed, update: it is a DE/AT/HU/PL/CZ/SK/RO/HR/SI locomotive now, 2 pantographs have new contacts for this purpose. Currently the locomotive can be used in DE/AT/HU/HR/SI only.
We will have to monitor the locomotive further to see what will happen to it. It now has D-LTE vehicle keeper markings.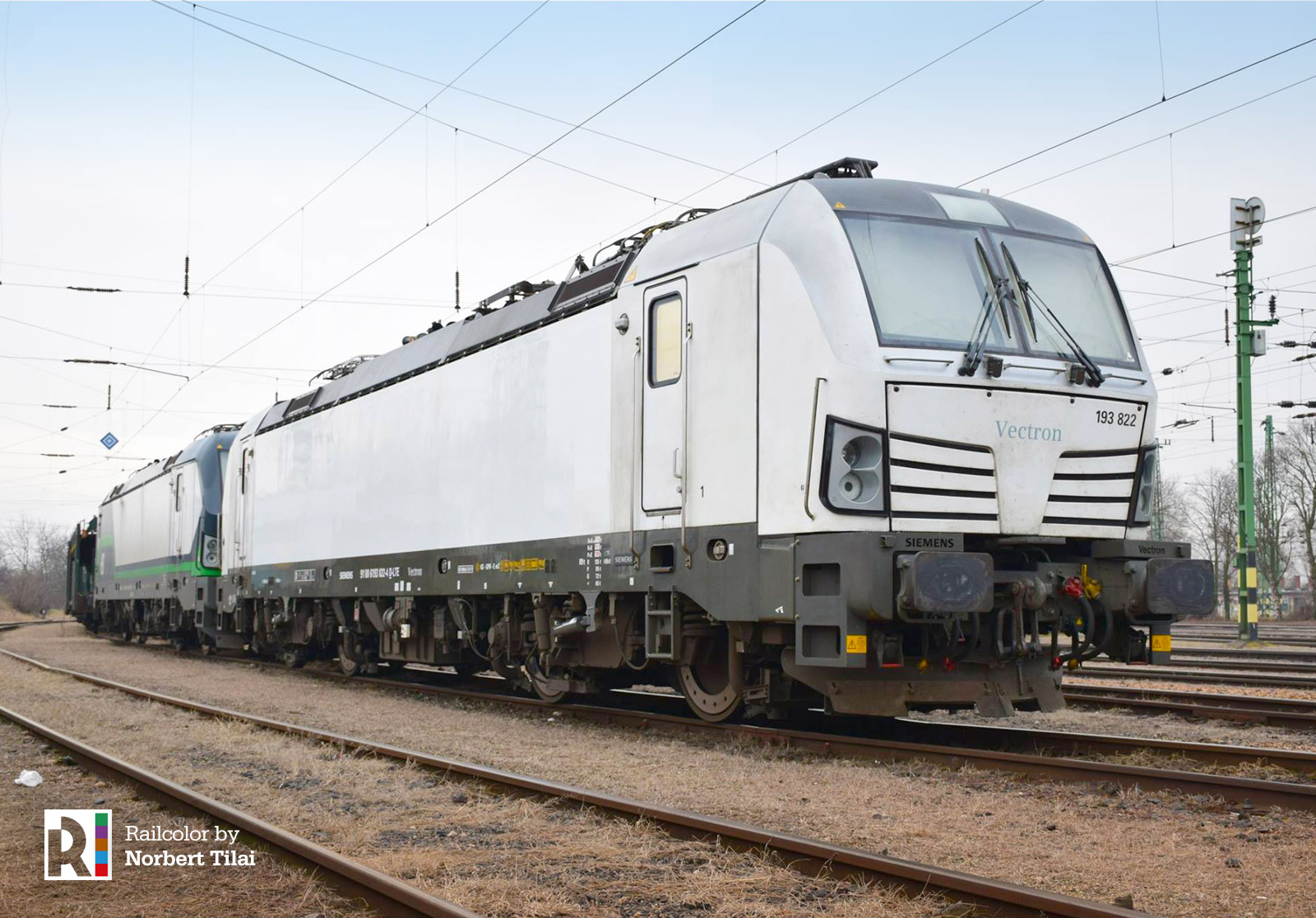 Siemens Charger: Brightline starts commercial service
On 13.01.2018, the very first commercial Brightline train service started its journey in the US state of Florida. Five trains are now in revenue service, each being composed of two Siemens Charger locomotives and four passenger coaches. So, what it's like to ride Brightline? We selected some videos: here and here. The new train service is also being critisized, is there enough done for the safety of people around the line. Two casualties have been reported over the past days, people that rode/walked around lowered gates on level crossings and got killed by a Brightline train. 
Schlossalmbahn meeting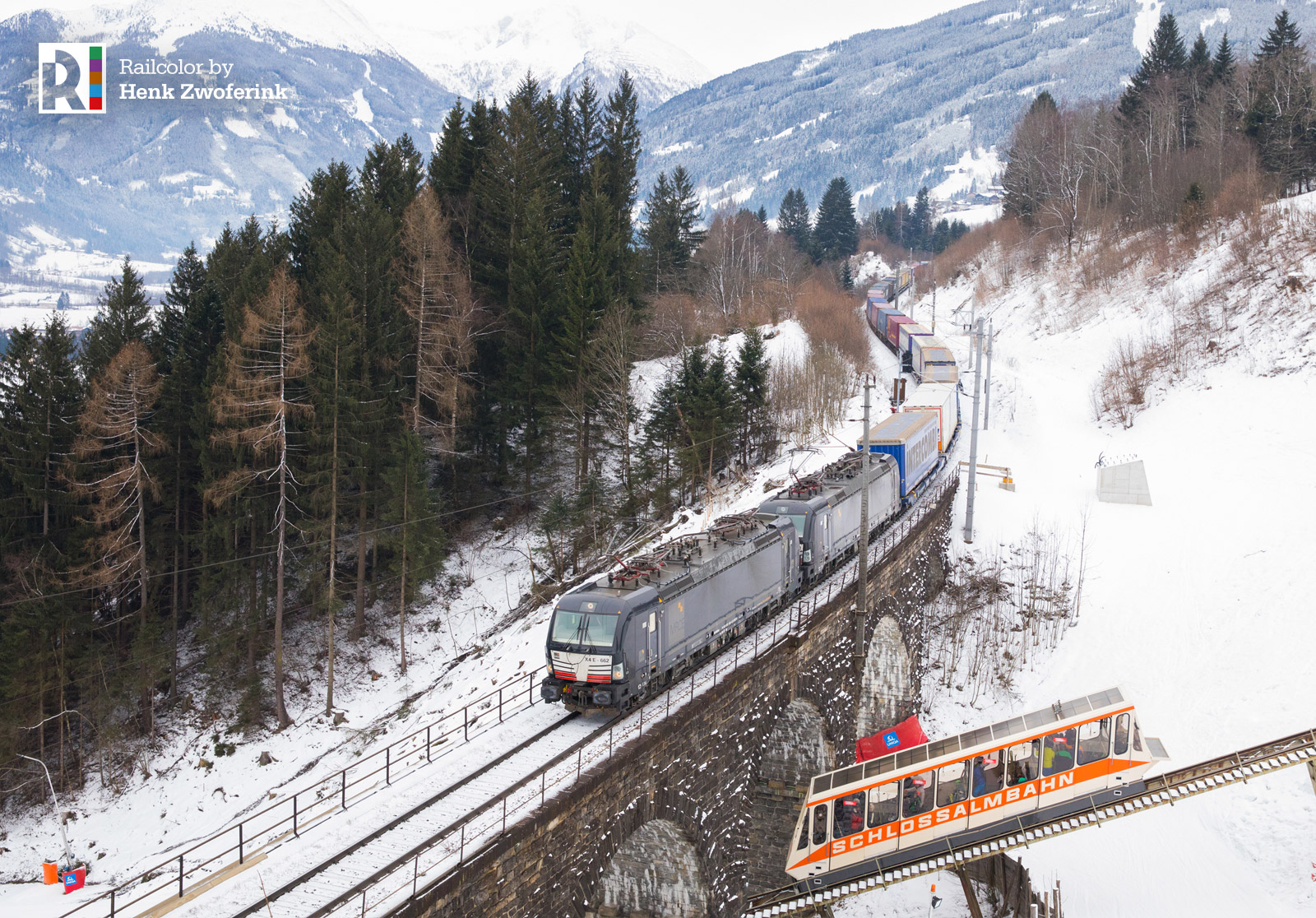 Stadler has inherited trouble in South-Africa
tagesanzeiger.ch reports about the ongoing investigation on a huge corruption/bribing scandal in South Africa. We are talking about the 70 locomotive-deal Vossloh Espana closed with South African leasing company Swifambo. The Vossloh factory in Valencia (ES) was to build 20 Euro4000 diesel locomotives ('Afro4000') and 50 newly developed dual-mode machines ('Prasa Dual'), that then would be operated by Prasa. Construction commenced and the first locomotives were delivered to South-Africa in 2015. The project soon started to attract a lot negative attention in the media, first because an accident with a Afro4000, later more and more was being published about shady cash flows and the incompetence of many persons involved in the project. Now the case, possibly one of the largest bribery cases in South Africa, is under investigation.
Stadler Rail acquired the Vossloh Espana factory back in 2016 and thus also inherited the problematic project. Now the Swiss company, that was aware of the risks at the moment of acquisition, is also playing a part in the investigation. Stadler is said to have given insufficient information about cash flows from Spain to South Africa to the South African Ministry of Finance (National Treasury).
The article mentions that Vossloh/Stadler has delivered 13 diesel locomotives to South Africa. 7 more should be still in Spain, together with five dual mode locomotives.
TX Logistik again has its own license in Sweden
Since the start of this year, TX Logistik AB is once again carrying out freight transport in Sweden under its own responsibility, having received a new operational license and safety certificate for the Scandinavian country. The Swedish transport authority Transportstyrelsen revoked the operating licence of TX Logistik AB in 2015 when it found defiencies in the operator's safety management system.
After an "intense intensive preparation period" Transportstyrelsen decided to issue a new licence and safety certificate for TX Logistik AB on 22.12.2017.
Mirko Pahl, CEO of TX Logistik AG: "As a next step, we're now planning from mid 2018 to obtain the licence for Denmark, and are also considering our options in Norway. The European north south axis could then be serviced completely independently from the third quarter of 2018."
TX Logistik states that specially equipped locomotives are required for transport operations from Sweden to Denmark via the Öresund. For this specific corridor, TX Logistik has four TRAXX AC2 electrics in its fleet. Next to 185 407 and 185 408 hired from MRCE, there are owned 185 417 and 418, all with DE/DK/SE package.
As a first step, TX Logistik AB has now started operating the inner Swedish routes again connecting Trelleborg, Malmö, Eskilstuna, Aasta and Bro.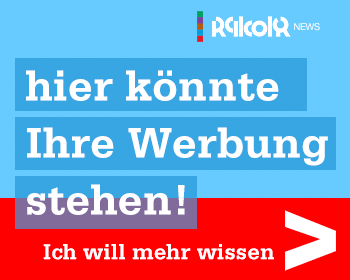 Popular this week: class 92 in Croatia