A January 2017 started tender for 10 new high speed trains for Turkish Railways (TCDD) was won by Siemens last week.
Siemens was awarded the tender for 10 new Velaro trains. The 10 high speed trains tender was held on 30 January 2017. It was the conclusion of an earlier tender for 10 high speed trains. In 2013 TCDD contracted Siemens for 17 high speed trains in 3 contracts:
One Velaro D from the production for Deutsche Bahn;
6 Velaros TR specifically made for TCDD;
Besides the supply of the trains this contract included maintenance & cleaning and de delivery of a Velaro simulator by Siemens. Early 2015 the third contract, for 10 high speed trains, was cancelled by the Turkish Tender Committee due to missing document(s) after a competitor objected against awarding the contract. The new January 2017 tender was held to repair this issue.
Only three (CAF, Siemens and Alstom) of initial five invited companies actually took part in the tender. Siemens' offer was € 349 mln. with its Velaro TR sets. Like the original contract the tender includes the trains, their maintenance, spare parts and a simulator. Delivery should be completed within 15 months. Commercial services is expected in 2 years.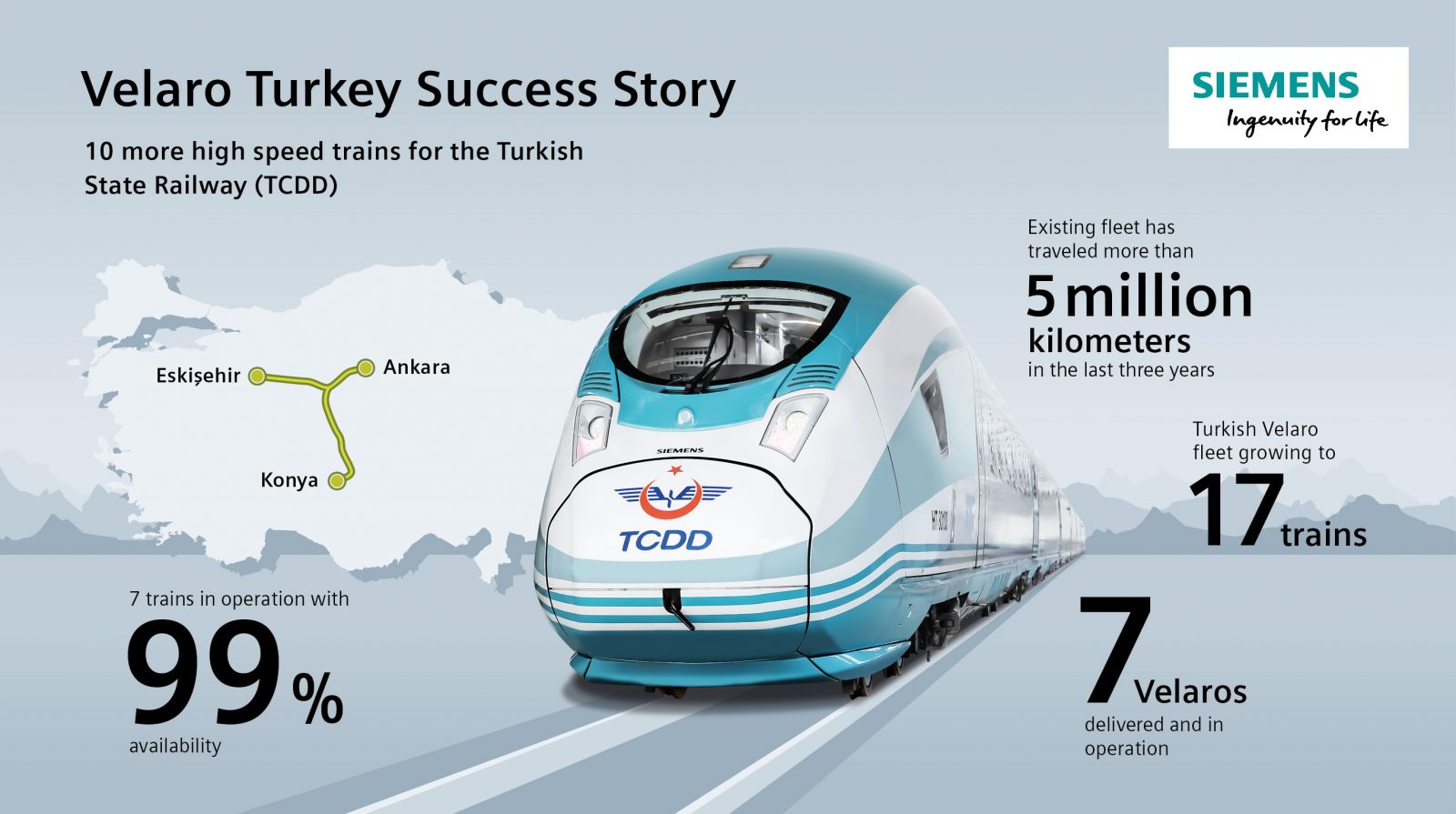 Technical data
Cars/train: 8
Voltage system: AC 25 kV / 50 Hz
Traction power: 8000 kW
Maximum speed: 300 km/h
Passenger capacity: 516 seats
The Turkish Velaros have four identical and independent traction units. If one traction unit fails, this can be switched off without affecting the remaining units. The train can reach its destination with 75% of maximum traction power. The trains offer three travel classes  (Economy, First and Business Class) and a restaurant and bistro area. Furthermore the trains are fitted with communications and entertainment systems and a CCTV system with indoor and outdoor cameras.
The wheel arrangement is Bo'Bo'+2'2'+Bo'Bo'+2'2'+2'2'+Bo'Bo'+2'2'+Bo'Bo'. This means 8 of the 16 bogies are driven. The first, third, sixth and eighth car rest on these motor bogies.
New Turkish HST tender
As delivery of high speed trains has been delayed even more than the construction of new high speed train lines, TCDD faces a shortage of high speed trains. To overcome this a tender for 96 trains is about to take place within weeks. The sets should be delivered within 6 years.