Sicilian carrier Ferrovia Circumetnea  (FCE) has placed an order for another 4 Vulcano 2-car vehicles under a framework agreement with Newag. The contract provided for the possibility of ordering up to 10 diesel multiple units by 2 December 2017.
The original order, with a value of EUR 14,8 mln., also included the delivery of four Newag Vulcano units. The first of them was delivered to FCE in December 2015. The total value of the current order is EUR 14,9 mln. (approx. PLN 62,7 mln.).
Originally FCE awarded a contract to Italian Costa Sistemi Ferroviari (CSF) which hit financial problems. In September 2013 Newag decided to buy out the order. The Vulcano trains were and will be produced in Poland to an updated version of CSF's design.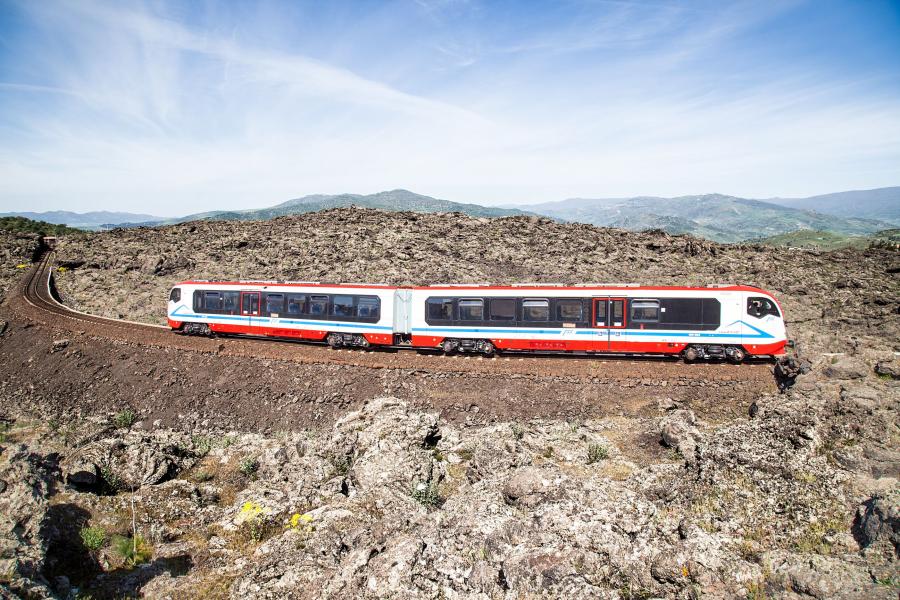 The first batch of Vulcanos was handed over to FCE by Newag in December 2015, coinciding with the celebrations of 120th anniversary of founding FCE. The 2-car diesel trains are nar­row gauge  die­sel mul­ti­ple units to ope­rate on the FCE route aro­und the Etna vol­cano in Sicily. These tra­ins have spe­cial 'power­pack' power-transmission sys­tems moun­ted toge­ther with a spe­cially desi­gned elec­tric trans­mis­sion.
Vul­cano tra­ins offer enhan­ced tra­vel com­fort to both pas­sen­gers and dri­vers. They are fully air-conditioned and adap­ted to trans­por­ting pas­sen­gers with redu­ced mobi­lity. One carriage is fit­ted with a toilet for disa­bled passengers. The exter­nal door area is fit­ted with spe­cial mova­ble ramps for whe­el­cha­irs.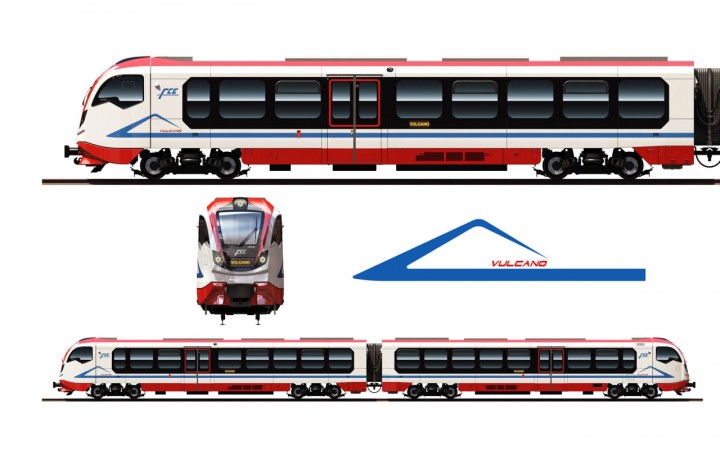 Technical data
Maximum speed: 100 km/h
Track gauge: 0,95 m
Seating capacity: 106 seats (including 7 fold-up seats)
doors: 2 double doors/side
Safety standards: compliant to EN15227, EN 12663 (crashworthiness) and EN 45545 (fire resistance)
Furthermore the diesel trains are equiped with a moni­to­ring sys­tem,. a GPS sys­tem, a modern pas­sen­ger infor­ma­tion sys­tem as well as an inter­com. The Vul­cano trains are equiped to ope­rate in mul­ti­ple traction.