In April 2012 sixteen double deck trains were ordered with Bombardier for Regionalexpress services in the far north of Germany. They were to be operated by DB Regio and would be delivered in the (now outdated) livery of NAH.SH, the brand for regional transport in Schleswig-Holstein. The sixteen 4-car compositions should have entered revenue service in December 2014, so was the plan..
Images by Bertold Hertzfeldt
On 13.09.2017 the first of these sixteen trains was finally presented to press and public, at the station of Kiel. We see a double deck train with two intermediate and two end coaches. They will enter service next December, three years later than planned. But, these type of trains are not new right? Such Twindexx coaches are seen all over the German rail network right? True. But these NAH.SH trains are different, the end-car are so called 'motorized driving trailers', the four-car compositions are full-fledged double-deck EMUs, and that is totally new from Bombardier in Germany..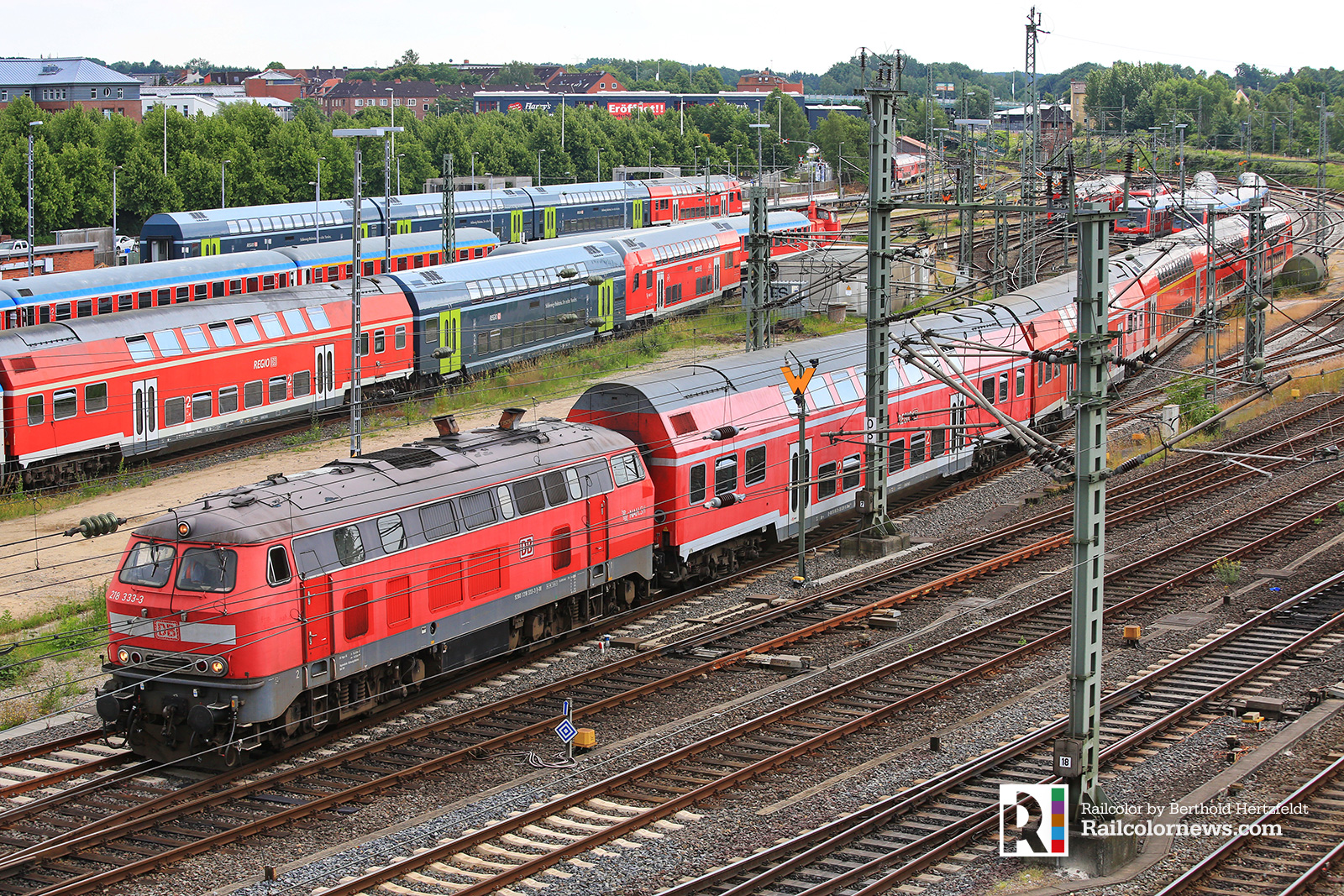 For years now DB Regio operates hundreds of these double deck coaches, but only in push-pull composition in combination with a locomotive. It took way longer as expected to get the new motorized driving trailers (the new 445 series) reliable and homologated. Meanwhile, DB Regio decided to take delivery of the intermediate coach and use them temporarily in other loco-hauled compositions. Also, since December 2015, one can see red-green combinations in the double deck trains up north. This will now come to and end.

Also, as of next December the new trains will enter service in their envisaged configuration. With the new trains, travel time will be reduced and capacity will grow. In July 2017, Schlesweg-Holstein decided to order one extra set, so more services on the RE7/RE70 can be operated with two combined EMUs. So this makes 17 EMUs in total, 68 coaches, with 34 445 series end-cars. These will be numbered as 445 011-042, the numbers for the 17th set are still unknown.
So, time to hop on board and take a look inside: