Go-Ahead has commissioned Stadler with the delivery of 11 electric FLIRT trains for use on the 3a "Murrbahn" Network in Baden-Württemberg and Bavaria. The EMUs will be used on the Stuttgart – Schwäbisch Hall – Hessental – Crailsheim – Nuremberg route as of December 2019. The order volume has a value of around 70 million euros. The contract was officially signed on 06.09.2017.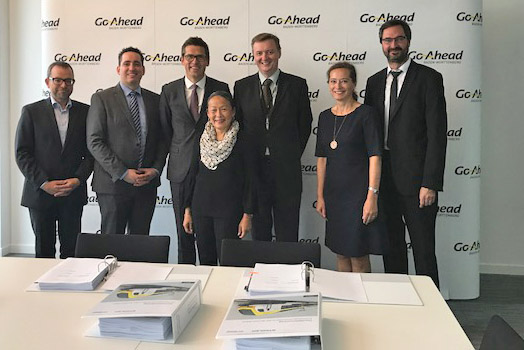 This means Go-Ahead will have a fleet of 59 FLIRT trains in total with various configurations and features.
Railcolor: We made a list:
05.2017: 3x extra FLIRT for Netz 1.2 / 2x 3-car and 1x 5-car
09.2017: 11x FLIRT for Netz 3a 'Murrbahn' / 11x 3-car extra long bodies
The three-car trains for the Murrbahn have long carriage bodies, are fitted with wide entry doors, and will be styled in the Baden-Württemberg state design. The spacious boarding areas are fitted with gap bridges and retractable steps.
377 people can travel in the 67.6 metre long railcars; 202 of them sitting in second class and 8 in first class. Just like all FLIRT railcars, these trains have a bright and friendly passenger area, are easily accessible, and have a continuous low-floor design.
The generous multi-purpose areas provide space for transporting up to 30 bicycles, bulky luggage, pushchairs and prams. Wheelchair spaces are installed according to TSI PRM, while a modern passenger information system and on-board Wi-Fi are also part of the contemporary design. The trains travel at a maximum speed of 160 km/h.
Railcolor: The title image is one of a FLIRT train ordered for Netz 1.2/1.3. The new trains in this item will slightly differ, however the livery will be the same.