A colorful parade took place over the weekend: On 02.07.2017, four G6 locomotives built by Vossloh were transported from Kiel (factory) to Moers, where some customer specific adjustments will be made to the yellow-red shunters before they will be handed over to ThyssenKrupp Steel Europe AG (TKSE).
All photos: Berthold Hertzfeldt
In the pictures we see five G6 center cab locomotives of the type G6. One in Vossloh green, four in the distinctive yellow and red. Their designations:
98 80 0650 307-8 D-VL > TKSE 821
98 80 0650 308-6 D-VL > TKSE 822
98 80 0650 309-4 D-VL > TKSE 823
98 80 0650 310-2 D-VL > TKSE 824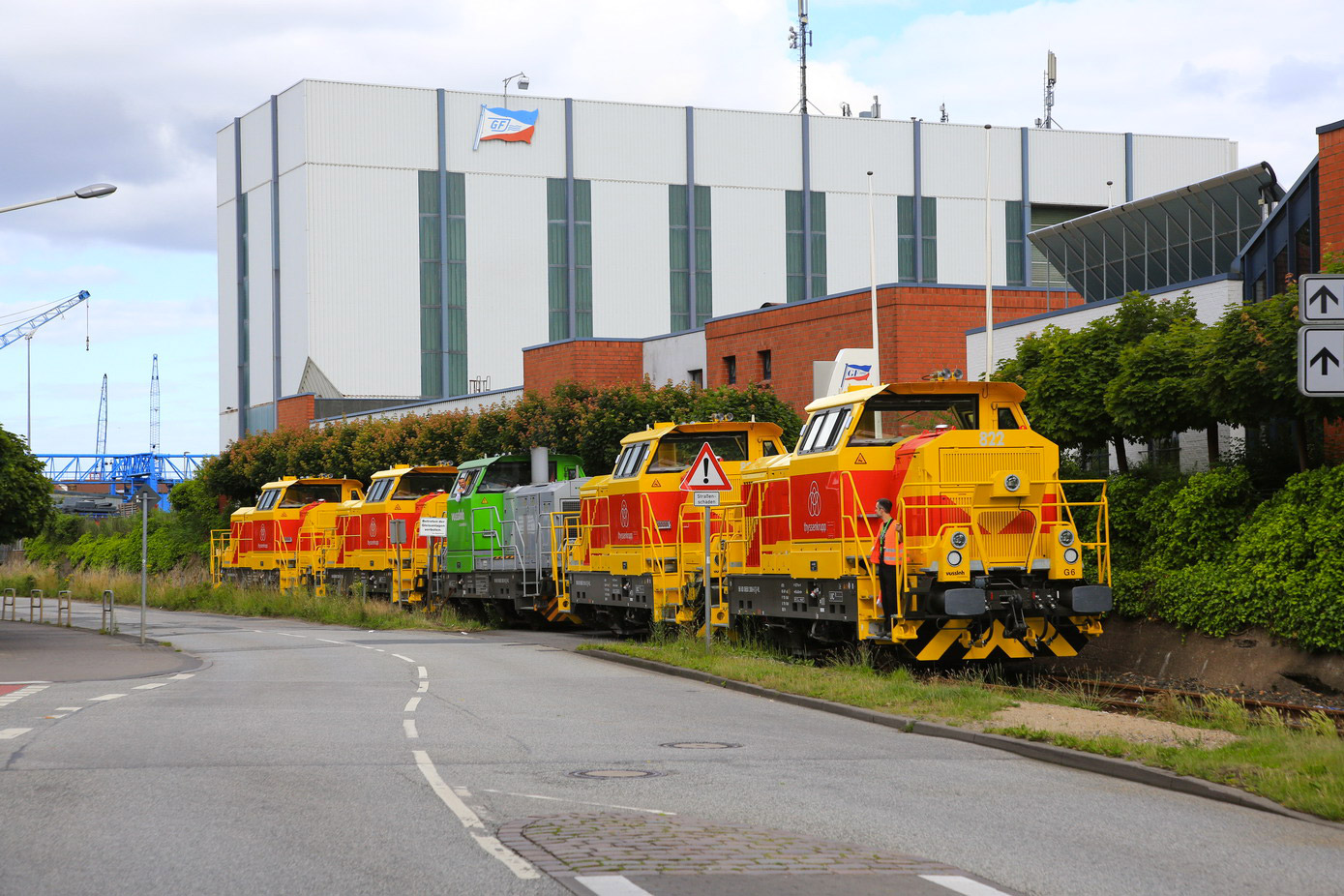 TKSE already has experience with the Vossloh G6. Since 2013 several stock locomotives have been hired from the manufacturer. The three axle G6 is the most successful Vossloh product of the past years. Over 100 units have been sold, mostly to operators of heavy industry railway networks in Germany, such as Verkehrsbetriebe Peine-Salzgitter and BASF.
And yes indeed, Vossloh (MaK) locomotives and this typical yellow-red livery go way back. Over the past decades G 1205 / G 1206 / G 1206-2 type locomotives have been delivered in this color scheme to TKSE and its predecessor companies. Also MaK DE 501 and G 765 type machines got repainted in this livery.
Enjoy these lovely, scenic images of the transport: