In late May, Stadler Rail Valencia and Direct Rail Services commenced the first dynamic tests with one of ten UK Dual locomotives ordered by the British rail freight operator. Additionally, the companies welcomed the arrival of further Class 68 and 88 in the UK.
March 20 was a special day, as UK Dual locomotive 88002 'Prometheus' embarked on a first journey on British tracks out of the DRS depot at Carlisle Kingmoor. The loco made a brief outing on diesel power to turn the locomotive around for inspection purposes and in anticipation of further mainline testing. On March 23, the first tests of the electric system took place under live wires, followed by the first mainline tests four days later. The March 27 tests included a return journey between Carlisle and Crewe on electric power. The 708 kW Caterpillar C27 engine was used to turn the loco around again at Edge Hill on the return trip, showing the locomotives potential. The firsts test on the mainline marked the beginning of a full week of dynamic trials, with the first loaded test run taking place on April 3. Backed up by DRS 68025 for insurance, 88002 moved its first train: the 6Z88 Carlisle North Yard – Crewe Gresty Green.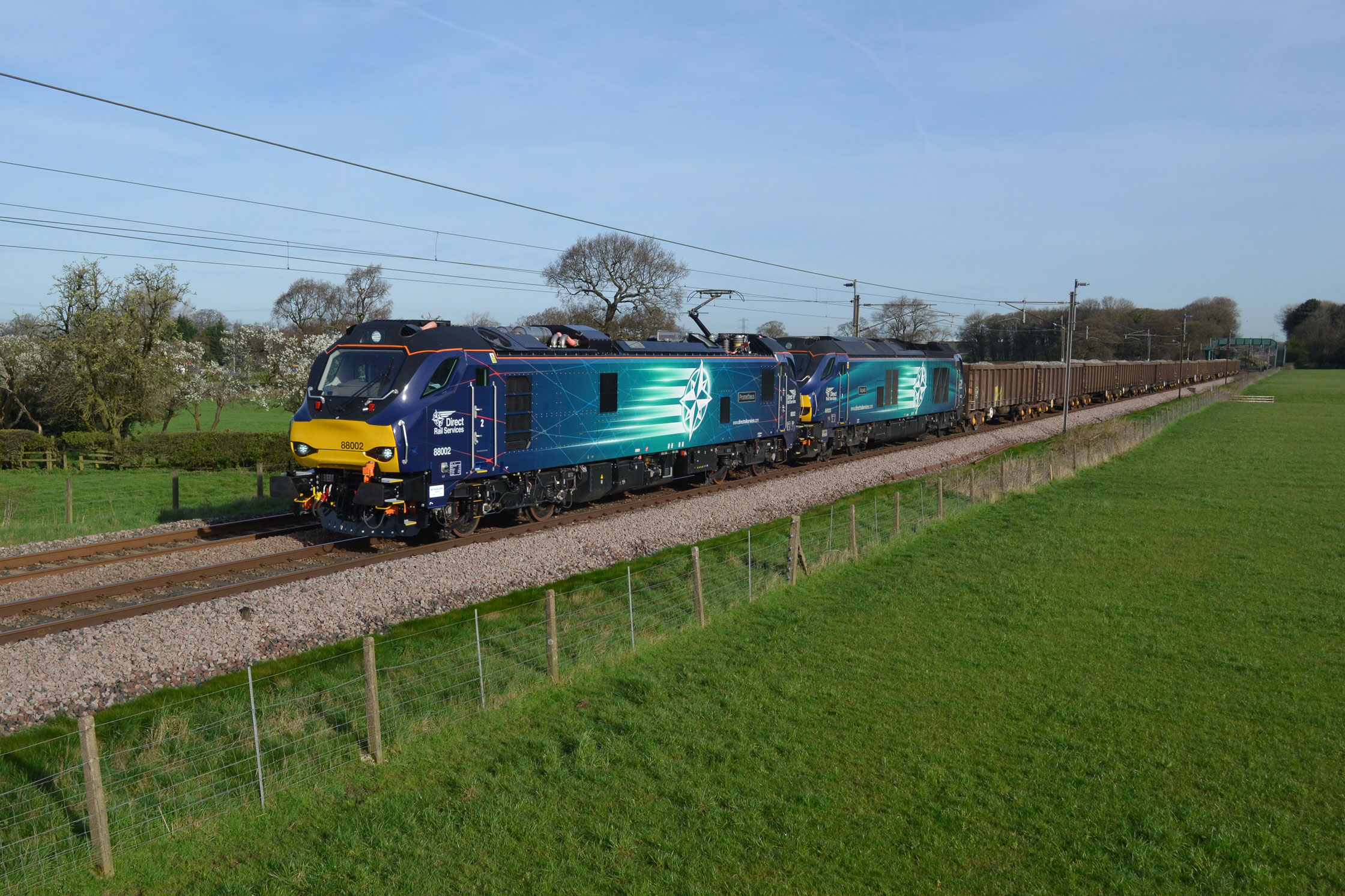 Meanwhile, the MV Atlantic had docked in the Port of Workington carrying six new locomotives. In addition to two Class 68 locomotives (68026-027), four Class 88 locomotives were on board (88006-007, 009-010). On March 30, the locomotives were unloaded from the ship and transported by rail to Carlisle Kingmoor for commissioning. The arrival of the four UK Dual electro-diesels means that all ten locos on order are now in the UK. Furthermore, the arrival of 68026-027 marks the start of the delivery of a third batch of UK Light diesel locomotives, which will raise the number of Class 68s in the DRS fleet to 34.
Learn more about  Stadler UK Dual electro-diesels on MainlineDiesels.net.
Meanwhile on social media:
@Clinnick1 @railwaysillus @TheRailScene @RailwaysToday @RailPhotos 88002 passes through Preston today en route to Carlisle King Moor DRS. pic.twitter.com/JXd0l6vbZg

— Lee Sawyer (@leesawyer74) April 5, 2017
DRS Class 88, 88002, on test today passing our cams at Bolton le Sands, Preston and Crewe, 0Z88 & 0Z89. #DRS #Class88 @wnxxuk @creweheritage pic.twitter.com/MoIbDhJBwf

— Railcam.uk (@railcamlive) March 27, 2017
It's got its pan up! 88002 takes the juice at last! pic.twitter.com/4LczdK8BF6

— Pip Dunn (rail info) (@50039implacable) March 23, 2017