At this moment, the future Hamburg S-Bahn trains of the 490 series can be seen on various lines throughout the German rail network (e.g. Rheine, Stendal, Dresden!). Bombardier has started test runs for certification with the two-system version of the "ET490", that in the near future will be used on line 'S4' beyond the Hamburg S-Bahn network in the direction to Rahlstedt, Ahrensburg, Bargteheide and Bad Oldesloe.
ET490 for the S-Bahn Hamburg:
2012: sixty 3-car trains are ordered by Deutsche Bahn:
31 x single system: 1200V DC – 0490.0 / 1490.0 / 0490.5
29 x two-system: 1200 V DC + 15kV 16 2/3 Hz AC – 0490.1 / 1490.1 / 0490.6
2016: twelve additional single system sets are being order by the city of Hamburg
extra orders must be placed before the end of 2018
On 13.02.2017, Bombardier has started test runs with both single system trains in Hamburg and two-system trains on the German rail network. The picture below shows train 0490.104 / 1490.104 / 0490.604 for example: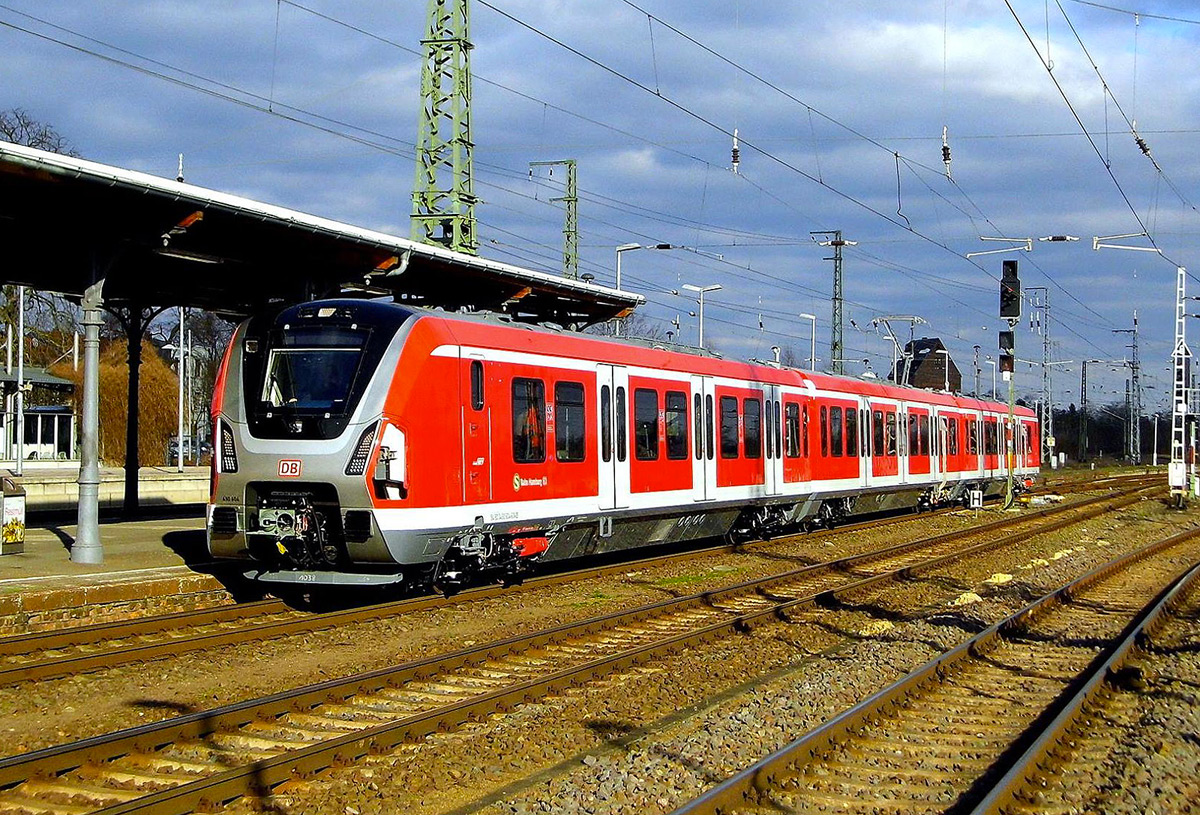 Soon the two-system trains will come to Hamburg too. The current test program should take until April. Then preparations will be made to start test-services with passengers.
In December 2018, all sixty trains of the first batch should be available to revenue service. That month the new 15-year S-Bahn operation contract will start, held by Deutsche Bahn. They will replace the ET472/ET473s from the seventies and eighties, which are not allowed to be used under the new contract.
The ET490 is a 66-meter long 3-car trainset with a top speed of 140 km/h (under AC current). It has air-conditioning and passengers can move freely throughout the train (older generations did not have interconnected passenger compartments). An ET490 is easy to recognize by its silver front. Its H-shape refers to Hamburg, while also the typical Bombardier V-shape ("speed collar") is visible around the front window.
On social media:
Safely arrived in #Hamburg. Testruns for new single-voltage class 490 #SBahnHH train are about to start today. @db_bahn pic.twitter.com/CrejAuSQvx

— BombardierRail (@BombardierRail) February 14, 2017
Early birds caught a glimpse of our new #SBahn trains for #Hamburg. Keep an eye out as they carry their passenger test runs this fall! pic.twitter.com/ZNrTv8UcHS

— BombardierRail (@BombardierRail) February 24, 2017
#Hamburg's new #SBahn trains will enter operation in 2018. They'll replace the 30-year-old fleet and move approx. 600,000 passengers a day! pic.twitter.com/Kqx654gBzd

— BombardierRail (@BombardierRail) February 24, 2017