DB Cargo, DB Fahrzeuginstandhaltung, DB Systemtechnik, Toshiba and Henschel have joined forces in project HELMS, short for Hybrid ELectro-Mechanical Shunter. Together the companies are developing a new hybrid shunting locomotive based on DB Cargo's V90 locomotive design. Two prototypes will be built.
In short, project HELMS involves the replacement of the hydraulic transmission of the existing V90 shunting locomotive by a system comprised of a power converter cubicle, battery cubicle, generator, traction motor and planetary gear. The main goal of the project is to improve life cycle costs and reduce fuel consumption.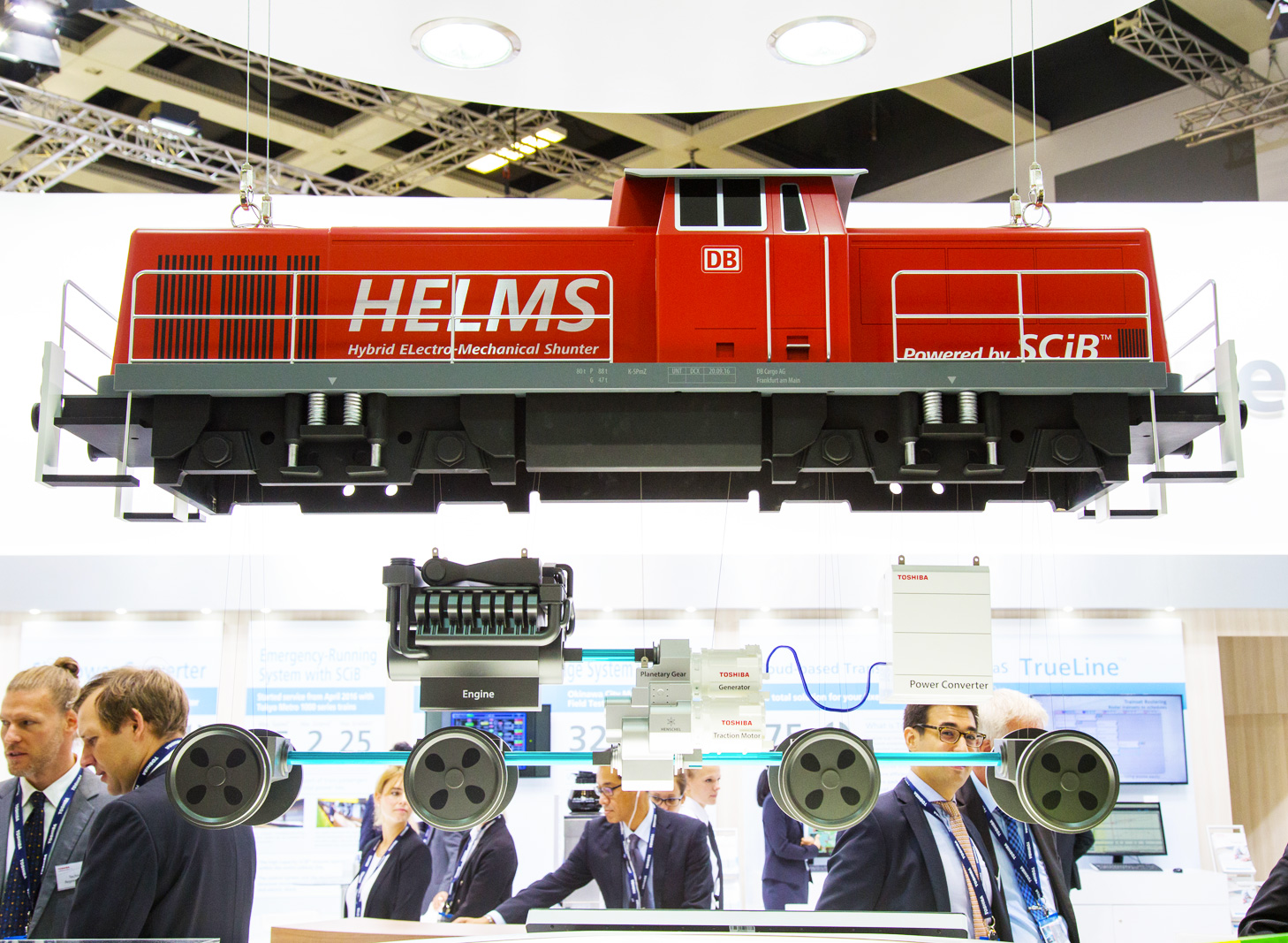 When ready, the HELMS-V90 locomotive will have the following characteristics:
Hybrid type: Series parallel Hybrid
Maximum output (at wheel rim): 750 kW
Maximum operation speed: 80 km/h
Diesel engine power output: 1.000 kW
Generator (x1): Asynchronous type
Traction motor (x2): Asynchronous type
Traction converter (x1): IGBT-type
Battery: SCiB (for traction) 92.25 kWh
About SCiB
SCiB is a name for Toshiba's battery technology. SCiB batteries have around 15.000 charge-discharge cycles, are usable with high current and ensure stable operation below 0 degrees Celsius. Toshiba has completed a similar locomotive project in Japan, when developing the HD300 series heavy duty shunter for JP Freight.
Who will do what?
DB Cargo: provides two locomotives
DB Systemtechnik: Integration Engineering and EMS
DB Fahrzeuginstandhaltung: Assembly
Henschel: Planetary gear design and manufacture
Toshiba: Power converter, traction battery, E-machines, hybrid system control
Update 13.02.2017: Henschel files for bankruptcy
Difficult times for Henschel from Kassel, the company that is to built the planetary gear system for the rebuilt V90s. The company has filed for bankruptcy on 09.02.2017, despite many new orders. In the past two years, too many orders were postponed, resulting in turnovers that dropped by 30%. The company hopes to continue its business in a different form. Source: hna.de