Leasing company Alpha Trains has ordered eight multisystem FLIRT3 EMUs from Stadler Rail (Pankow) for crossborder services between Germany and the Netherlands. Alpha Trains will lease them out to Keolis, that recently won the 'Teutoburger Wald-Netz" concession.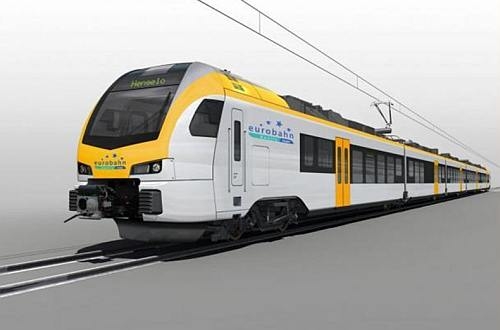 Part of this contract are the passenger services on the line Bielefeld – Bad Bentheim – Hengelo (NL), also known as the RB61 "Wiehengebirgs-Bahn". Keolis will start in December 2017 and operate the contract under its brand name 'Eurobahn'.
The eight FLIRT3 trains will be running under both 15/25kV AC and 1,5kV DC voltage systems. They will be equipped with the train safety systems PZB 90 (Germany), ATB (Netherlands) and ETCS Level 2.
During the fall of 2014, it was announced that Keolis (Eurobahn) was the winner of the Teutoburger Wald-Netz concession. However, competitor Westfalenbahn (WFB) objected, so contract signing had to be postponed. In July 2015 WFB decided to withdraw and the concession could be finalized. Both Keolis/Eurobahn and Stadler Rail are now working hard to get the rolling stock running and approved on time, despite the delay.
All lines of the Teutoburger Wald-Netz:
RB 61 Wiehengebirgs-Bahn (Bielefeld – Bad Bentheim – Hengelo (NL))
RB 66 Teuto-Bahn (Münster – Osnabrück)
RB 65 Ems-Bahn (Münster – Rheine)
RB 72 Ostwestfalen-Bahn (Herford – Altenbeken-Paderborn)
RE 78 Porta-Express (Bielefeld – Minden – Nienburg)
Keolis (Eurobahn) is taking over the services from the WFB and DB Regio (RE78). Next to the eight new trains, fourteen 3-car and five 5-car FLIRT trains will be taken over from WFB. These sets are also property of lease company Alpha Trains.