advertisement

---
There are heavy trains, and then there are Heavy metal trains. In this article, we're focusing on the second type. All thanks to a recent concert by Iron Maiden in Sweden and MTRX (MTR Express), who arranged a special event train with one of its Stadler FLIRT EMUs to mark the occasion.
On 22.07.2022, English heavy metal band Iron Maiden performed live at the Ullevi football stadium in Gothenburg (SE). To offer an even more immersive experience for fans traveling from Stockholm, operator MTRX and global entertainment company Live Nation arranged a special event train. This resulted in slight livery modification for MTRX's unit 74004: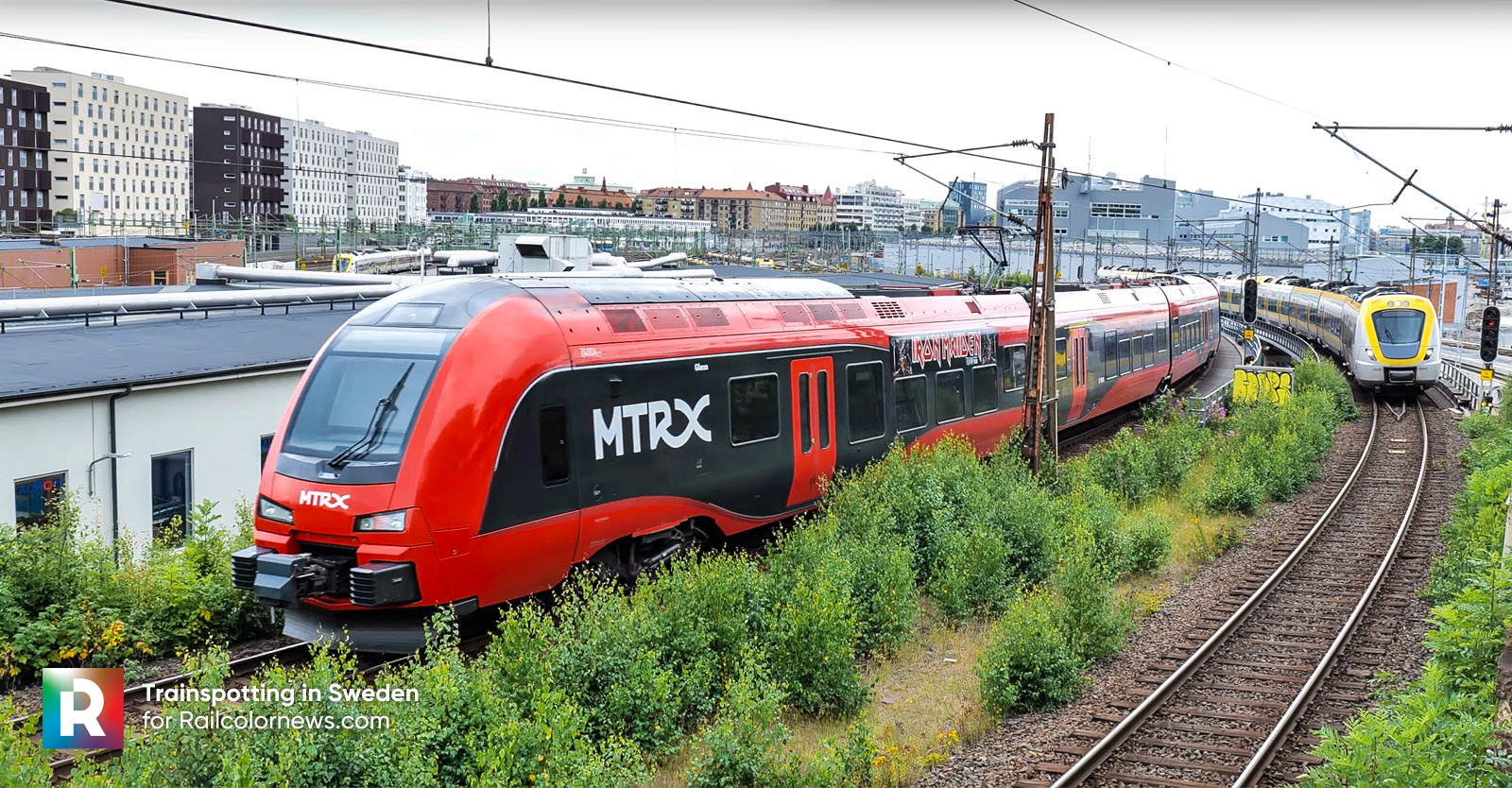 Apart from the exterior facelift, the train had also its interior decorated with Iron Maiden insignia. All the passengers on board got goodie bags as gratitude for their fan loyalty. No coincidences, as even the ticket price was set to 666 SEK, excluding service charges. The train departed from Stockholm at 10:05 and arrived in Gothenburg at 13:30.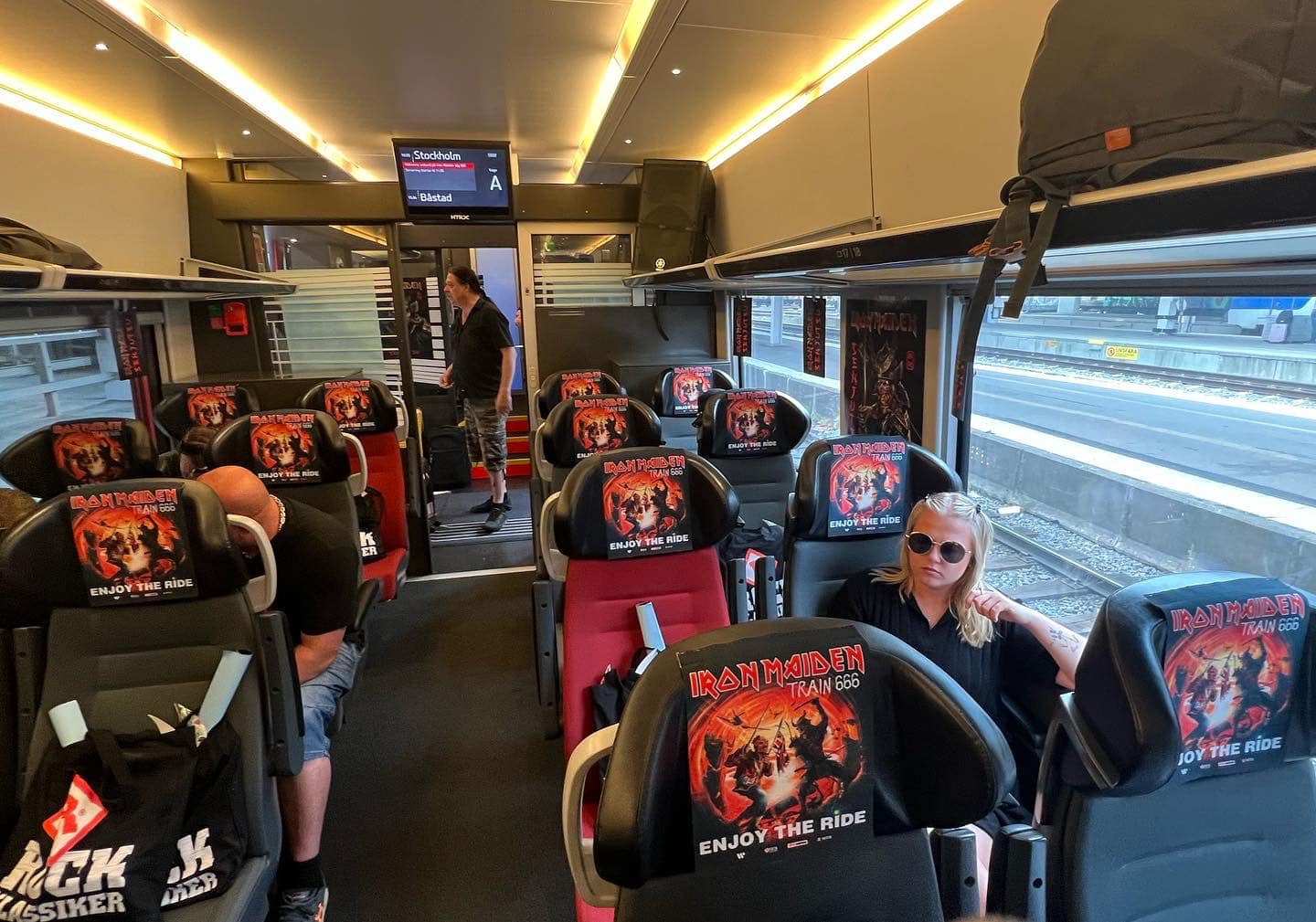 A better view of the Iron Maiden 'Train 666' banners that decorated the exterior. The black/red colors turned out to be a match for the livery of MTRX FLIRTs: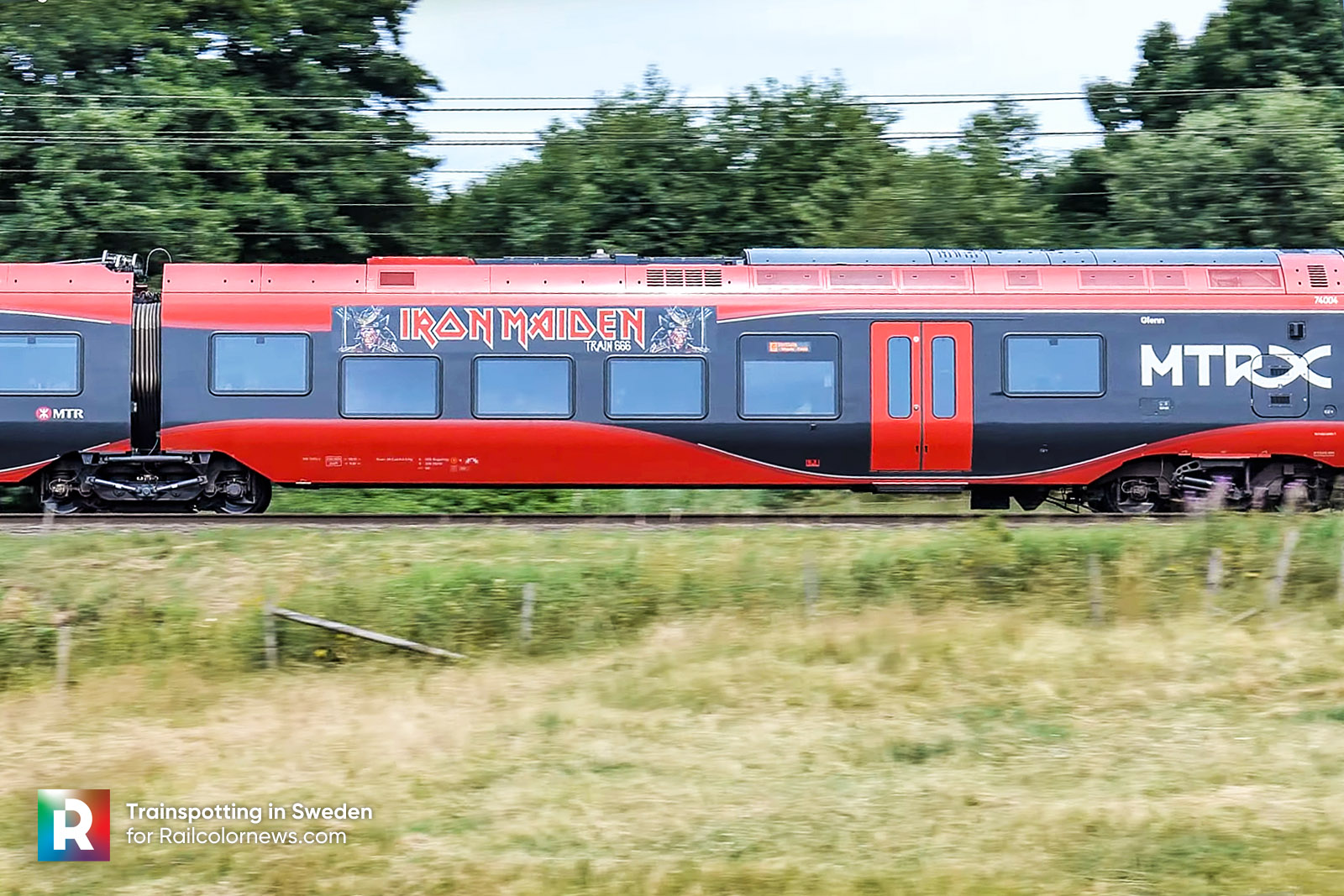 Madelene Josephson, Commercial Director of MTRX, explains further the idea behind the special heavy metal journey:
"With the event train, we want to offer something extra for those who come to Gothenburg for the concert. Just like the events themselves, the event trains are something we're really happy to get back and we know they contribute to the best possible build-up. The journey becomes part of the whole experience."
Video
And here comes the best part. Thanks to Karl Hansson (Trainspotting in Sweden), we bring you this excellent YouTube video featuring 'Train 666' in action + some bonus trainspotting takes.

About MTRX 77004
Unit 77004 of MTRX, which served 'Train 666', is a Stadler FLIRT EMU, part of the Swedish X74 class. MTR Express (as it was known back then) ordered six such trainsets from Stadler Rail in 2013. Wearing a specific livery of red and black, the trains are being operated on the line between Gothenburg and Stockholm.
Top speed: 200 km/h;
Consist: 5 cars;
Power output: 4500 kW;
Power system: 15 kV, 16.7 Hz;
Capacity: 244 seats.
Optimized for operation under specific Nordic conditions, the industrial design of these trains resembles the familiar FLIRTs seen in Norway.
Meanwhile, MTRX has recently reported an increase in bookings and departures for its services following the lifting of Covid-19 restrictions. At the same time, interest in Swedish holidays in recent years is expected to mean continued high demand for train travel throughout the summer.
A blast from the past
It is not the first visual stunt that MTRX has pulled off on its FLIRT fleet. See 'Trainy McTrainface', which debuted in 2017:
---