This article was originally published on 15.02.2022 – and updated on 18.02.2022 (more pictures added).
At the end of January, Snälltåget of Sweden had its maiden voyage to the Austrian Alps. The Scandinavian company, already known for its night train link between Sweden and Germany, is currently offering a limited-time direct connection from Malmö to the popular Zell am See on the way to Salzburg Hbf. The night train once again features Hectorrail's 241 TRAXXes, but for Germany and Austria, the traction gets very colorful (and classic).

28.01.2022 marked the start of Snälltåget's seasonal link between Scandinavia and Austria. The round trip is being offered weekly until 18.03.2022. The timing for this train has been carefully chosen to match the Swedish and Danish winter sports holidays, with departures scheduled so that passengers can book accommodation for a week Saturday-Saturday in the Alps. The outgoing train leaves Malmö each Friday, arriving in Salzburg Hbf at noon on Saturday and the return train comes back to Sweden on Sunday afternoon. Passengers spend a bit less than a day in each direction.
"We are noticing a great interest in sustainable travel for ski trips to Austria. The night train is the perfect way to travel – travellers can socialise in the evening, eat well in the restaurant car, play games and enjoy the journey in their compartments before it's time to curl up and get a good night's sleep. In the morning, they wake up to a beautiful, snowy alpine landscape – ready to hit the slopes," – Andersson, Deputy Business Manager of Snälltåget
The image below shows the very first train leaving Denmark's Høje Taastrup station, pulled by 241.001 "Kenobi", with a lot of interest shown by local train fans. Hector Rail's locomotive would be in charge until the DK/DE border station of Padborg.
And here is where it gets colorful and classic. For Germany and Austria Snälltåget is cooperating with Wedler Franz Logistik (WFL) with a Br 112 loco, and  Wiener Lokalbahn (WLB) with two Br 111 locos respectively. On 05.02.2022, this impressive winter landscape materialized in Brixen im Thale (AT). The dotted 111 057 matches quite nicely Snälltåget's own colorful cars: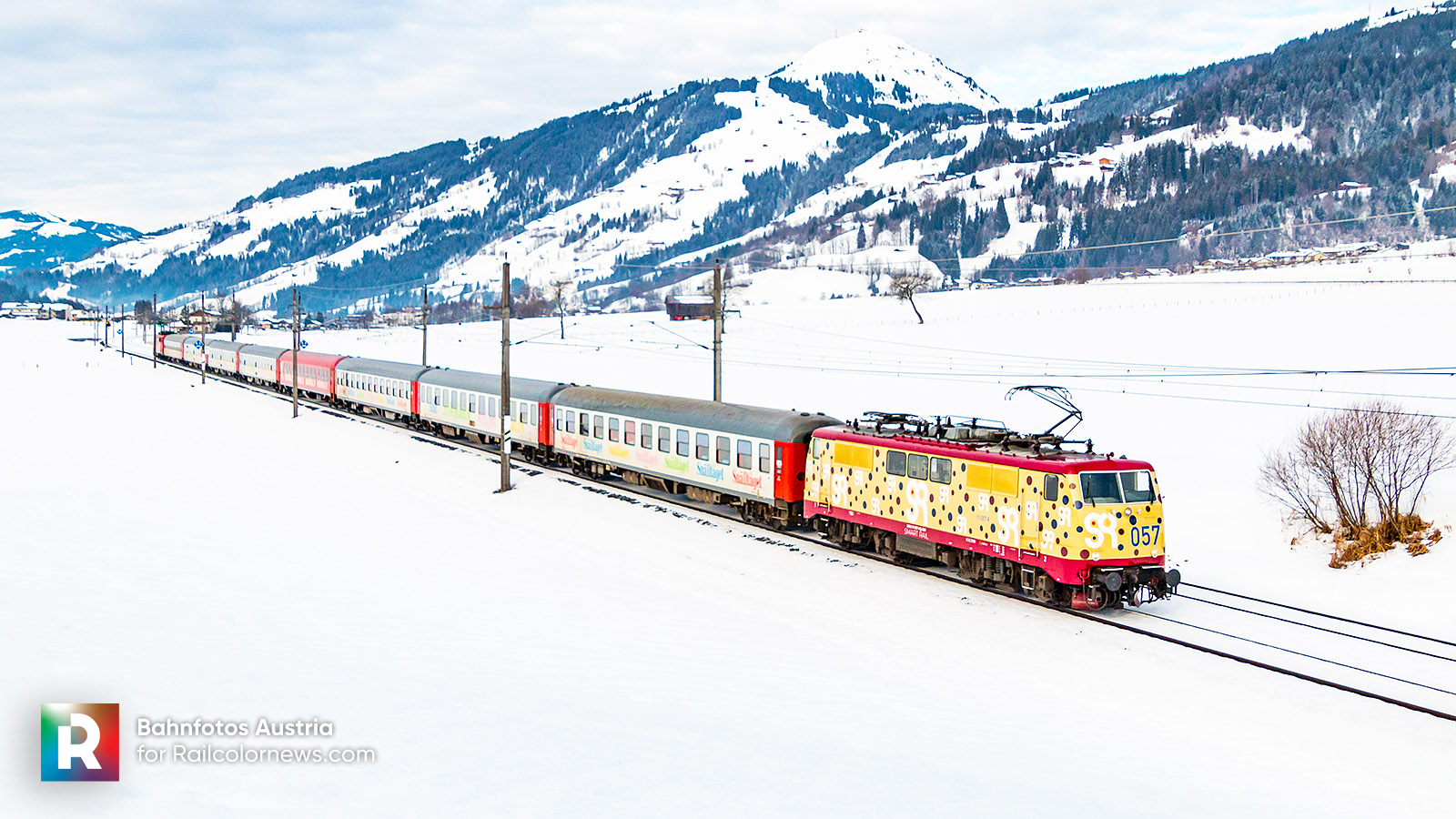 When climate-friendliness matters
Snälltåget put a particular focus on offering a 'climate-smart' product to its customers. The trains use renewable electricity through hydro, wind, and solar power, resulting in as little as 1.2 kg of CO2 emissions per passenger. Although the first two trips consisted of eight coaches (seven sleepers + one restaurant), the latest round trip featured eleven cars (including the restaurant). This results in a capacity of up to 600 passengers. The apparent success of the connection leaves us with only one more thing to ask: seeing these trains every year.
Update 18.02.2022
We did mention that the train's extended version features not 8 but 11 cars. Time to see what this looks like in real life. First, we have this amazing winter postcard by Wouter Radstake, showing the train 'sandwich' between 111 057 and 111 223 of Smartrail near Saalfelden in Austria a week ago: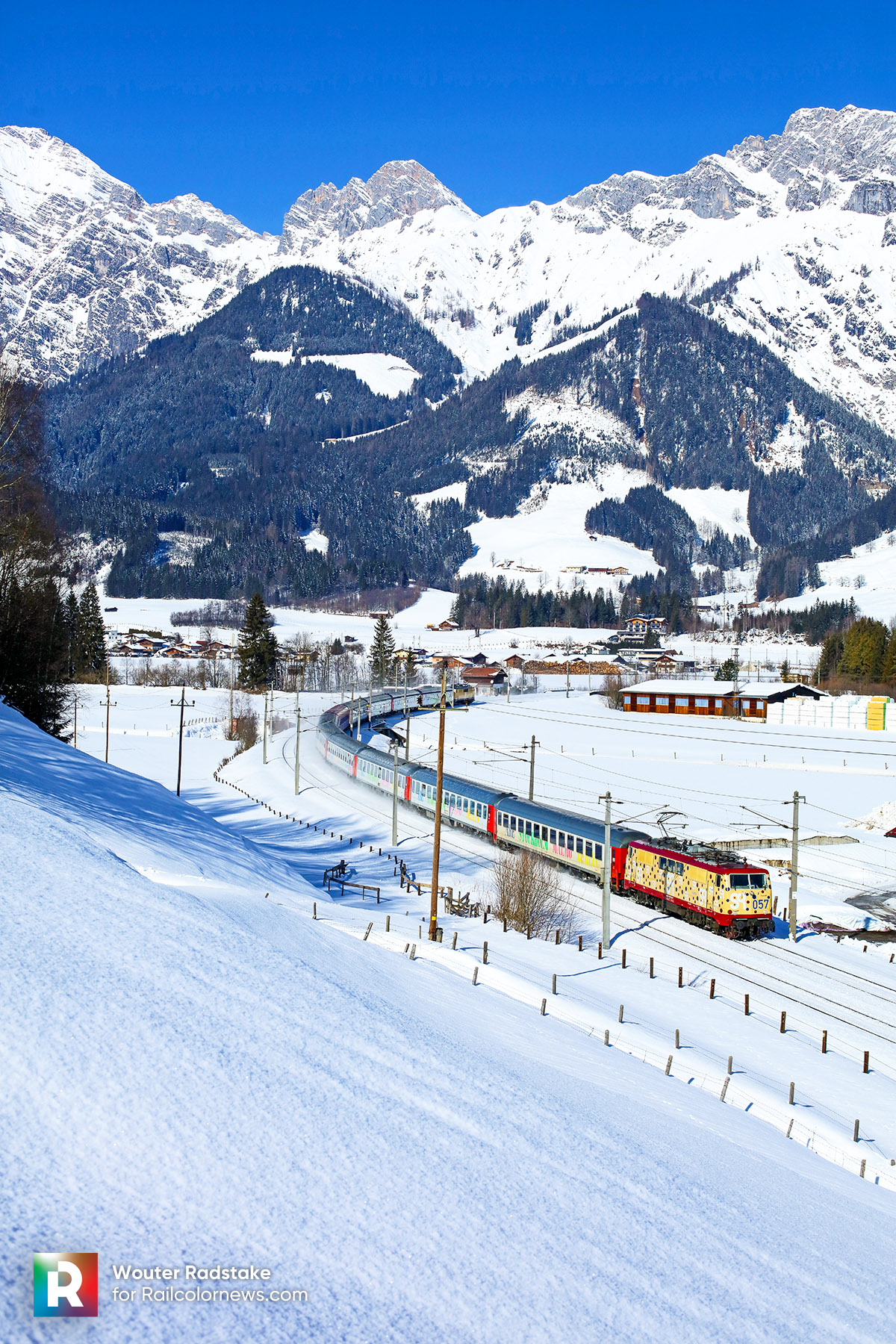 And then there is a view from today featuring 241.003 "Organa" of Hector Rail battling a delay of ±20 minutes through Brøndbyøster in rainy Denmark: