Several shunting locomotive designs of the Chinese manufacturer CRRC have arrived in Europe (for example the yellow DB Netz hybrid shunters). Now it's time to look back into the "Kleinstlok HH" which has entered commercial service for S-Bahn Hamburg.
Text and picture by Martin Drube. Edited and expanded by Railcolor News.
Kleinstlok HH made its debute in Europe back in 2018 when CRRC's hybrid shunter debuted at the InnoTrans trade fair in Berlin. Many tests followed afterward and earlier this year, S-Bahn Hamburg officially took delivery of 1004 001 and 002.
Milestone: the European Register of Authorized Type of Vehicles (ERATV) published the authorization of the locomotives on 09.09.2021.
On 12.10.2021, a "Kleinstlok" was seen in "long-distance" service: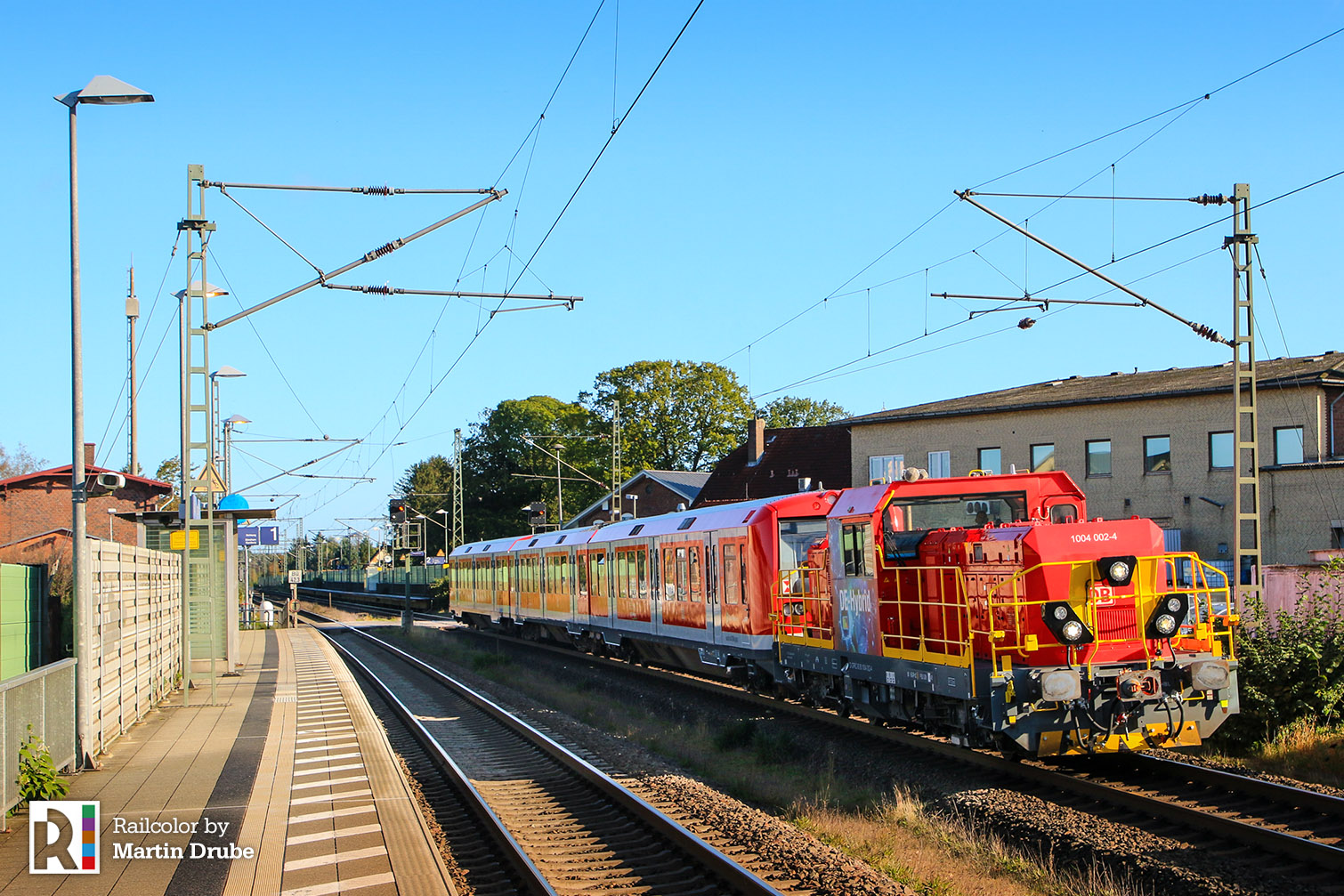 1004 002-4 was used to transfer a class 474 EMU from the Hamburg S-Bahn network to the workshop in Neumünster, where the 474s are still undergoing their retrofit procedure (including the installation of a new infotainment system for the trains interior/exterior). On the way back to Hamburg the hybrid loco was caught with the refurbished 474 138 in Dauenhof.
Good to know: the official type name of this locomotive is "CAH1A1" – it is a product of CRRC Zhuzhou. They will be used for "rescue services for trains without passengers and for shunting tasks in maintenance centres."
---
Three colors, three types of hybrid shunters by CRRC
Red, yellow, blue. CRRC is currently offering a total of three different hybrid shunter platforms for Europe and you can find information about them all on Railcolor News:
Red ('Kleinstlok HH"): Series 1004.0 for DB / Hamburg S-Bahn in red;
Yellow:  Series 1004.5 for DB Netz in yellow;
Blue: The recently revealed Series 461 shunter for Rail Cargo Hungaria in blue.