Back in 2018, SNCF ordered 100 new Alstom Avelia Horizon high-speed trains, a deal worth EUR 2.7 billion. Now, employees both at Alstom and SNCF are asked to create liveries suggestions in an internal competition.
This article was originally published on 24.09.2020 – and updated on 26.11.2020 – new information about the design contest added
The first new generation high-speed trains for France, for now often  referred to as 'TGV M', are currently being built. A lot of M-words are used to refer to its qualities; it is Modern, Modular, there is a strong focus on energy Management, it is simply better ('Meilleur in French).
Alstom and SNCF have asked their employees to come up with ideas for a livery of the first two trainsets, that should hit the rails next year. The winners will get their livery applied to one of the units until 2023. The deadline is 08.12.2020. So far, around a hundred proposals have been submitted.
Update 26.11.2020
The voting has been closed now. A total of 10 finalists were selected in the period between October 22 to November 13. As a final stage of the competition, a jury composed of the SNCF Travel Management Committee will be selecting the winner and two favorites. The results will be announced on 08.12.2020. In the meantime check out the finalists by visiting this link.
Assembly, trials, and operation
One TGV M willbe deployed to the Velim testing circuit in 2021, and the second one should start trials on the SNCF network at the end of 2021 / beginning of 2022. The delivery of the first series-produced units is scheduled for the end of 2023. After a "pre-commercial" service start in January 2024, we should see the first TGV M bullet trains in regular operation as ofJune 2024, right before the July start of the Summer Olympics in Paris.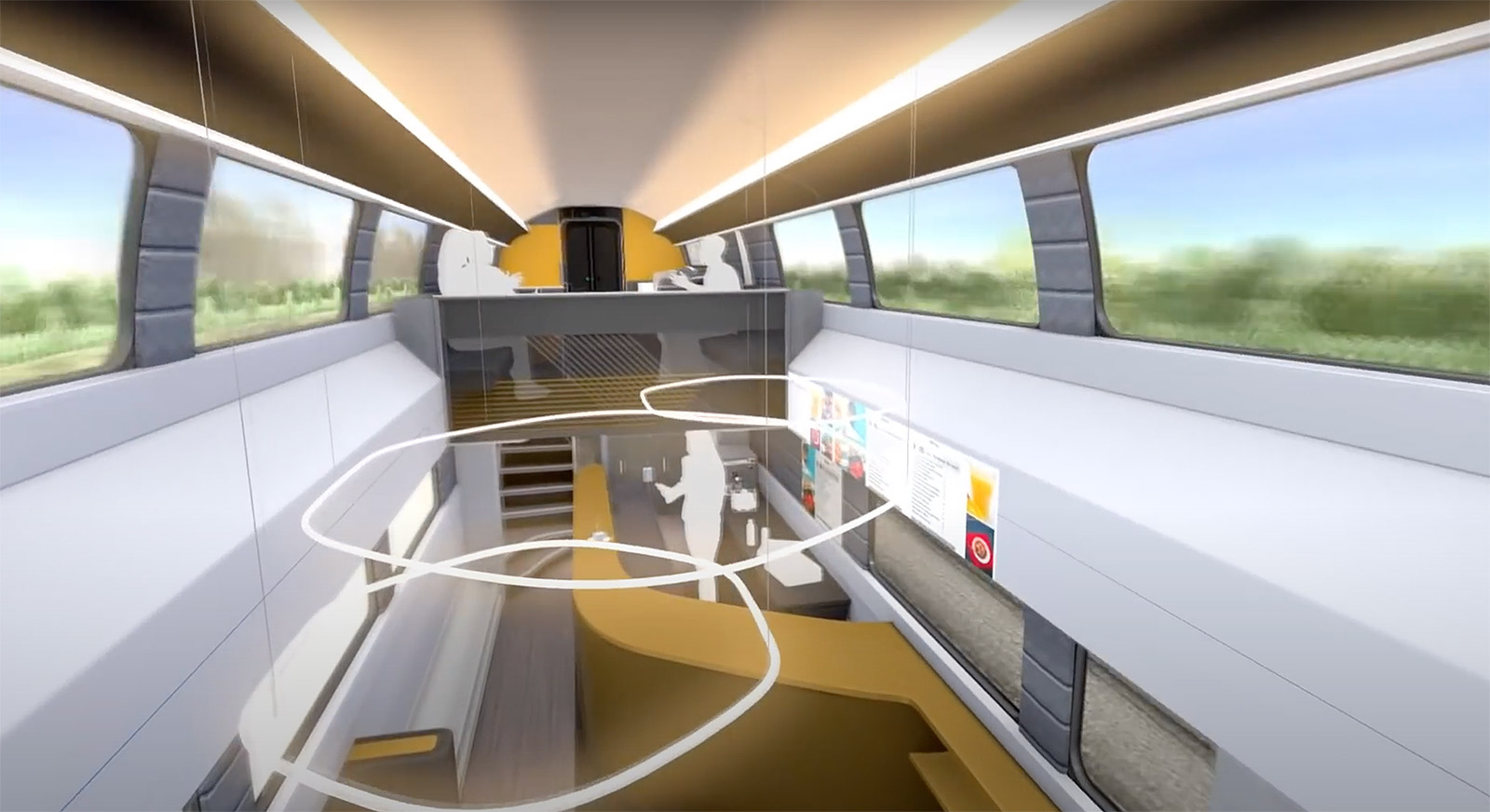 Manufacturing
Two Alstom plants are responsible for the final assembly. In Belfort the very compact power cars, and in La Rochelle the intermediate cars are being built. The latest visuals of the product, as released by Alstom, show a design that is very similar to the Avelia Liberty Amtrak in the USA, but with double-deck coaches.
The video below, released in March of this year, shows the Aveilia Horizon in a neutral grey/blue design. It provides a very good impression of the interior of the train. Note the bar area, with a balcony and with seats on two levels.
Tech specs
Maximum speed: 350 km/h
7-9 cars modular configuration (compared to existing fixed 8-car sets)
Length: 200 m
Capacity: 740 passengers (up to 20% increase compared to the existing fleet)
Energy consumption: 20% decrease compared to the existing TGV fleet