On 09.09.2020, West Midlands Railway (WMR) gave rail passengers a sneak peek of its new Bombardier Aventra EMU fleet, set to travel on Birmingham's Cross-City Line. Railcolor could first show you the orange/maroon units – soon followed by LNR-style trains in green and silver.

This article was originally published on 10.09.2020 – and updated on 12.09.2020 (London Northwestern pictures added). 
WMR has 36 Aventra trains on order – a total of 108 carriages – for the Cross-City Line in Birmingham. Another 225 carriages will be built for West Coast Main Line services connecting the West Midlands, Liverpool, and London – these trains however will get a very different design as they will run under a different brand name: London Northwestern Railway (LNR).
All trains offer air conditioning, WiFi,  power, and USB sockets as well as dedicated spaces for wheelchairs and bicycles.
Class 730 in WMR design
WMR managing director Julian Edwards and West Midlands Mayor Andy Street inspected the new Class 730 on the production line of manufacturer Bombardier in Derby last week. The first trains have been completed – one unit is already running in the Velim testing center.
In 2021, West Midlands Railway, a joint venture of Abellio Rail, JR-East from Japan, and Mitsui, will introduce new Aventra EMUs in services connecting Lichfield, Bromsgrove, and Redditch, via Sutton Coldfield and Longbridge.
A WMR set is in Czechia right now for dynamic trials.It still misses logos and other smaller livery details. We would like to thank Antonín Růžička for sending his picture of the WMR Aventra in the testing circuit of Velim next to an Alstom X'Trapolis Cityduplex: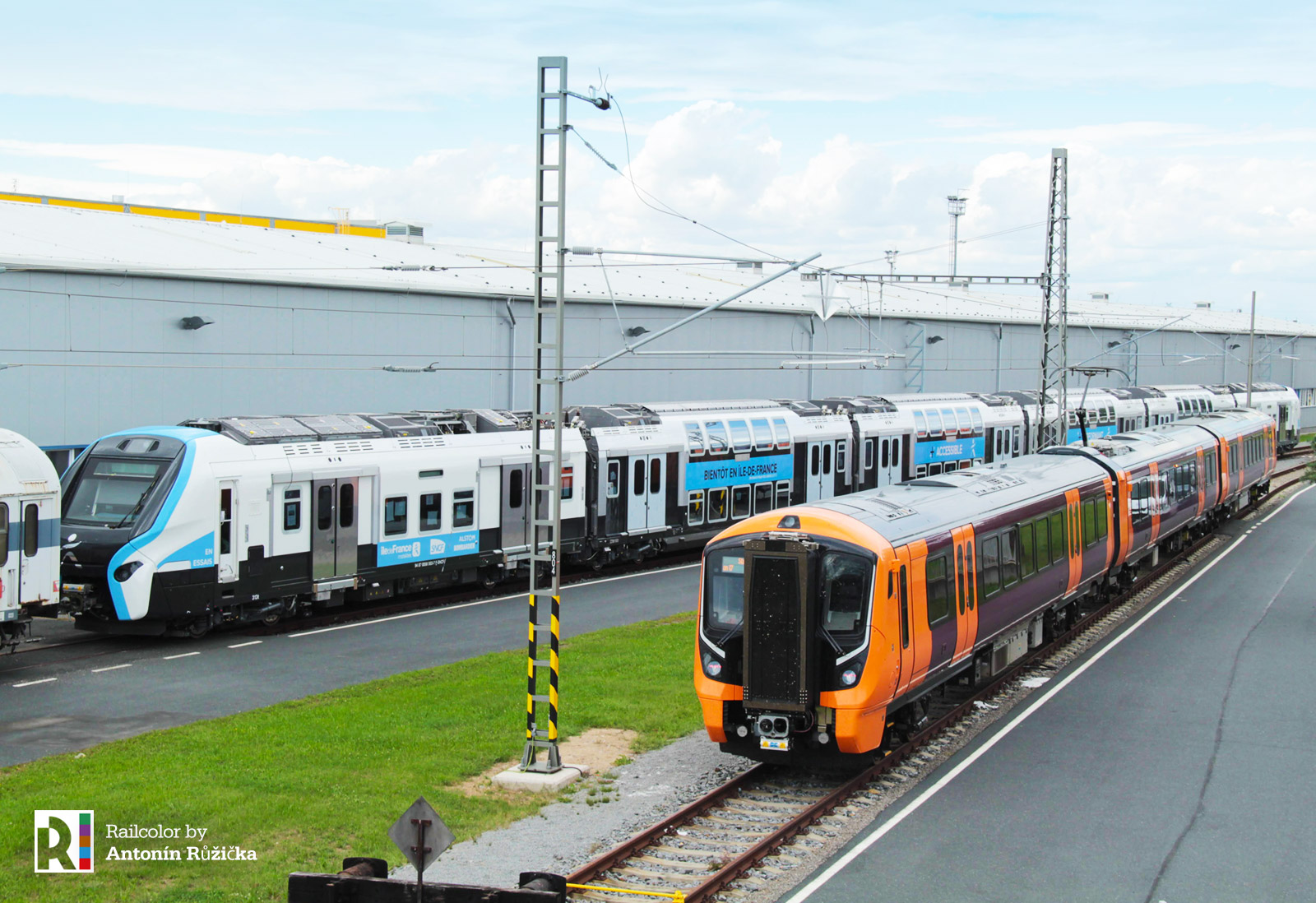 LNR Design
Again taken at Bombardier's in Derby: Aventra cars under construction for LNR. These 5-car units will be faster, with an operational top speed of 175km/h (WMR 3-car sets will be 145 km/h). The bodies are painted silver with a darker area around the windows. The fronts are painted dark green.
Like with the WMR sets – the design is not complete yet. It is expected that large 'W's' in dark green and turqoise will complete the livery.
The bigger picture
The introduction of the new Aventra EMUs is part of WMR's plan to grow its fleet by 25%, including the introduction of Vivarail D-Trains, and CAF Civity UK DMUs.  The latter will also visit Birmingham as they will be used on the Birmingham-Hereford and Birmingham-Shrewsbury routes.