Railcolor News has been closely following Noah's train trips across Europe. This time we are showing you its trip to sunny Spain in September, plus a Renfe TRAXX locomotive in a different design, unique:
We thank Laura Pérez García, Ramon Jordi, and Trenesmania for letting us feature their pictures in the article. For more beautiful railway views from Spain, visit their Flickr profiles by clicking the links on their names.
As usual, two more containers were added to the mobile artwork, and more companies joined the initiative. These were the Spanish state freight operator "Renfe Mercancías" and logistics provider "Transfesa Logistics" (majority-owned by Deutsche Bahn). This article shows the stops which Noah's train made during its visit to Spain.
Madrid
The train was exhibited in Madrid's Príncipe Pío station for five days, starting from 05.09.2019. In the afternoon of 04.09.2019, it was seen on its way to the station from the Abroñigal container terminal: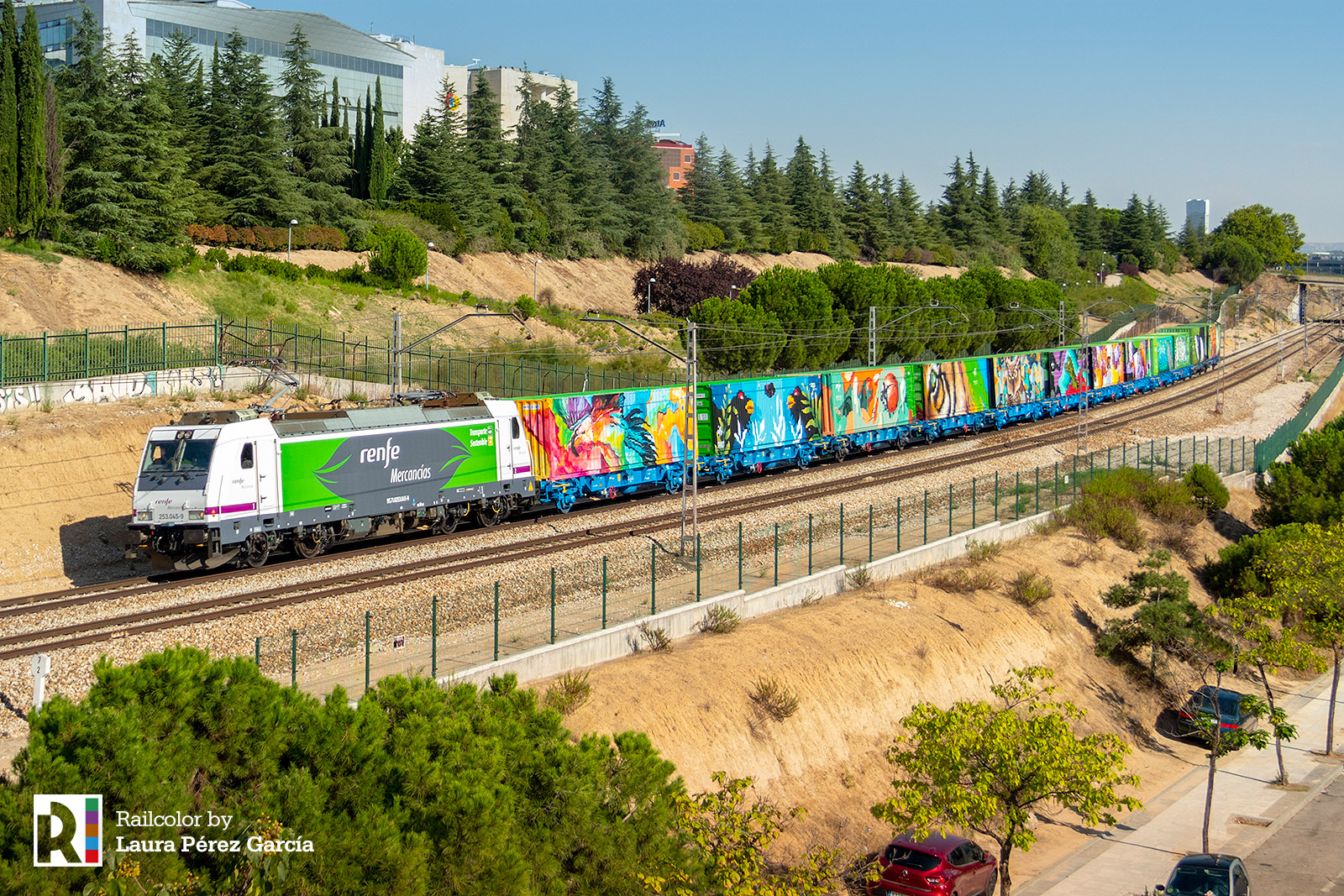 Barcelona
On 11.09.2019, it left the Spanish capital and headed towards Barcelona. There, the artwork was exhibited at Estació de França station in the period of 13-15.09.2019. The picture below shows the colorful composition leaving Barcelona: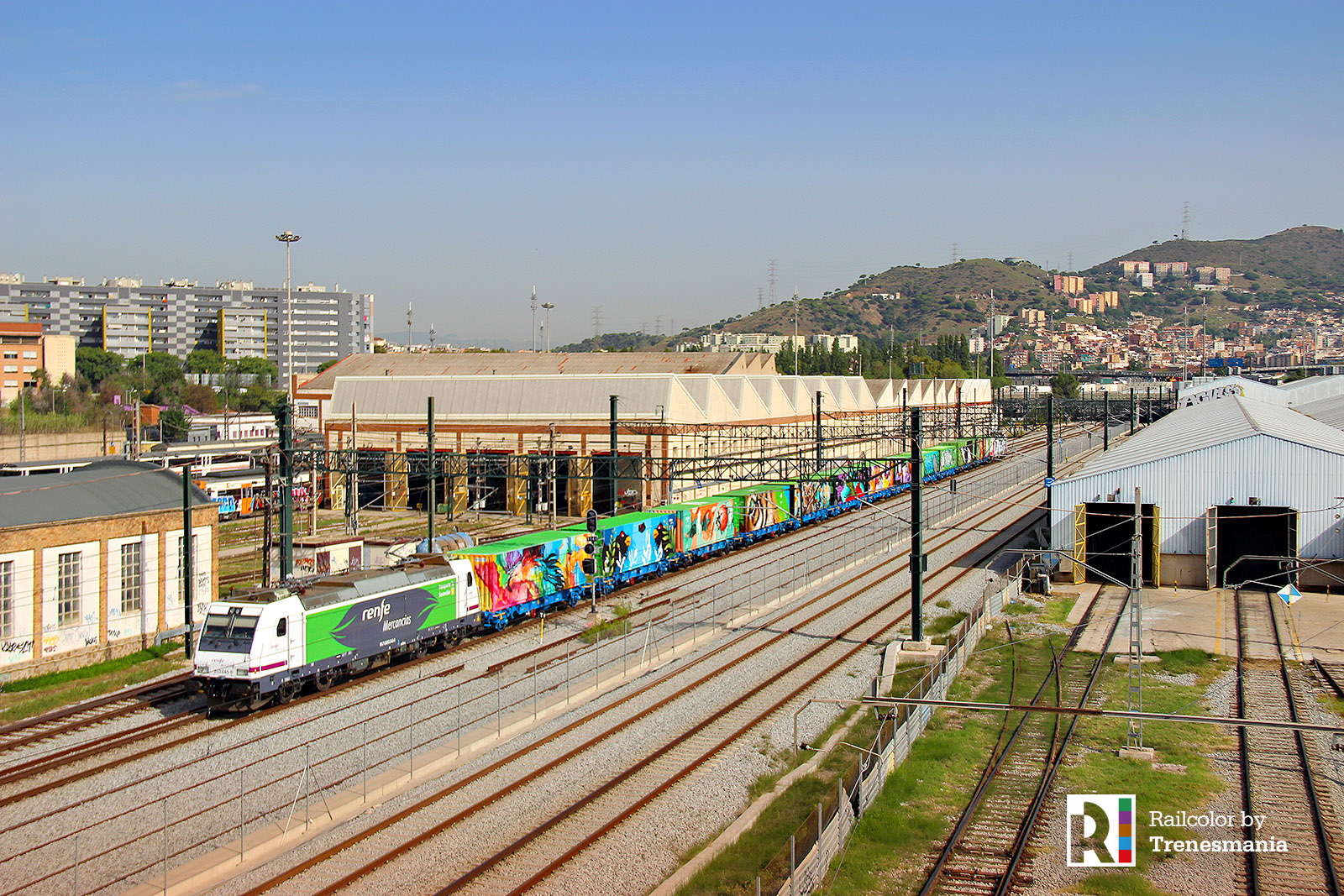 Curious fact: On it's way back, Renfe made an interesting choice by selecting the graffiti-covered 253 087 as the second locomotive to pull the train off the station in Barcelona.
The locomotive of choice: 'Series 253'
A characteristic of the Spanish railway network is, ofcourse, the Iberian broad gauge. That's why, the containers were loaded on and pulled by a distinctive 1668 mm-gauge rolling stock. The locomotive of choice was Renfe Mercancías' TRAXX DC by Bombardier, designated as series 253.
253 045 received a special "green" livery modification for the occasion. Let's have a closer look: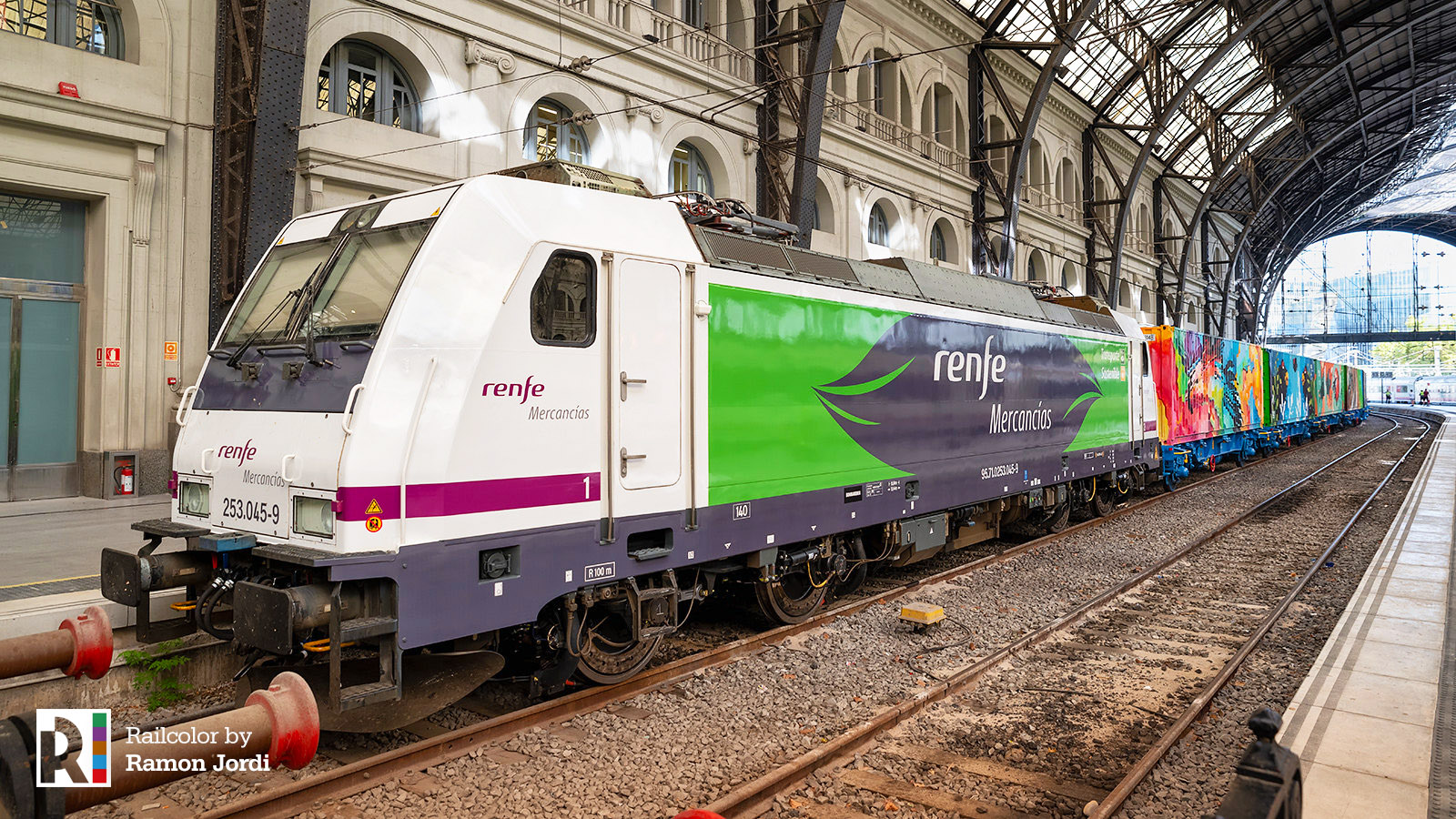 As seen in the picture above, the standard Renfe Mercancías livery received a visual adjustment – the dark gray side panel of the locomotive body was decorated with a green leaf motif. On its right side, a slogan was added, saying "Transporte Sostenible," which means Sustainable Transport in the Spanish language.
Final station: Rotterdam
Coming soon, the article about Noah's train's 1st-anniversary event in Rotterdam, which took place on 11.2019. This was also the final destination of the mobile artwork exhibition's long journey across Europe.
Video
Social Media
With Its stop in Barcelona today, Noah's train ALMOST finished its European tour to raise awareness on the urge to boost modal shift for the planet @Renfe @transfesa #CaptrainEspana @CER_railways @uic pic.twitter.com/Wa1JlX7AAu

— Rail Freight Forward (@railfreightfwd) September 13, 2019