The state of Baden-Württemberg intends to award Siemens a contract for the delivery of twenty battery electric multiple units (BEMUs) for 'Netz 8 Ortenau'. 
In Germany's first technology-open tender for locally emission-free vehicles, the state commissioned the state-owned company Schienenfahrzeuge Baden-Württemberg (SFBW) to procure new trains as an alternative to conventional diesel vehicles for 'Netz 8 Ortenau'. The BEMUs will be deployed on routes with and without catenary.
Netz 8 Ortenau
Offenburg – Freudenstadt / Hornberg
Offenburg – Bad Griesbach
Offenburg – Achern
Achern – Ottenhöfen
Biberach (Baden) – Oberharmersbach-Riersbach
With a separate tender Baden-Württemberg will select an operator for the network, a contract that covers services of around two million train-kilometres per year.
Construction + Maintenance
Siemens will not only build and deliver the trains, but will also maintain during a period of 29.5 years. As it has no experience yet with train with alternative propulsion systems, SFBW explicitly stated that it wanted the manufacturer to be responsible for the reliability and availability during the entire lifetime of trains.
With this so-called 'lifecycle model' Siemens will be responsible for the energy consumption and energy costs throughout the duration of the contract.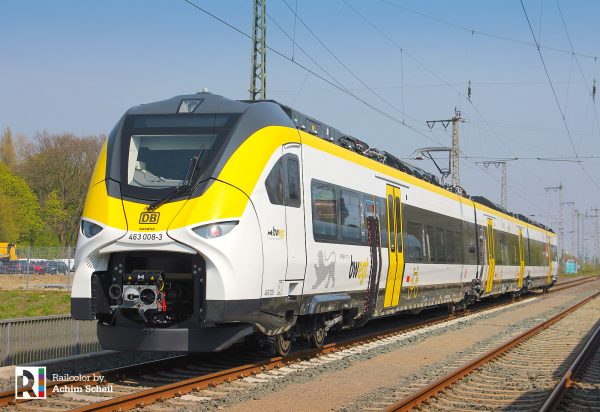 Batteries beat hydrogen
The Siemens BEMU has prevailed over all other competitors in the bidding process as the most economical offer and thus also against fuel cell technology. The trains will be delivered before their planned commissioning in June 2023.
Railcolor: Again and BEMU model is being preferred over Alstom's hydrogen iLint product. Schleswig-Holstein also selected a battery train for its technology-open contract for new regional trains. There Stadler Rail was the winner.
Baden-Württemberg has not yet specified the product-name of the Siemens trains. But it is very likely it concerns Mireo trains, as shown in the title picture.