Today, Stadler announced it will be supplying 16 FLIRTE MUs to German TransDev subsidiary NordWestBahn. The operator will add the new 4-cars trains to its fleet of Alstom Coradia Continental trains.
Valued at approximately EUR 100 million, the new electric multiple units will be used on the Lower Saxony regional S-Bahn network in and around in the city of Bremen (DE). According to the contract, the new trains will enter regular service in December 2022.
NWB operates the trains on the Lower Saxony regional S-Bahn network since 2010. It won the tender, published by Landesnahverkehrsgesellschaft Niedersachsen (LNVG) back in 2008, defeating DB Regio, amongst others. NWB operates a fleet of 35 Alstom Coradia Continental EMUs in Bremen. The FLIRTs will supplement this fleet.
The new FLIRT in the design impression has the standard Transdev livery in blue, white and red, replacing the standard blue/black/yellow NWB color scheme.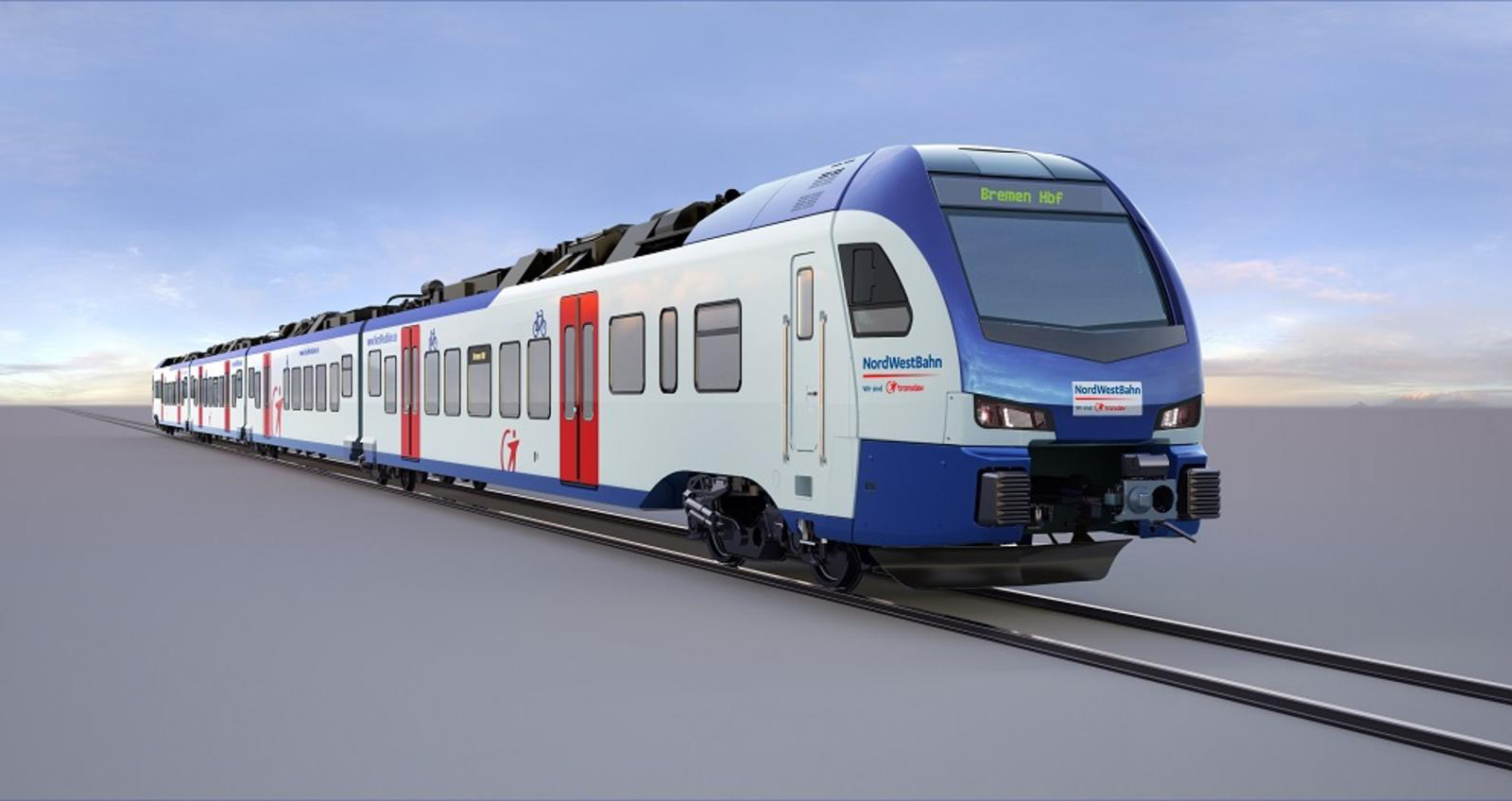 Tech specs:
Maximum speed: 160 km/h
Consist: 4 cars
Length: 86.9 m
Capacity: 527 passengers (260 seated)
The trains have bright passenger areas, which are step-free throughout. Seven doors on each side allow for rapid passenger boarding. The multi-purpose areas offer space for transporting up to thirty (e-)bicycles, bulky luggage, prams or wheelchairs.
other amenities:
Power outlets for charging e-bikes;
Two toilets, one universal, one PRM TSI;
Wifi;
Passenger information system;
Video security monitoring system.
According to Stadler, after the delivery of these new trains, Transdev will be operating a fleet of 118 FLIRT trains in various configurations. Last year, for example, a contract was signed for the delivery of 64 FLIRT EMUs for the Hannover suburban railway (S-Bahn) – to operated by Nordwestbahn starting from 2021:
[DE] Stadler to deliver 64 FLIRT EMUs to Nordwestbahn for Hannover S-Bahn services