We congratulate Gudrun Geiblinger, Roco and the ÖBB with the result of another fruitful common project. This is ÖBB's newest Werbelok: 1216 019 'Leonardo da Vinci'.
The article was originally published on 09.05.2019 and updated on 13.05.2019, 21.05.2019, 27.05.2019, 30.05.2019. Scroll down to see the updates.

The locomotive in its new design was presented officially this morning, at Salzburg Hauptbahnhof. Leonardo da Vinci is a famous Italian multi-talent, inventor and artist, who lived from 1452 until 1519 (500 years ago..).
Of course, small scale 'Leonardo's' were shown, these models will be available later this year.
Facts about the 1216 019:
Siemens ES64U4 locomotive with country specific package type 'A' – delivered in 2007
In 2013 this locomotive got a special livery about Richard Wagner and Giuseppe Verdi
In 2016 the same engine was the 'Aachensee' Werbelok
The 1216 019 can be used in Italy and for RailJet trains
Did you know, it is not the first time a Siemens ES64U4 locomotive gets a Leonardo da Vinci design? Slovenian locomotive 541 101 got a (more brownish) design back in April 2013.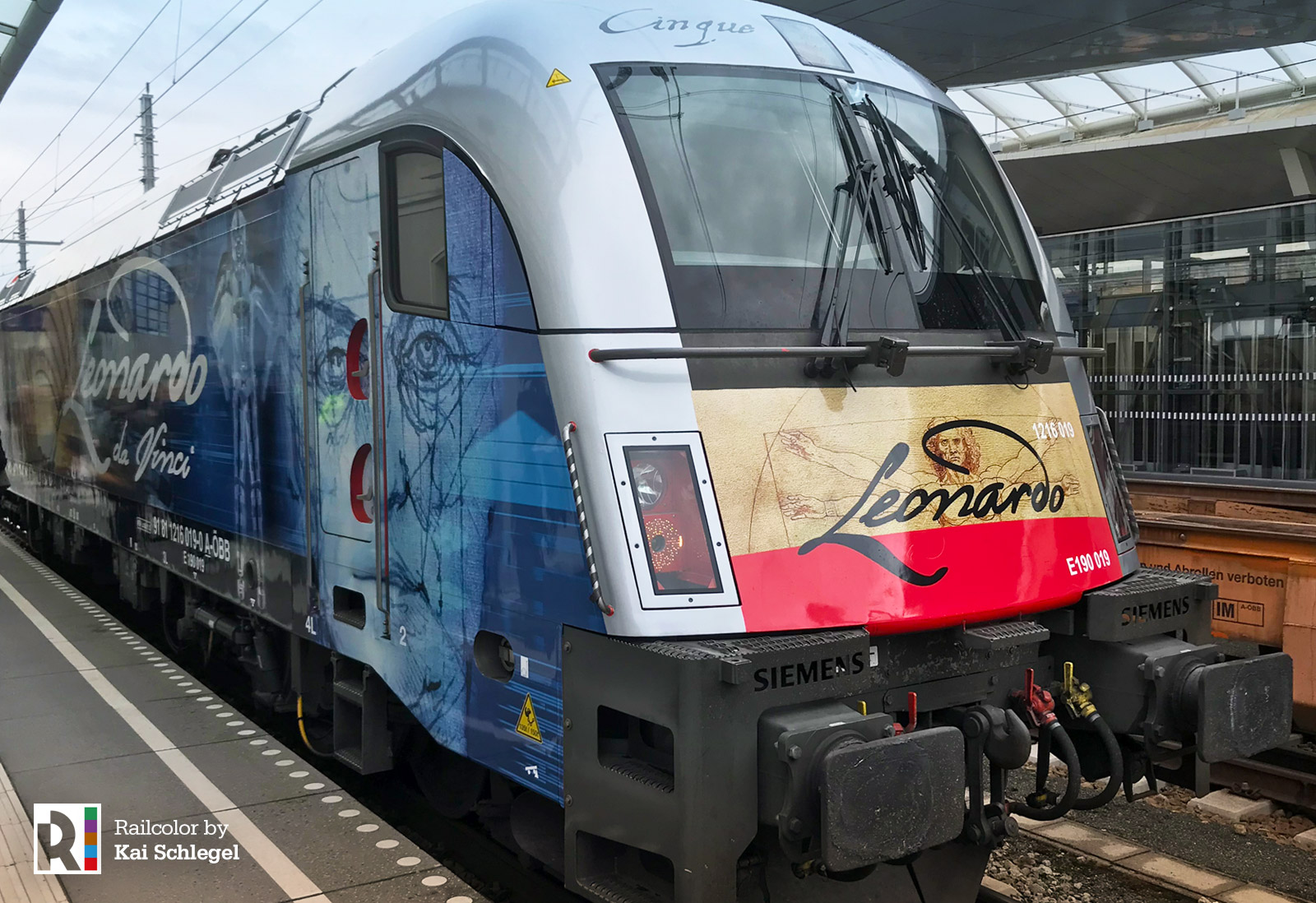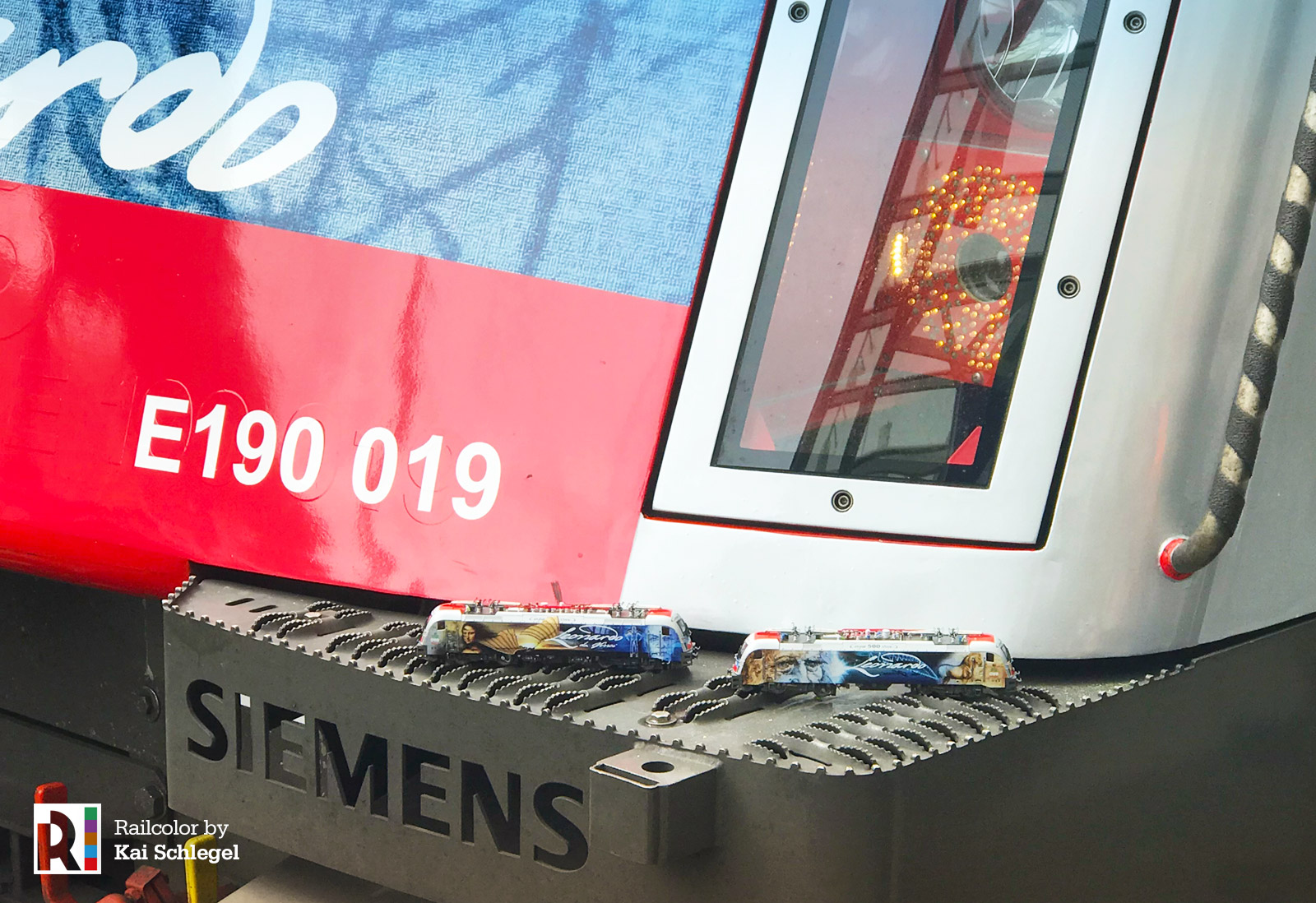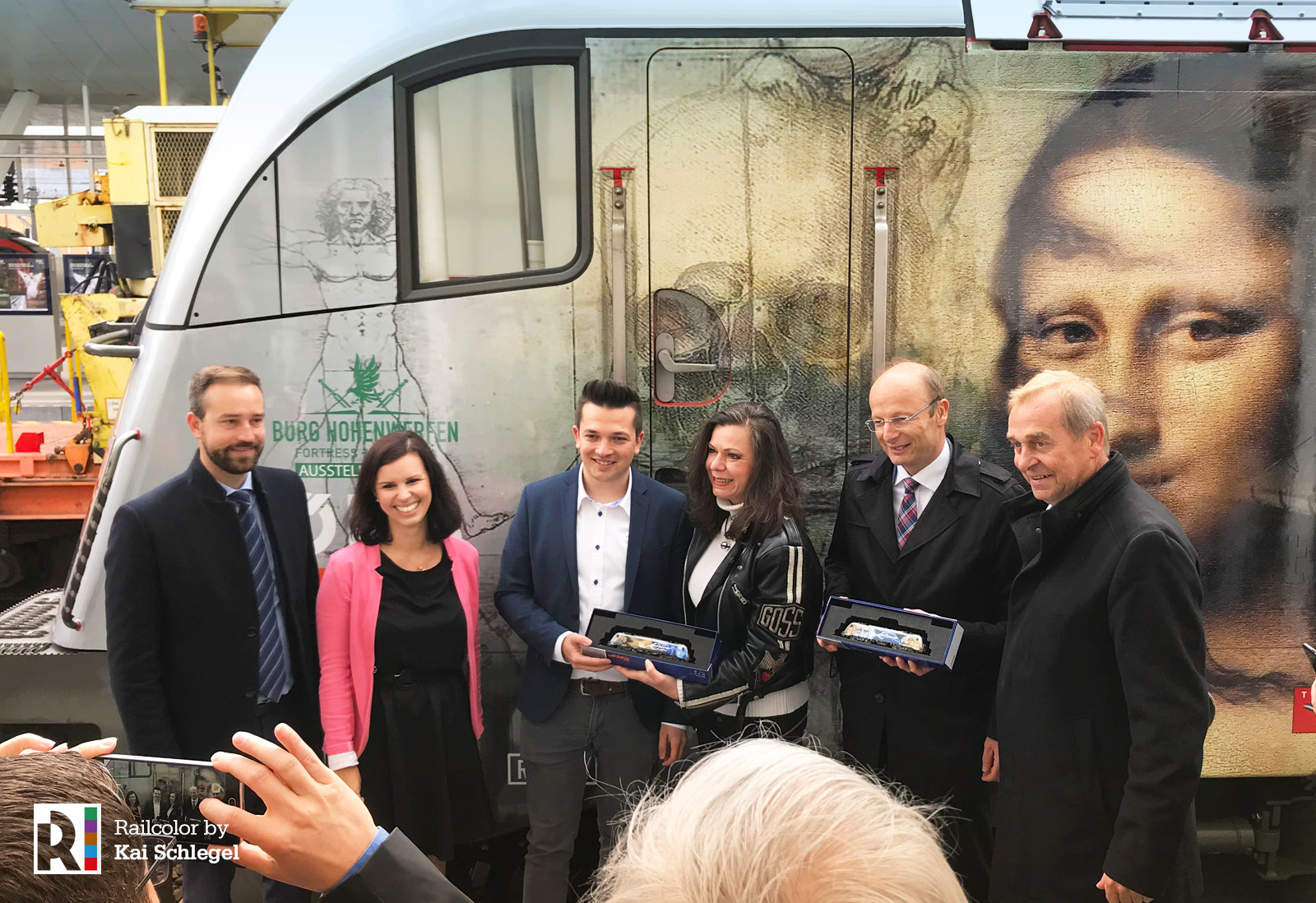 Update #1: 13.05.2019
Burg Hohenwerfen
Let's have a closer look at 1216 019's cab. On top of ÖBB's logo, there is another one – the Burg Hohenwerfen fortress. A special 'Leonardo da Vinci' exhibition, dedicated to Italian polymath's vast range of talents is being held at the castle until the end of the year. Roco's logo is on the cab too – seen just under the one of ÖBB.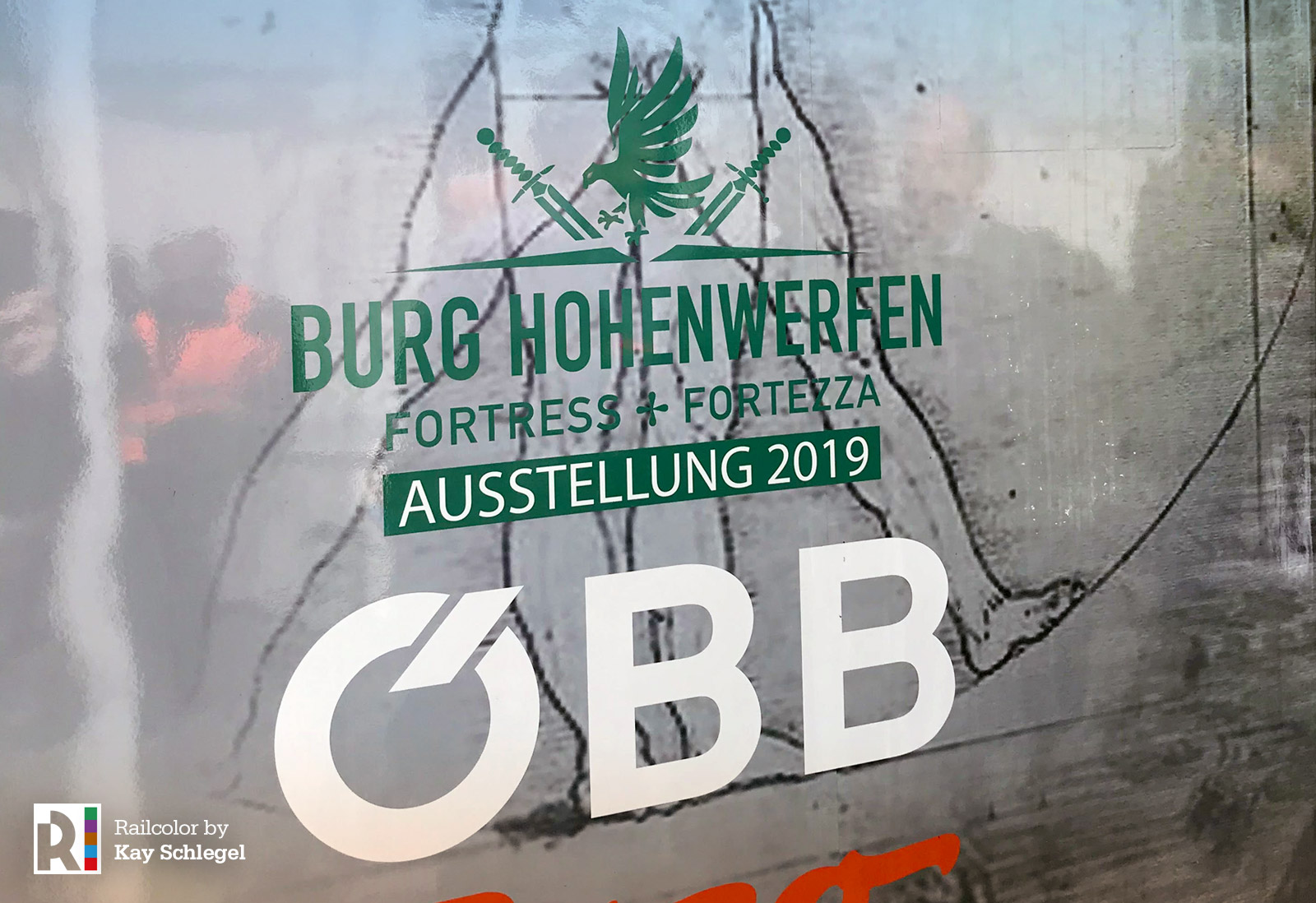 1216 019 pulling trains
Simon Buchmann (check out his Instagram feed here) has managed to catch 'Leonardo da Vinci' in action. The photo below shows the locomotive pulling a train bound to Munich (DE) last Saturday: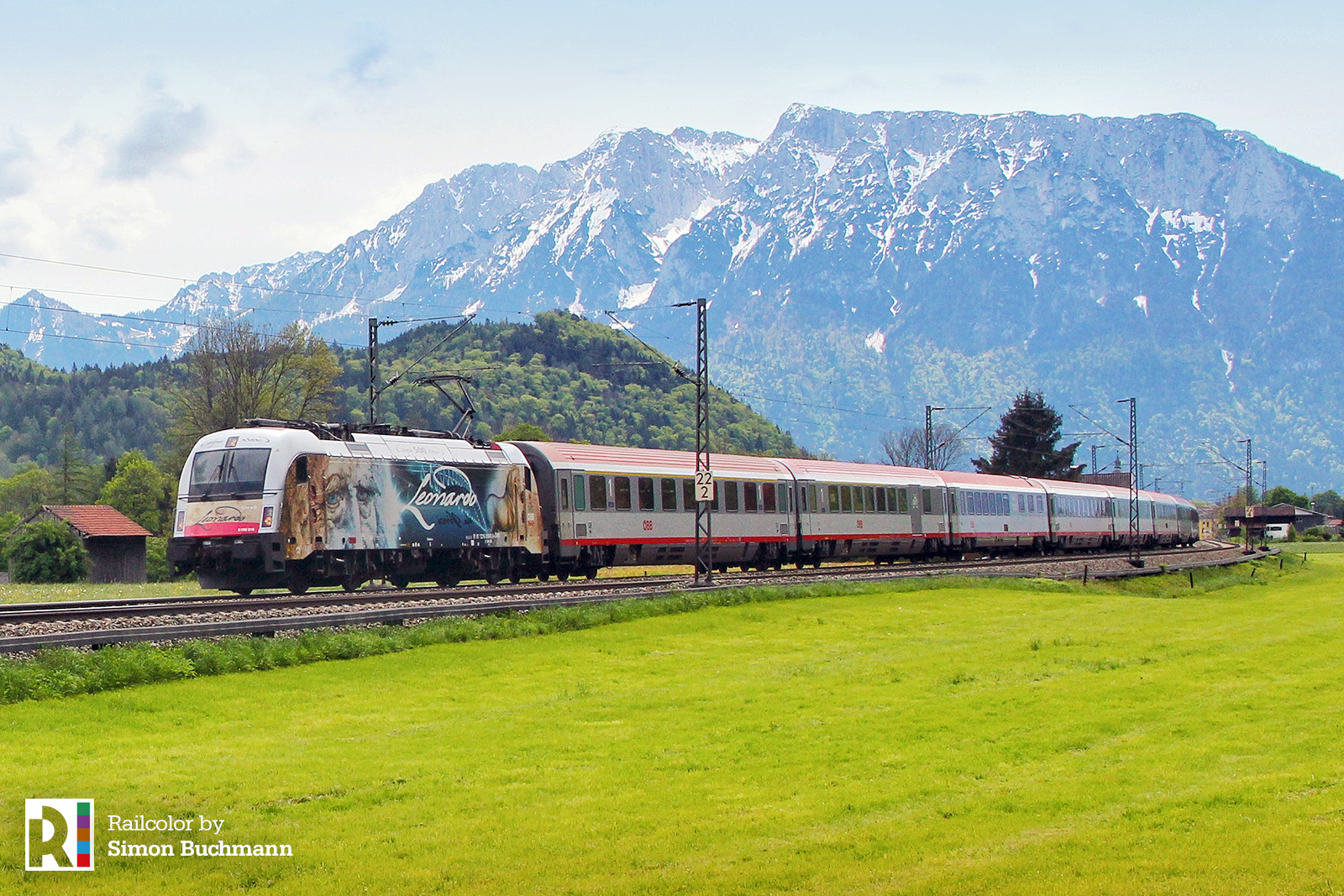 Update #2 (21.05.2019): Christian Tondo sent us a view of the locomotive from Bologna Centrale station in Italy, as seen on 16.05.2019: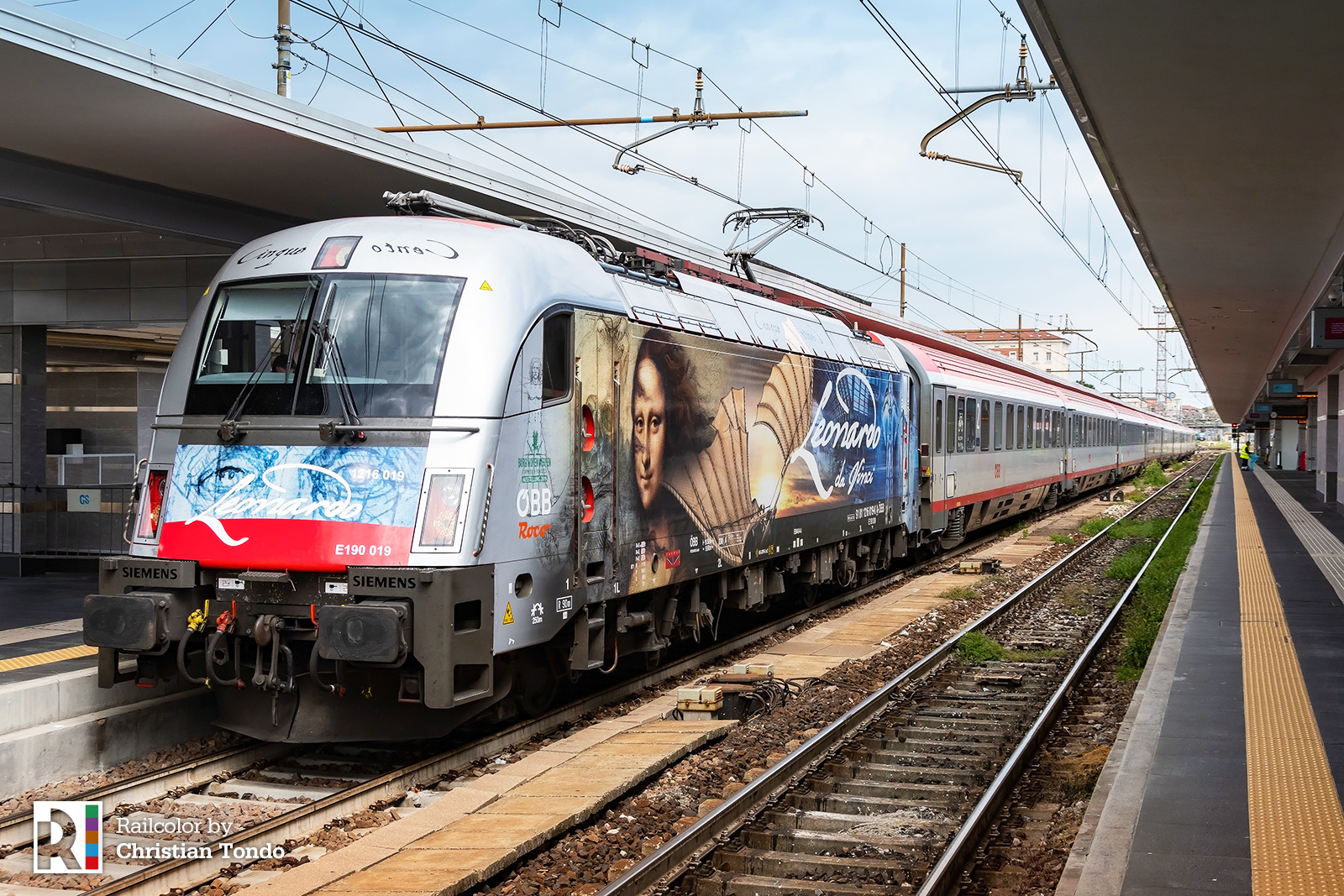 Update #3 (27.05.2019): Yet another stunning landscape image from Simon Buchmann. This time he managed to capture the 'other' side of the locomotive: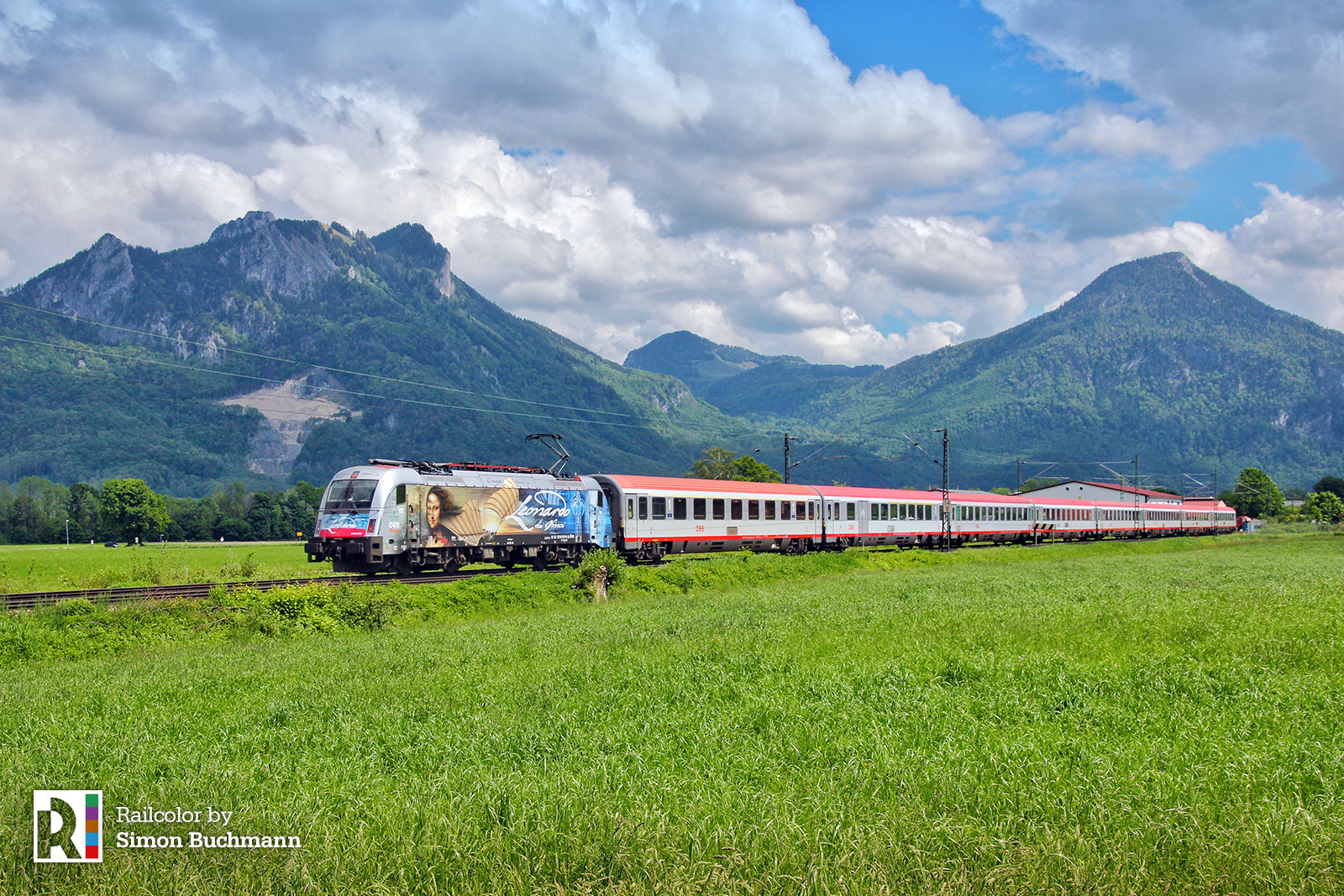 Update #4 (30.05.2019): We have also received some impressive images by Sven Franz, who managed to capture the locomotive in Innsbruck, Gries am Brenner and Brenner station. We made a gallery: