At the end of January, we showed you the first visuals of Ostdeutsche Eisenbahn GmbH (ODEG)'s upcoming new trains. Today Siemens has officially announced the Desrio HC order. Here are the details:
The trains that ODEG has ordered will cost around EUR 300 million – The delivery is scheduled to start in the summer of 2022. As we already know, Siemens will deliver a total of 23 Dsiro HC trainsets in two versions:
21x 6-car units for line RE1 (lot 1), connecting Magdeburg with Cottbus via Berlin and Frankfurt (Oder)
2x 4-car units for line RE8 connecting Wismar and Wittenberge with Baruth and Elsterwerda/Finsterwalde via Berlin, as well as on the RB17 line, connecting Wismar and Ludwigslust. These will be used alongside refurbished Stadler KISS EMUs.
Both versions will have a maximum speed of 160 km/h.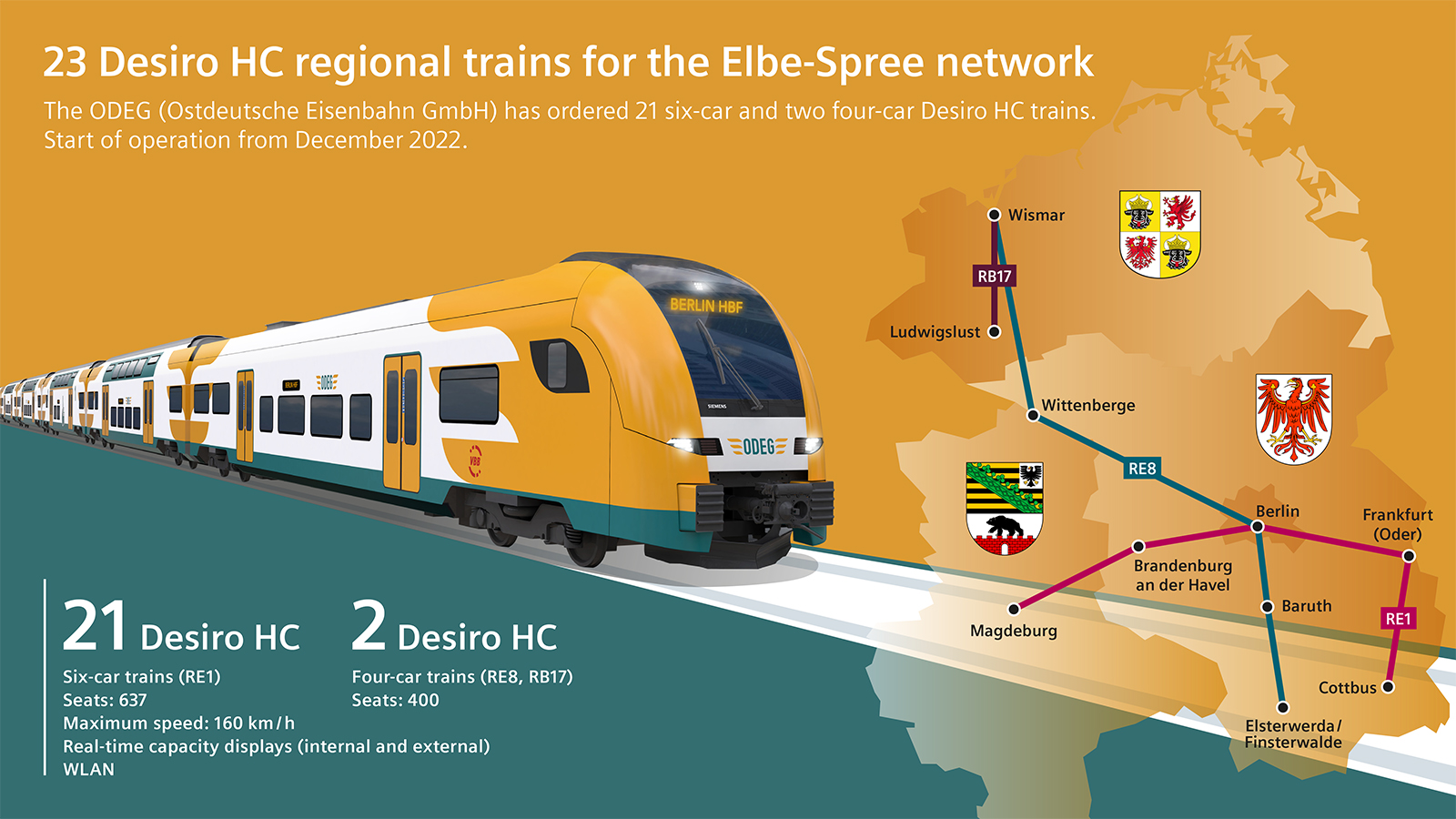 Interesting is that there will be a possibility of increasing the capacity of the 6-car trains, from 637 seats to 800 seats, but before that can take place several platforms will have to be extended.
"We've already started implementing our operating concept for the Elbe-Spree network. In addition to expanding our workshop and training facilities, the trains are a very important part of the concept. They must meet all specifications defined in the transport contract and prove themselves in operation. We're relying here on Siemens as a strong partner and anticipate on-time and professional production of the trains by the start of operations as well as very good and close cooperation," – Arnulf Schuchmann, CEO and Speaker of ODEG.
In terms of features, the EMUs will have generous space available for bicycles, strollers and wheelchairs and a multipurpose car with a barrier-free WC. Sliding steps will enable barrier-free access at stations with 550 mm and 760 mm platform heights. Wider doors than in older trains will speed and ease passenger boarding and exiting. Free WLAN on board will be also available, as well as a passenger safety systems including cameras.
Siemens also points out that in case of a conflict or problem, supervisors at the operations control center can communicate directly with a car/train via loudspeakers. The cars will offer real-time capacity displays both inside and outside, and this information will be also accessible via the VBB mobile application.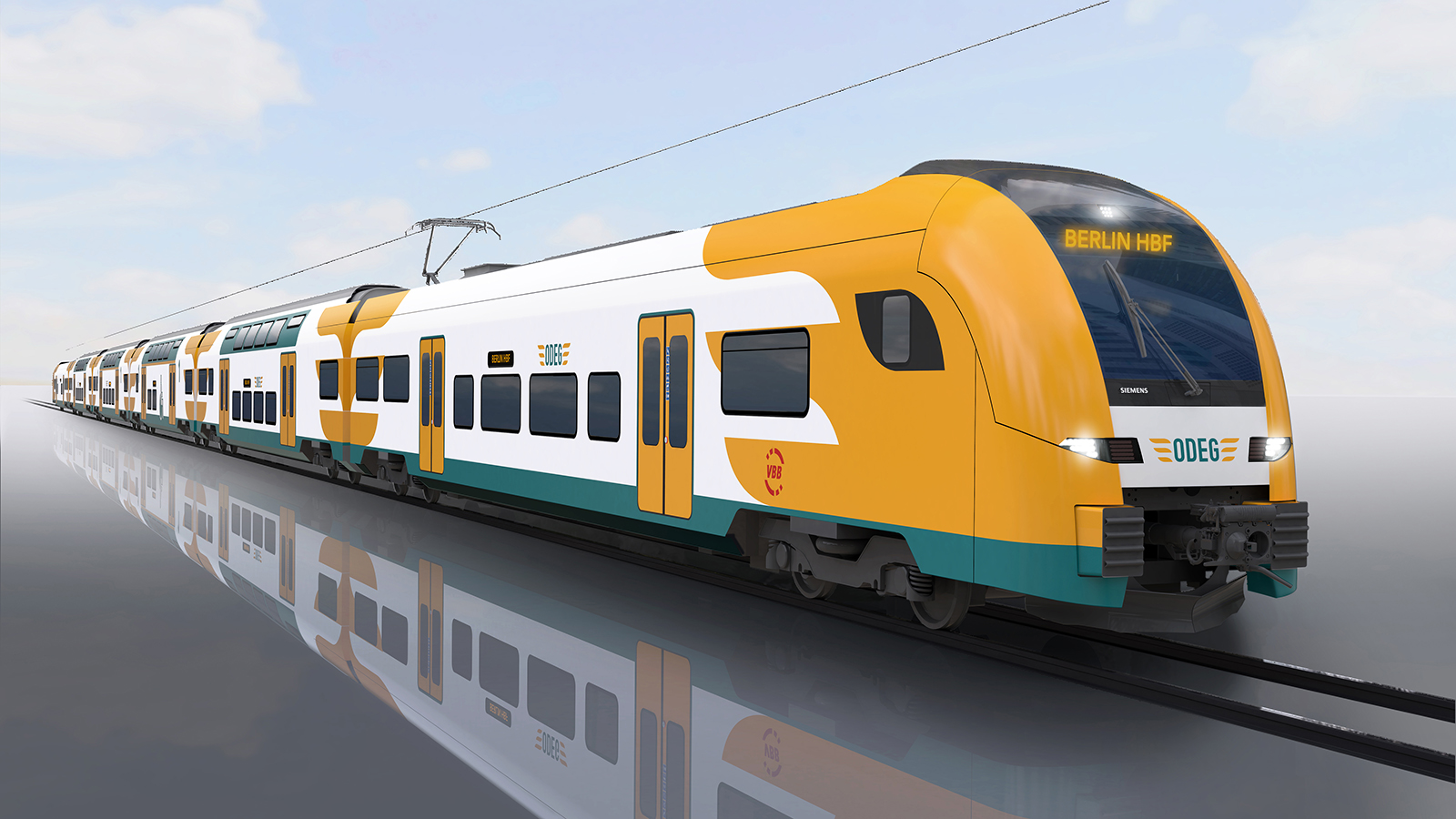 The start of operation is scheduled for the timetable change in December 2022. All the trains will be built at the Siemens plant in Krefeld, Germany.
About the Elbe-Spree Network (NES)
In November 2017, VBB announced a pan-European tender for the "Elbe-Spree Network" (NES) on behalf of the states of Brandenburg, Berlin, Mecklenburg-Western Pomerania and Saxony-Anhalt. Operating around 27 million train-kilometers a year, the NES is the largest regional railway network in Germany to date that has been tendered. It comprises 17 regional express and regional railway lines as well as the future airport express (FEX) to the new Berlin-Brandenburg airport.
The tender was divided into four lots, lots 1 and 4 were awarded to ODEG, the other two will operated by DB Regio.