ICE 4 begins regular service
One-year testing phase successfully concluded
Five trains now underway between Hamburg and Munich and Hamburg and Stuttgart
ICE 4 fleet will grow to 119 trains by 2023
With today's (Railcolor: 10.12.2017) timetable change, Deutsche Bahn AG (DB) is introducing the ICE 4 into regular service, thus reaching a further project milestone right on schedule. Initially, five trains will operate on the routes between Hamburg and Munich and Hamburg and Stuttgart. The ICE 4 fleet will grow to nine trains by the summer of 2018. All in all, Siemens will deliver a total of 119 trains by 2023. Of these, 100 will be in a twelve-car configuration and 19 in a seven-car configuration.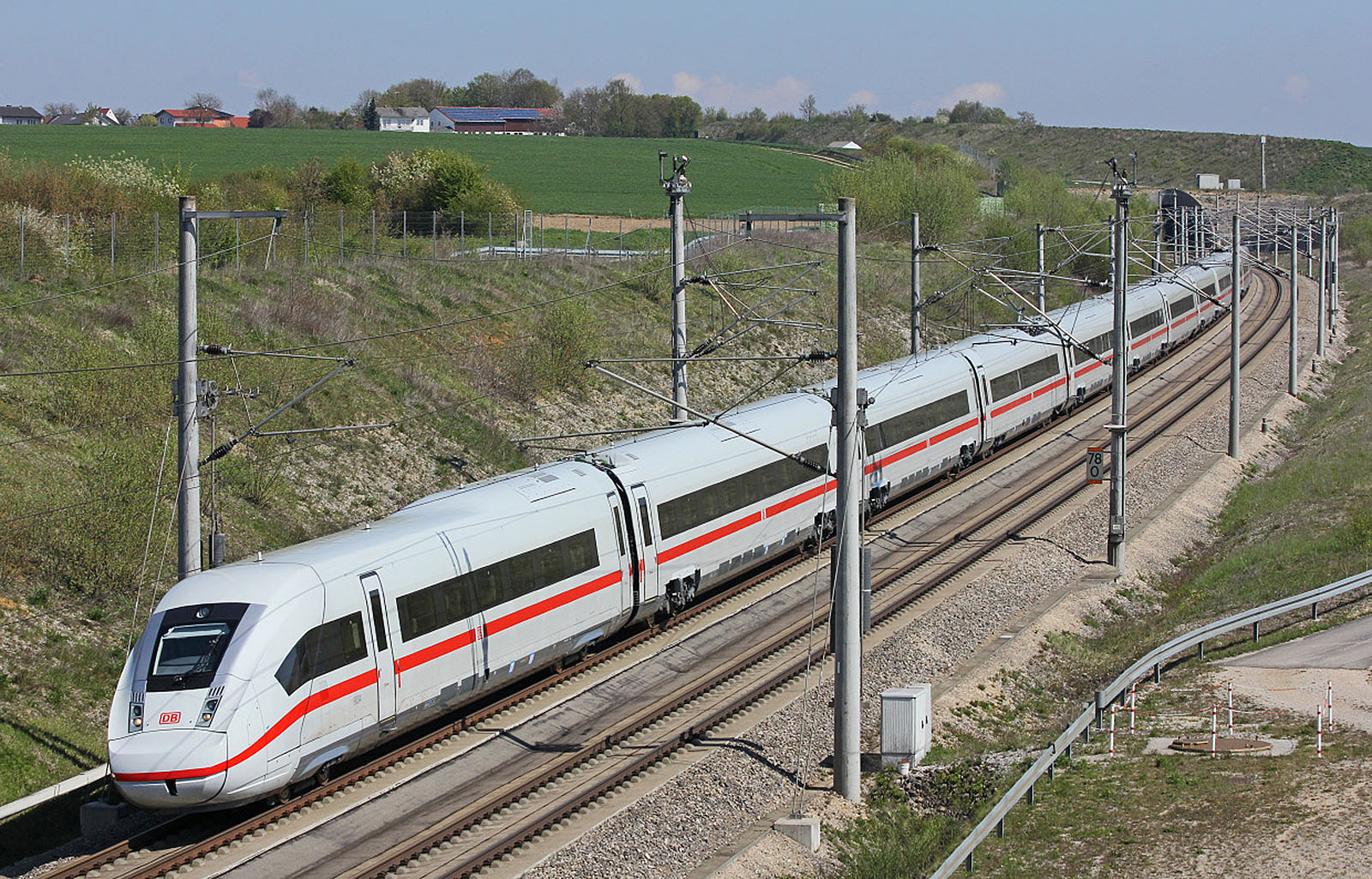 DB plans to reach its ambitious growth goals with the ICE 4 fleet. The operator's mainline strategy, approved in 2015, is to expand its long-distance offerings by 25 percent by 2030. DB wants to attract an additional 50 million passengers a year, and the ICE 4 will provide the backbone for its long-distance service.
"The ICE 4 is the new flagship for our long-distance routes and sets standards for our passengers: Plenty of storage space for luggage, an elegant restaurant and an innovative lighting concept ensure a high level of comfort for passengers. This is the first ICE on which passengers can take their bicycles. Thanks to a completely revamped family area and parent-and-child compartment, we're making journeys even more relaxing for families," says Birgit Bohle, Chairwoman of the Management Board of DB Fernverkehr AG.

"The ICE 4 is the biggest order for trains ever received in the nearly 170-year history of Siemens. We're right on schedule with the execution of the order, and regularservice could be started punctually. This train sets new standards in intercity transport with its unique technological concept," explains Sabrina Soussan, CEO of the Mobility Division.
The ICE 4 trainset was designed to provide the greatest possible flexibility. A total of 24 train configurations are possible on the basis of five car types and the trains can be adapted to capacity requirements, top speed and the selected route profile. A prerequisite for the virtually freely configurable trains was the development of a so- called powercar that combines all traction components within a single car. In these powercars, all main traction and power supply components are arranged under the car floor. The trains are a combination of powercars, a service car, intermediate cars and two end cars. A 12-car ICE 4, for example, is driven by six powercars and can reach a top speed of 250 km/h.
[amazon_link asins='B0046SB8WQ,3613712776,B004QEZK5Q,B016OQ6R32′ template='ProductCarousel' store='railcolorziem-21′ marketplace='DE' link_id='08383311-de9a-11e7-9d1f-5db84c182bba']
The 346-meter long, 12-car train offers 830 seats and has large luggage racks located near the seats. A family compartment offers more room compared to earlier cars. The train also has additional open areas for accommodating baby buggies in the parent and child section. Four spaces are available for passengers in wheelchairs and, for the first time, it will be possible to take along bicycles in an ICE: eight spaces can be reserved in the end car.
An innovative lighting scheme is attuned to the time of day and creates a pleasant atmosphere inside the cars. The system provides subdued lighting in the early morning, and when the sun rises, it turns into a warm and stimulating tone before shifting to normal daytime lighting. In the evening, the lighting system simulates a setting sun.
[amazon_link asins='B004QEZK5Q,B016OQ6R32,B0046SB8WQ,3613712776′ template='ProductCarousel' store='railcolorziem-21′ marketplace='DE' link_id='08383311-de9a-11e7-9d1f-5db84c182bba']
A new type of air conditioning system ensures that outside temperatures ranging from a minus 25 degrees Celsius to a plus 45 degrees Celsius can be comfortably handled. The system is also redundant, so that one part will continue to operate if the other should shut down.
The new and modern seats have improved headrests. When adjusted, the seatbacks don't recline to the rear but rather into the seat's shell without disturbing the passenger behind. Each seat in 1st class has its own electrical socket and a reading lamp. Reservation signs and seat numbers are easily visible and reachable, and integrated into the seat headrests. The new trains have multi-provider technology using the latest WiFi technology. The system connects with the fastest data network available (LTE, 3G) while the train is underway and bundles the capacities of the network operator so that higher data volumes can be processed. This provides passengers with a faster and more stable WLAN connection.
The ICE 4 fleet is equipped with the European Train Control System (ETCS). With this system, the ICE 4 will be able to operate on the new high-speed rail route between Berlin and Munich as of December 2018.