On 23.11.2017, Akiem TRAXX 187 502 completed its maiden run. It is the first locomotive if its type that has the new Akiem base livery design, silver with the red squares. It is similar to the design applied on the newest Akiem TRAXX MS locomotives, the 186 351 and 352.
The 187 502 is a TRAXX AC3 locomotive with a top speed of 140 km/h. It has no Last Mile diesel module and it is certified to run in Germany only. In detail, the 187 500s are different from the AC3s that have been built before (series 187.0/1/2/3/4). Look close at the 502 and you see it does not have the features anymore to apply a Flex Panel. In stead of a installation with springs that can hold a Flex Panel, the machine now has simple metal plates around the ribbed side areas. This simplified side design is similar to the one use for the TRAXX AC3 locomotives for Israel. Big different however is that the 187 500s still can have a Last Mile diesel module if desired.
[amazon_link asins='B01N3CNCXQ,B01D4Y4GZS,3882551321,3882553529,B003VNP54O' template='ProductCarousel' store='railcolorziem-21′ marketplace='DE' link_id='53f1bb2a-d127-11e7-bce9-fbbf1b74520a']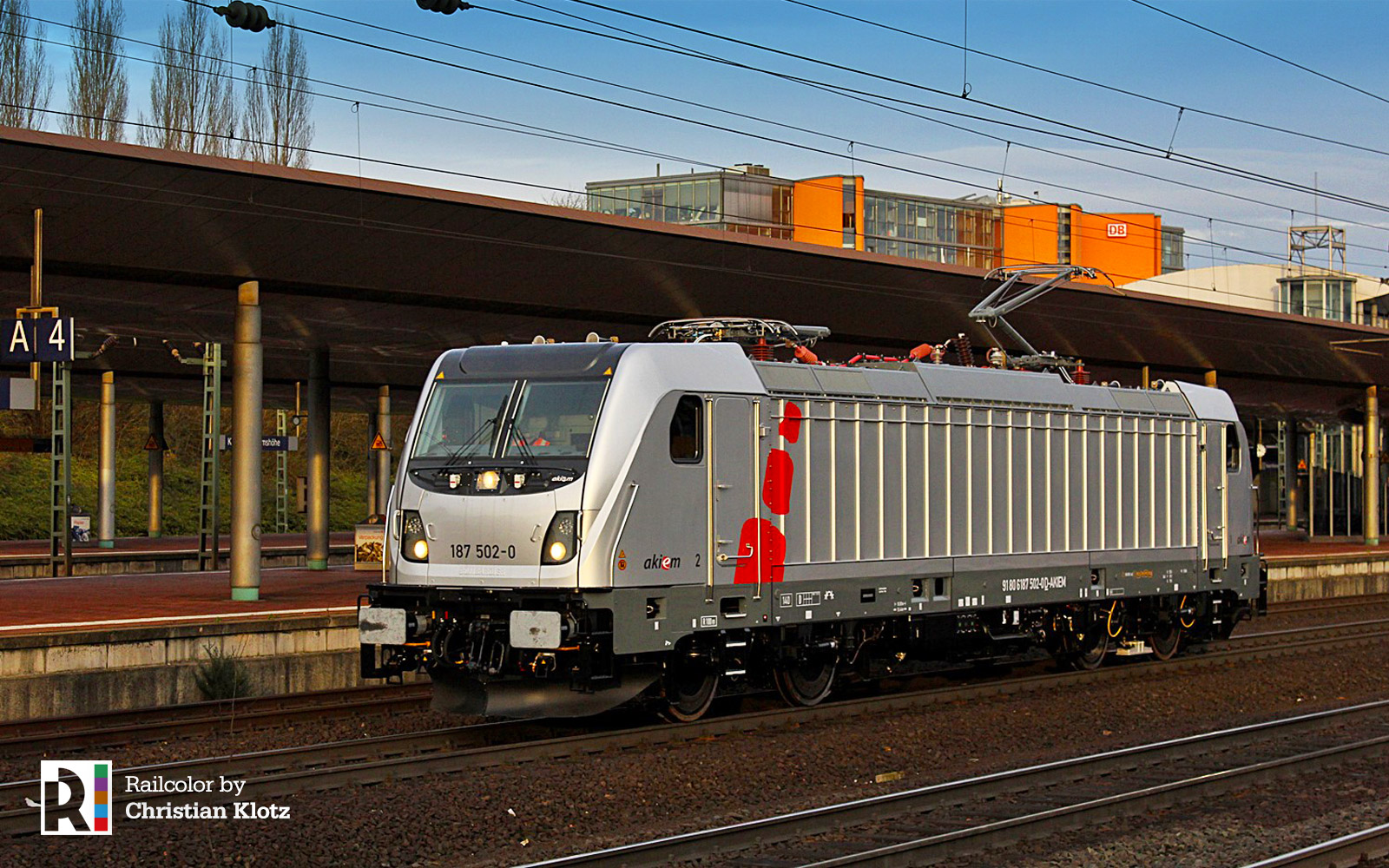 The 502 is not the first of its type, not the first of its batch to be released from work. 187 500 has been seen many times over the past months, and it was sent out to the VUZ Velim test center in the Czech Republic earlier this year. Currently this locomotive is awaiting being released as the next Railcolor Design locomotive.
[amazon_link asins='3882553529,B003VNP54O,B01N3CNCXQ,B01D4Y4GZS,3882551321′ template='ProductCarousel' store='railcolorziem-21′ marketplace='DE' link_id='53f1bb2a-d127-11e7-bce9-fbbf1b74520a']