Since 2012, CZ LOKO has had the EffiLiner 1600 locomotive in production, a heavily rebuilt version of the well-known Czech and Slovak 749 to 754 series locomotives. Until now, Czech operator SD – Kolejová doprava a.s. was not only launching customer, but also the only customer. This changed with an order for the type by Unipetrol Doprava s.r.o.
By ordering three Class 753.6 locomotives in 2011, now known under the type designation EffiLiner 1600, SD – Kolejová doprava a.s. (SD-KD) became launch customer of the type, with revenue services commencing in 2012. However, the fleet of EffiLiner 1600 locomotives has steadily grown over time.
In 2013, a fourth locomotive was out-shopped by CZ LOKO, numbered 753 604-8. Carrying the red and grey CZ LOKO colour scheme, the locomotive was first used as a demonstrator and hire locomotive. As such, it was operated by METRANS (Danubia) a.s. and PSŽ – Prvá Slovenská železničná a.s. in 2014 and 2015. Subsequently, it was delivered to SD-KD, joining locomotives 753 601-603. In August 2017, SD-KD expanded its EffiLiner 1600 fleet once again by adding locomotive 753 605-5 to its fleet.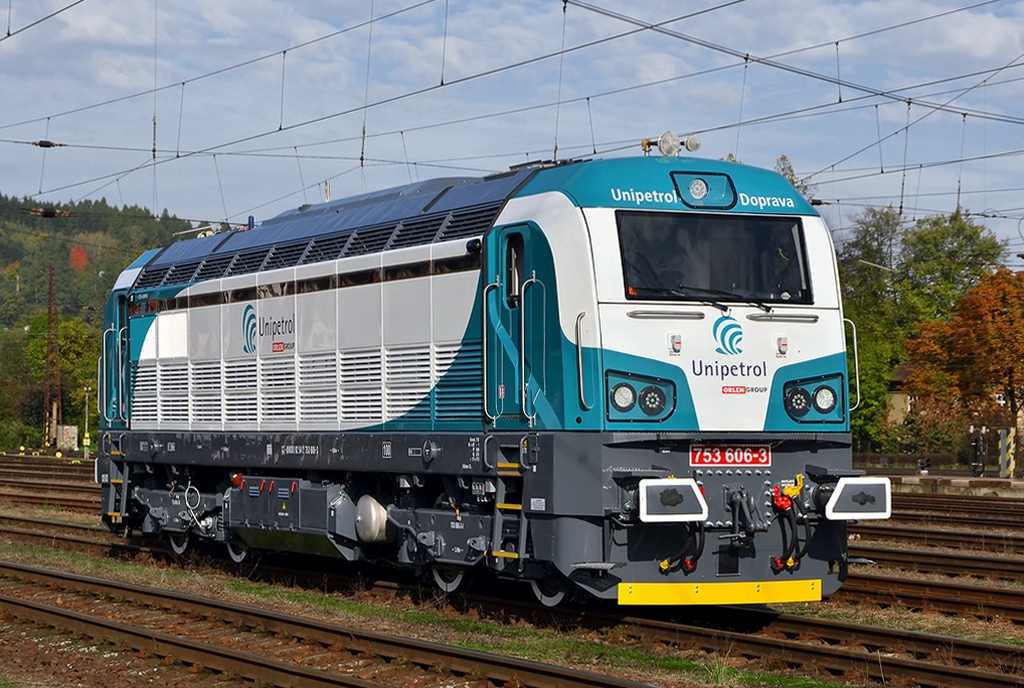 Now the SD-KD hegemony has been broken by Unipetrol Doprava, which has decided to add at least two locomotives to its fleet. Locomotive 753 606-3 was the first to be out-shopped by CZ LOKO, making a test run in Česká Třebová on 12 October 2017. Next to the firm order for two of the type, Unipetrol Doprava holds the option to order a further two locomotives. Delivery of locomotive 753 606-3 is planned for next week (week 43).
CZ LOKO's EffiLiner 1600 is a heavily modernized version of the well-known Czech and Slovak 749 to 754 series locomotives. Besides the frame and bogies, the greatest part of the original components are replaced by new ones. The Bo'Bo' loco incorporates a new Caterpillar 3512C-HD engine in combination with a traction alternator delivered by Siemens, has a nominal output of 1,550 kW and a maximum speed of 100 km/h.
Learn more about CZ LOKO Class 753.6 EffiLiner 1600 locomotives on MainlineDiesels.net.