Europe's one & only
modern luxury train

Advertorial
100.000 working hours – 60 years of labor; That was the amount of energy and passion needed to bring the Luxon alive – A train in a league of its own, modern luxury on rails, something Europe has not seen for a very long time.
This is not a 'modernization', nor an upgrade – Luxon is built to set a new standard in hospitality on rails, bringing the best of rail travel together in one concept, for everyone to enjoy.

Slide through Europe's most beautiful landscapes, comfortably, while enjoying the finest food made a two-star chef and enjoying the view from Luxon's impressive vista dome.
RailAdventure teamed up Geisel Privathotels from Munich to develop a unique rail travel experience, tailored to your needs. A business meeting, a cocktail party, getting married? Come aboard.
This slideshow requires JavaScript.
Modern railways at its finest
Recently RailAdventure invited us to Munich to learn about their latest innovation on rails: the Luxon panorama train. RailAdventure calls itself the 'interim rail operator'. The company is best known for its exotic train transports and test runs with new rolling stock. You may have seen its 'classic' locomotives - in the distinctive two-tone grey livery - or maybe you spotted a train running on green/yellow loco-buggies, another innovative product by RailAdventure.
For the company from Munich, it is important to go beyond sacred cows – Its projects serve one purpose and one purpose only: showcase modern rail transport, the possibilities, the advantages. The Luxon is no exception.
On purpose, RailAdventure does not want to qualify the Luxon dome car as a modernization project. Too much work, too much passion has been put into the project.
Alex Dworaczek, CEO of RailAdventure: "Building the Luxon, the only modern luxury rail car in Europe, was a real 'tour de force' – many dreamt of it, we did it.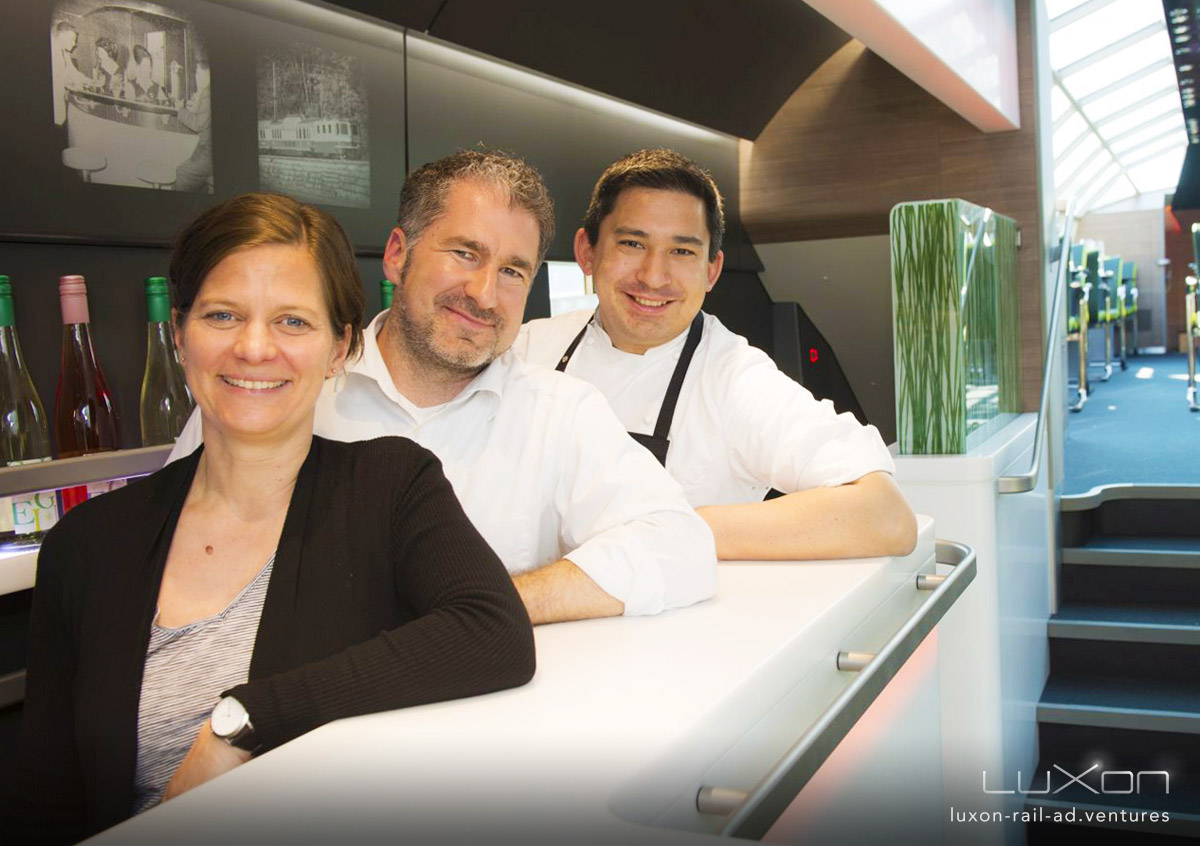 The team behind Luxon: Milena Antoli, Design & Marketing RailAdventure, Alex Dworaczek, CEO RailAdventure & Geisel's two-star chef Tohru Nakamura 
Eventually, only the body, the bogies, and the braking system of the original car were re-used. Over 300 suppliers brought their craftsmanship to the table to create a unique, new rail vehicle that has to redefine the perception of rail travel; Contemporary instead of classic, custom-built, featuring all luxury and technology one would expect from a modern venue for business meetings or private parties.
".. This is more than a modernization. Eventually, only the body, the bogies, and the braking system of the original car were re-used."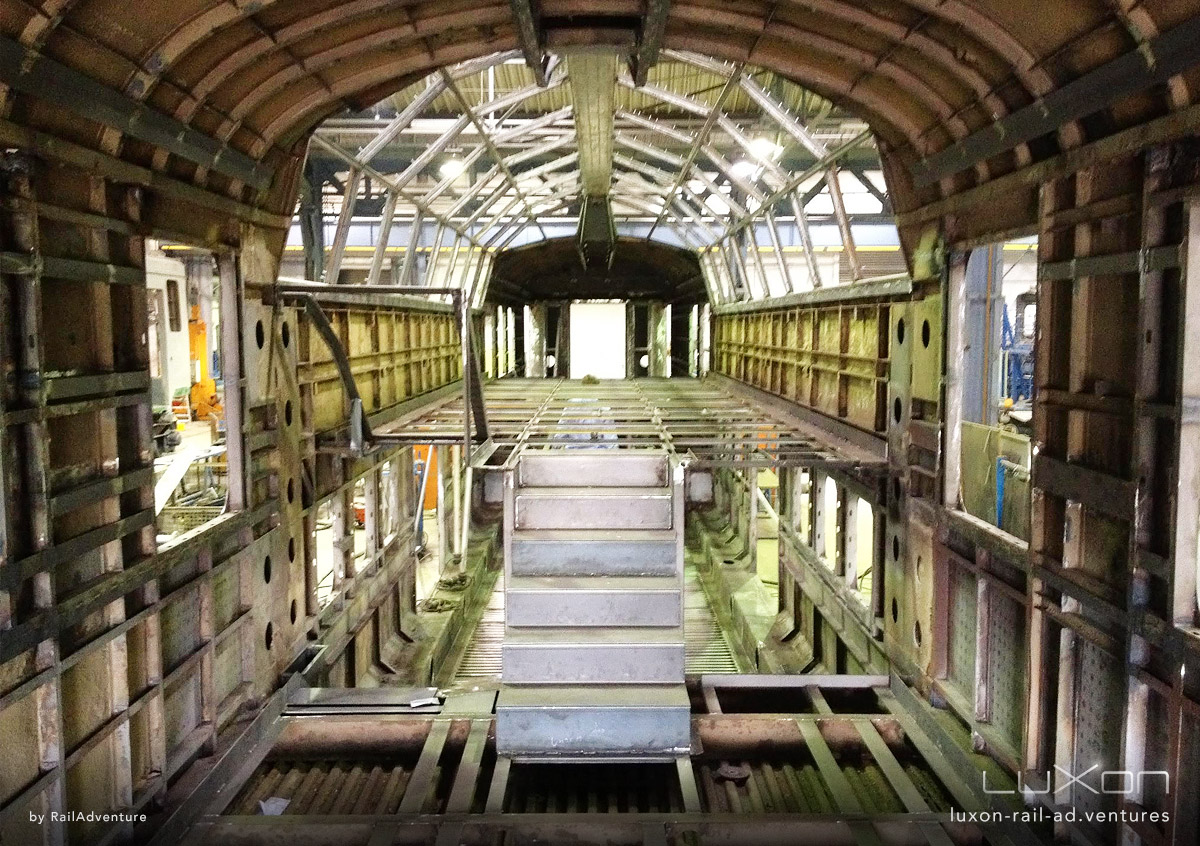 A bit of history
... the Deutsche Bundesbahn (DB) wanted similar coaches for its TEE Rheingold and Rheinpfeil services. In 1962 and 1963, Wegmann in Kassel delivered five dome cars type 'AD4üm-62' – with a large glass segmented middle section where travelers could enjoy the spectacular view while riding along the Rhine.
...to German travel company Apfelpfeil, which decided lower the roofs by 20 centimeters, so that the dome cars could be used in Switzerland as well – and passengers could enjoy the Alps while traveling.
Eventually, Apfelpfeil had to file for bankruptcy. Via Reisebüro Mittelthurgau the cars ended up in Sweden, where Tågkompaniet used the cars from 1999 until 2002.
...but every vehicle has a different owner (and purpose):
• Car no.1 is in private hands – it is currently out of use
• Car no.2 is painted ivory/blue and operated by Freundeskreis Eisenbahn Köln;
• Car no.3 is RailAdventure's Luxon;

• Car no.4: it is operated by AKE Eisenbahntouristik and fully restored in its original state;

• Car no.5 functions as information office in Coburg (DE) since 11.05.2017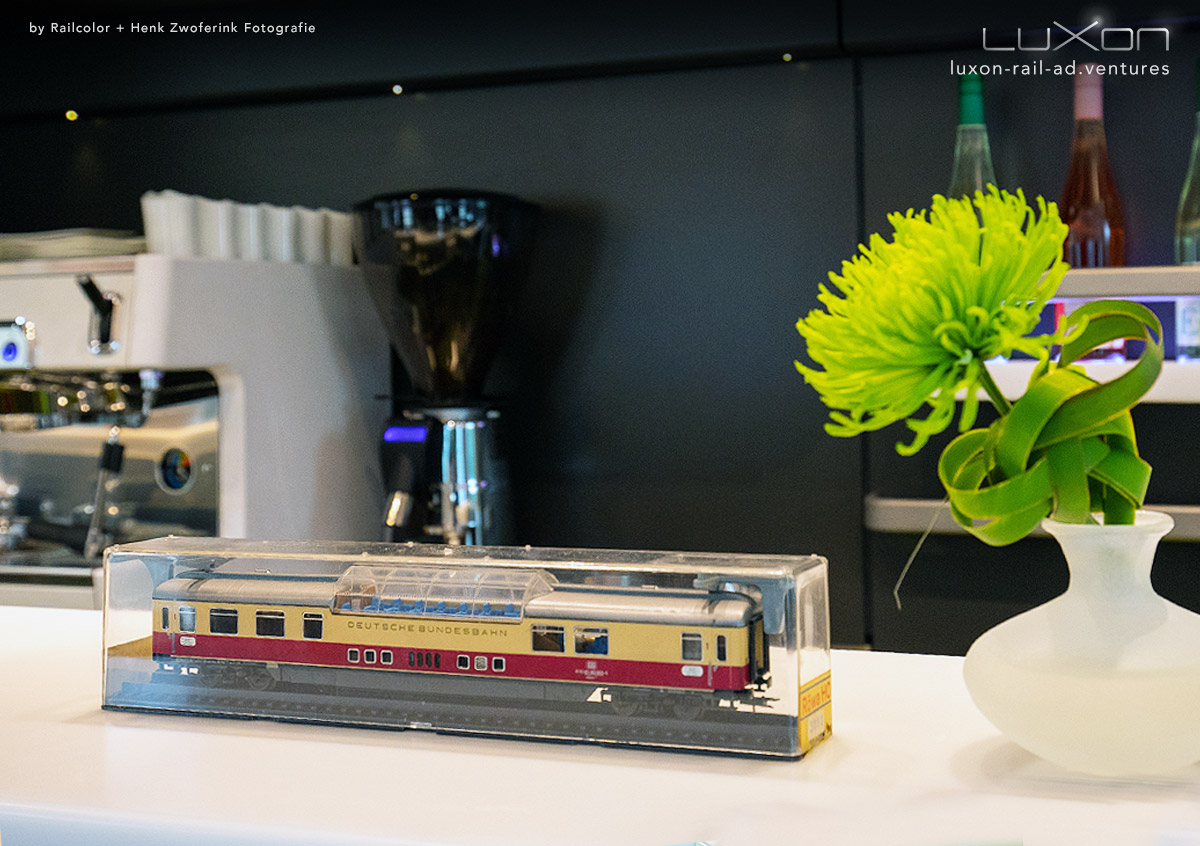 A reminder of a glorious past: a scale model of a dome car in ivory and red - the colors of the Deutsche Bundesbahn
First class hospitality by Geisel Privathotels
In order to provide the best service possible, the experts of Geisel Privathotels from Munich joined the Luxon team to develop a tailormade hospitality concept.
The Geisel family is known for its exclusive hotels and eateries for selected groups. Geisel's two-star chef Tohru Nakamura will prepare his finest dishes. Together they will make sure you won't lack anything during your stay onboard.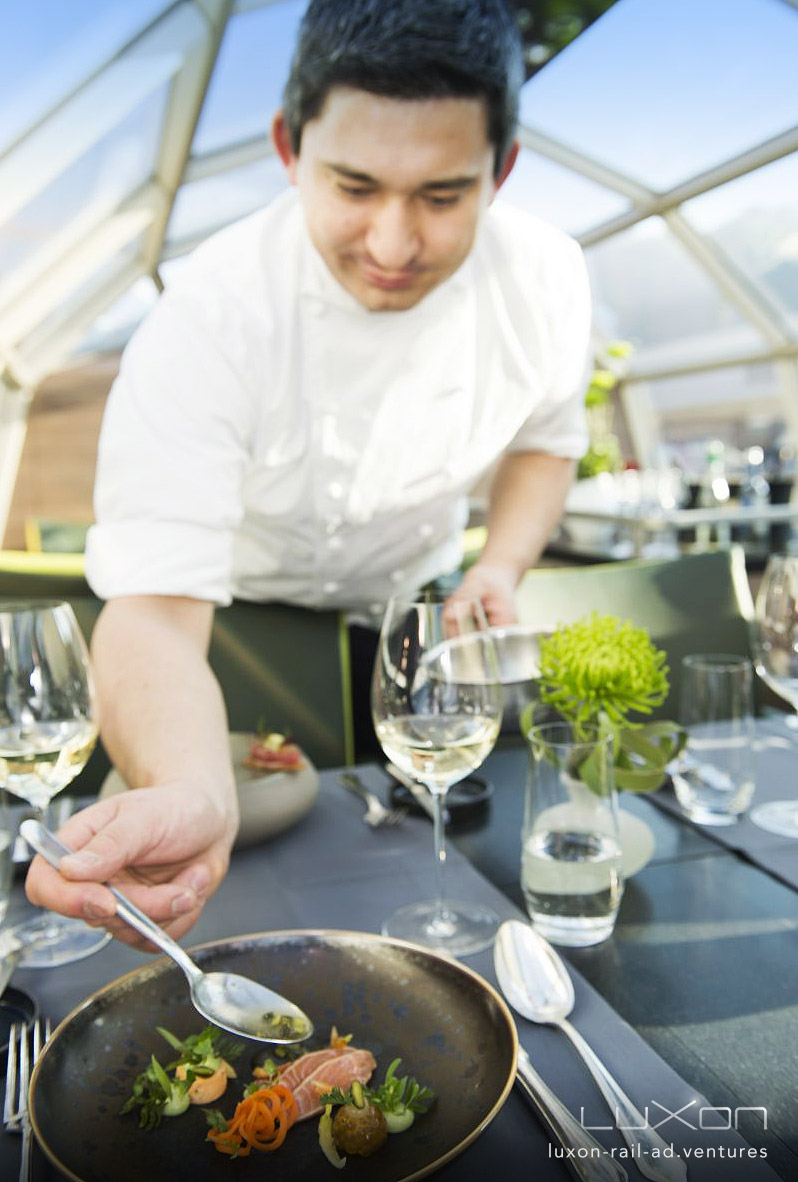 "I'm fully impressed. First, I couldn't imagine, that it's possible to cook a full menu on rails and having all the necessary equipment to prepare complex dishes on board. But, when we had our first ride with Luxon by Geisel and prepared our first dishes, the whole team and I were completely convinced. We are very happy to be part of this project and to have RailAdventure as a strong partner with so much dedication to this project. We all are looking forward to offering a completely new and unique dining experience for our guests on rails." 

Tohru Nakamura, two-starred Chef by Geisel
And, thanks to its modular interior, the Luxon experience can be fully tailored to your needs.
 Yes, you can enjoy a luxurious seven-course dinner together with your guests. But what about that exclusive finger food during your business event? Or a cocktail party in style, when the deal is closed?
For longer journeys, it is possible to opt for eleven electronically adjustable lounge chairs, to enjoy Europe's most beautiful landscapes. You said you want to dance? Let's turn the lounge area into a dancefloor and make your moves.
But maybe, you like to keep it small. A romantic trip, under the starry night, with the special someone. A candlelight dinner, a personal touch. Nothing is impossible.
This slideshow requires JavaScript.
The Luxon is ready when you are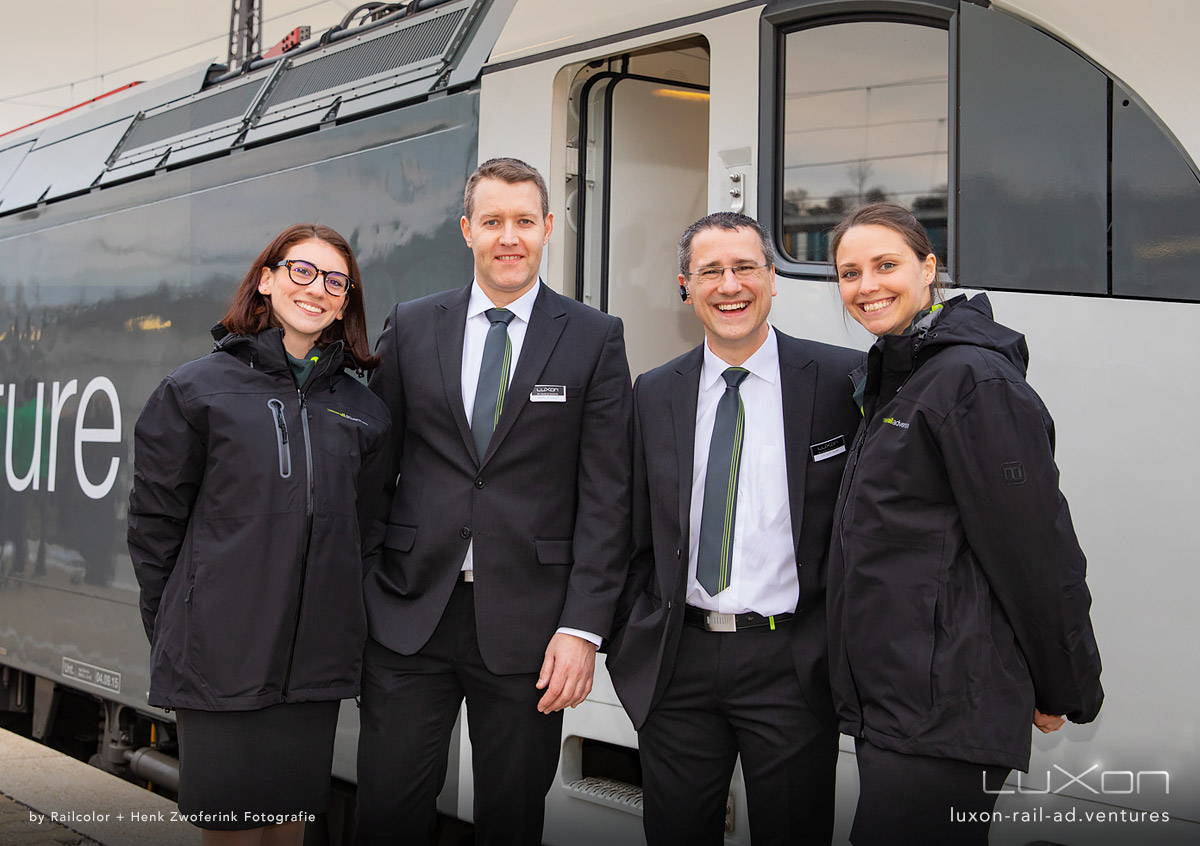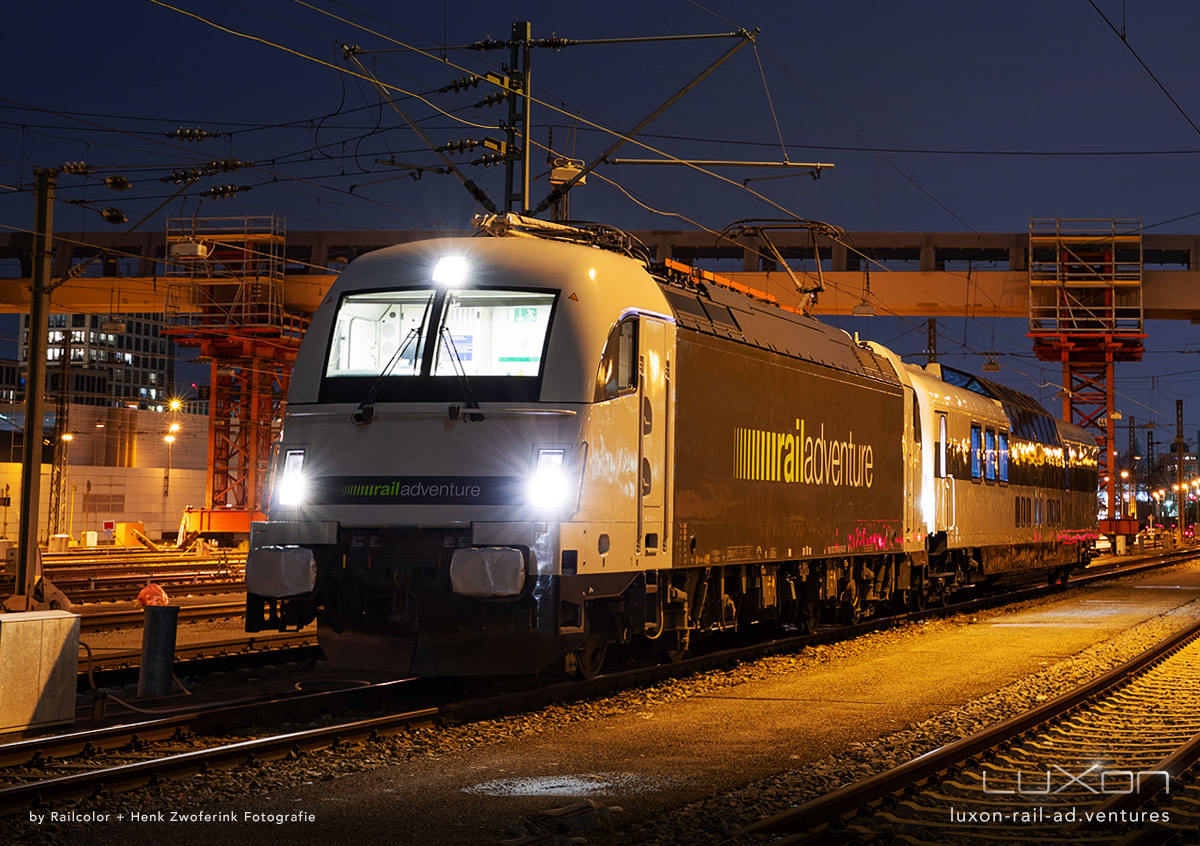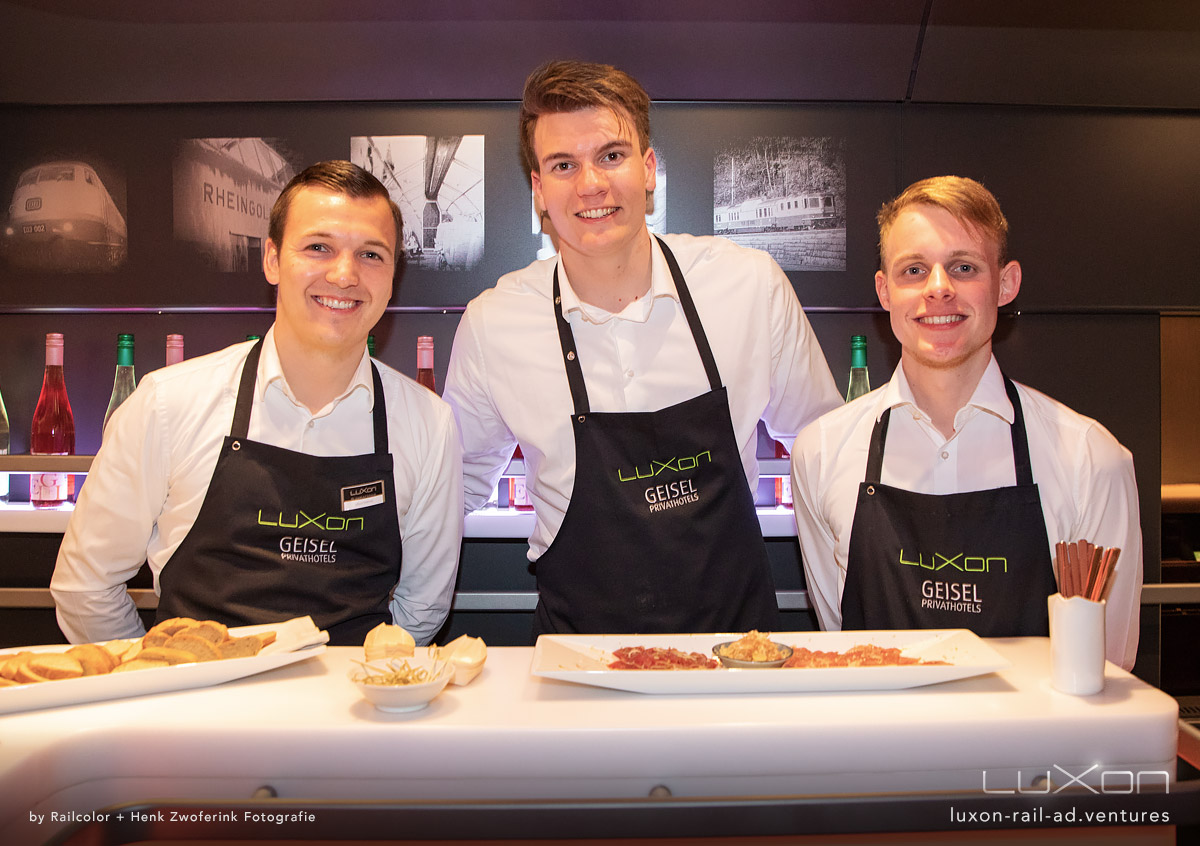 The Luxon is ready when you are. Invite up to twenty people and travel through Europe, from and to a station of your choice. We can take the more romantic routes – or speed up to 200 km/h and use Europe's high-speed lines; it is up to you. A professional, multilingual (German, English, Spanish, etc.) service team will provide you and your guests with the best service possible.