advertisement

---
Less than a year after building and delivering Vectron #1000, Siemens Mobility reaches yet another impressive milestone. Today locomotive number 23,000 was officially presented at the Allach factory in Munich in the presence of its owner, Railpool. RailcolorOntrack was responsible for the creation of the anniversary design.

While Siemens is already way beyond the 1000 mark in its Vectron production (1,412 sold last time we checked), it is worthy of note that a far greater number of locomotives have been released in total by the factory in Munich Allach. 23,000 – to be precise.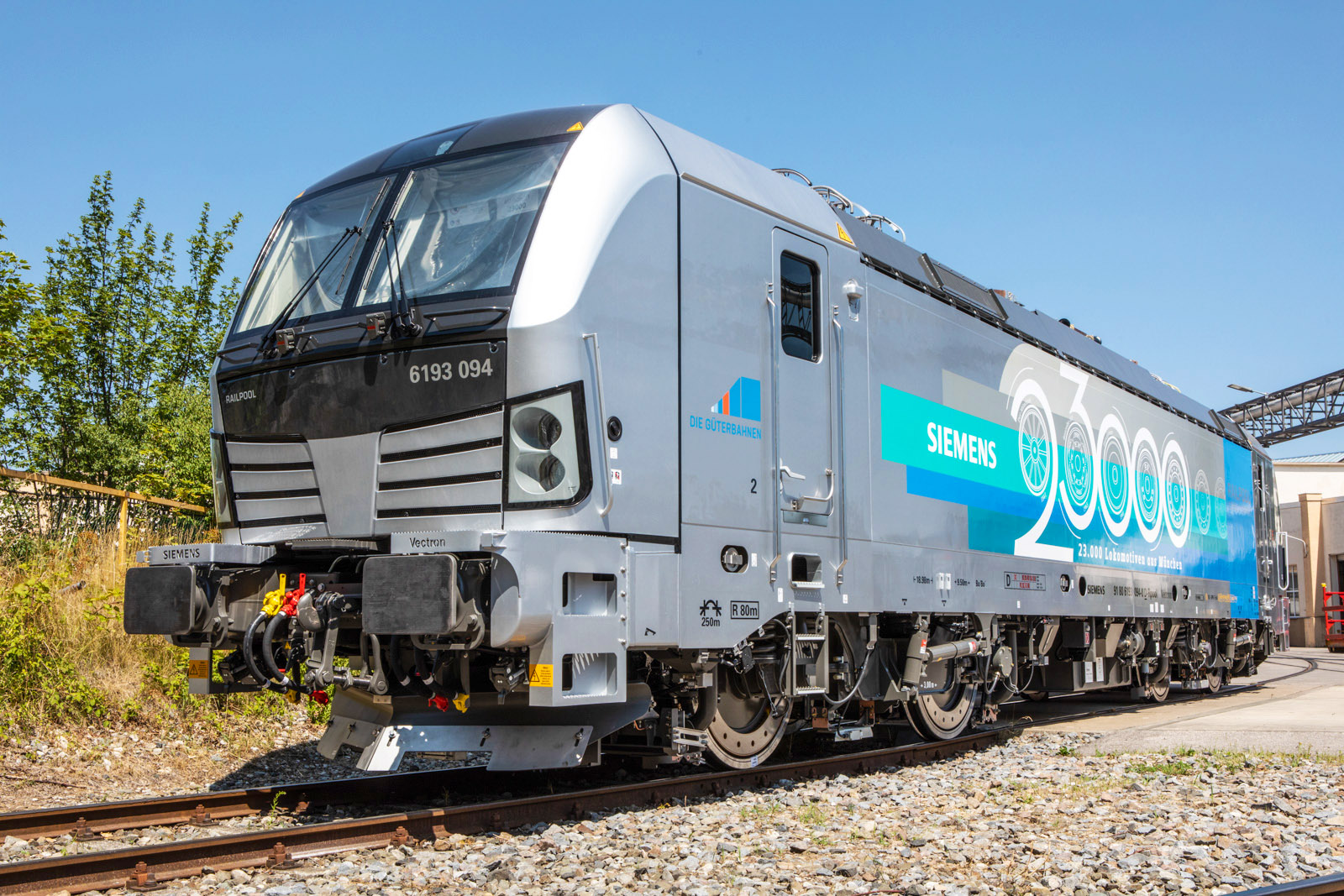 The anniversary locomotive is part of the Vectron platform, a multi-system machine for leasing company Railpool. And it was precisely Railpool that became the first client for Siemens' Vectron in 2012.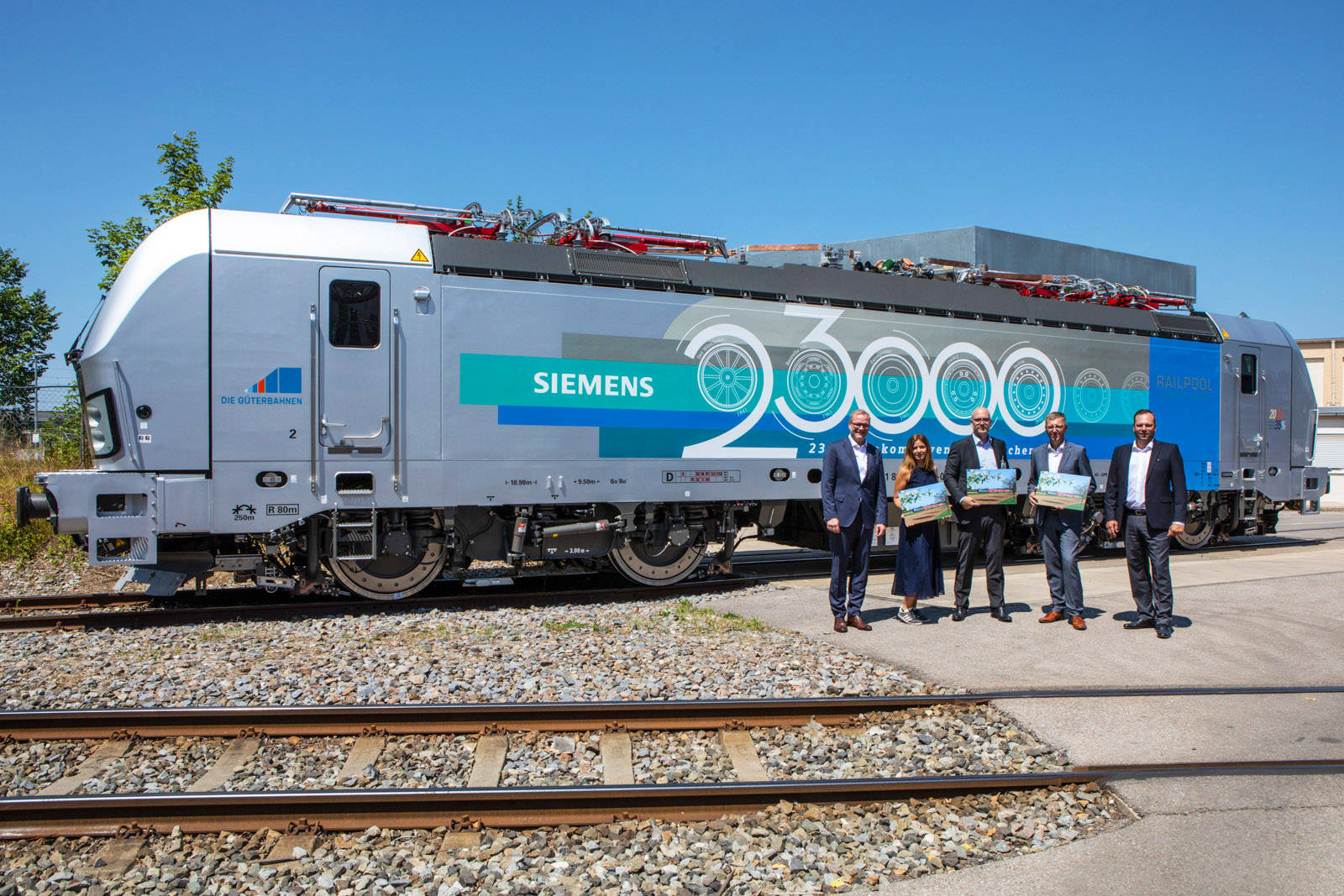 Wheels of steel: About the Lok 23,000 design
Such a milestone deserves a special outfit. Siemens and Railpool commissioned design collaboration duo RailcolorOntrack with the task of creating a visual composition to celebrate the anniversary.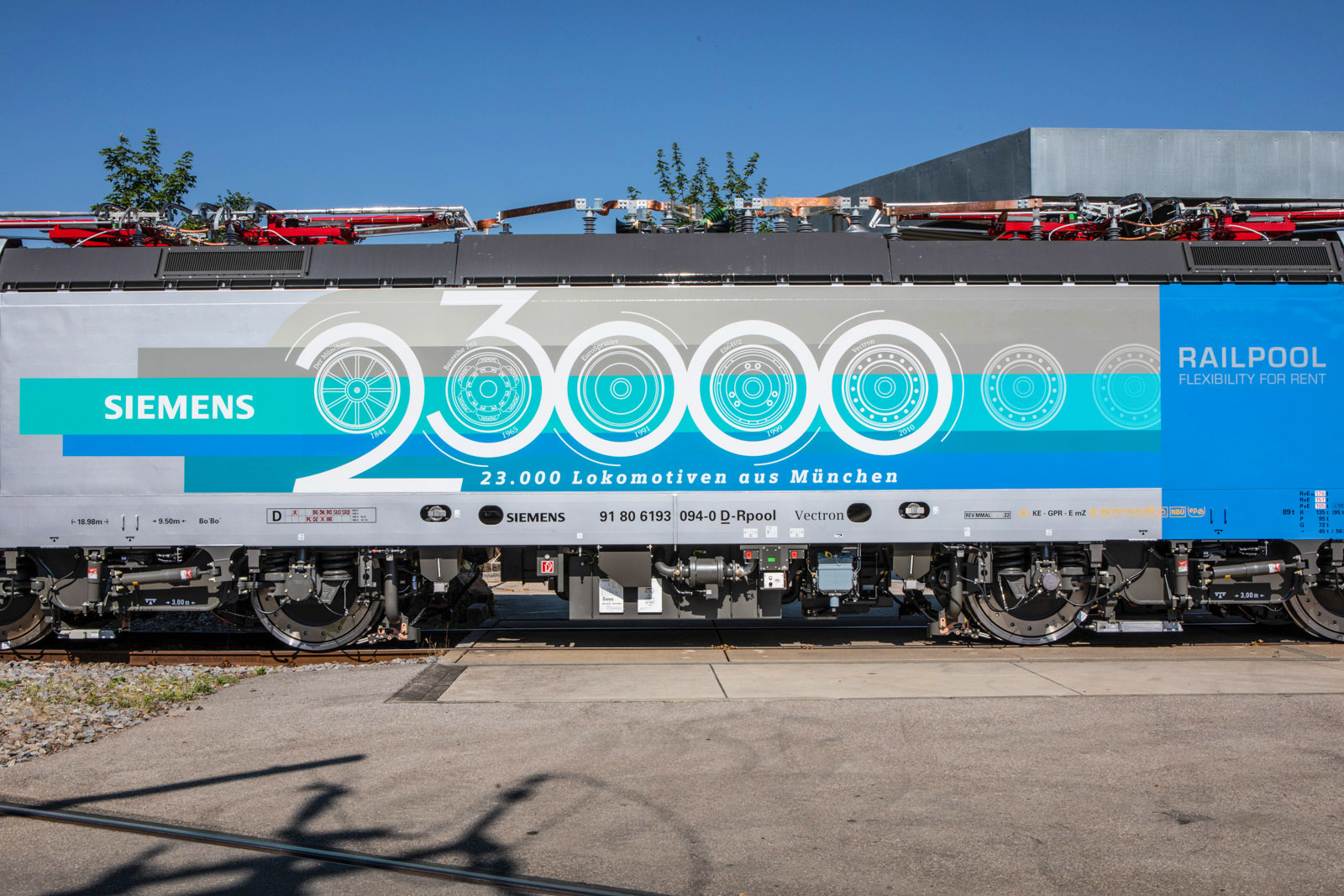 The locomotive factories in Munich have released many different locomotives over the past 180+ years. Five wheel designs were taken as a reference to represent the historical timeline and the evolution of locomotive production. The Wheels of Steel are seamlessly blended with a prominent "23,000" and with Siemens' and Railpool's corporate colors. The slogan "23.000 locomotives from Munich" comes in English (side 1) and German (side 2).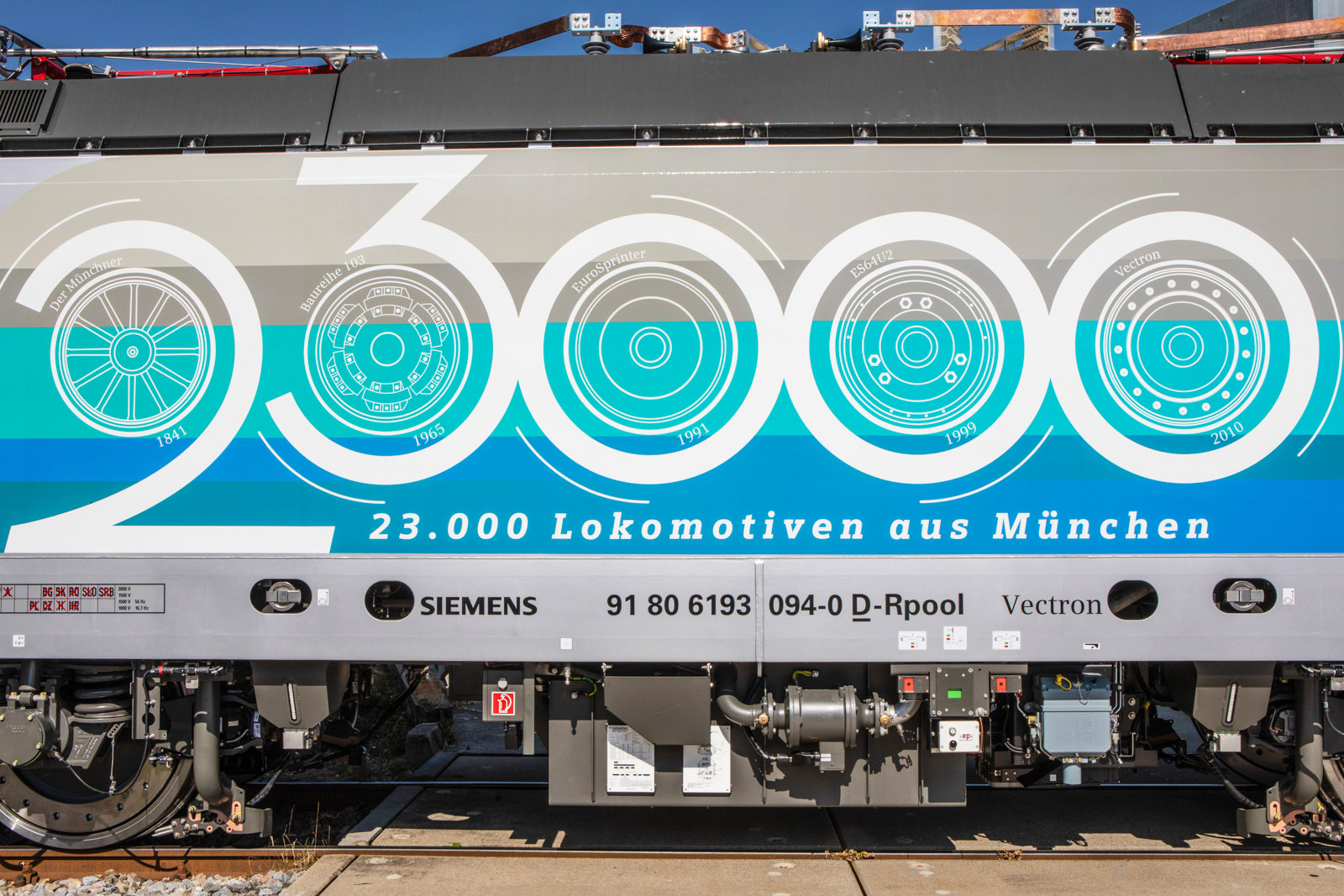 As seen in the close-up above, these five wheel designs are namely:
The 1841 "Münchner";
The 1965 Baureihe 103;
The 1991 EuroSprinter;
The 1999 ES64U2 (a.k.a. 'Taurus'), and
The 2010 Vectron platform.
Guterbahnen logo
6193 094 will also be an ambassador for "Die Güterbahnen," just like 193 659 and 187 014. The brand was launched on 20.05.2022 and serves as one voice for "the other" freight operators in Germany, which meanwhile operate more than 50% of the freight trains in the country.
About 6193 094
The locomotive is part of Railpool order for twenty Vectron A17 locomotives; 6.4 MW, 200 km/h, multi-system. The loco still misses its acceptance date, meaning that we will soon see it out for tests.
Machines are, of course, important, and they are at the heart of Railcolor News' daily reporting. But in the end, it is the people that make things happen. The group photo below reveals the team who has made all this possible.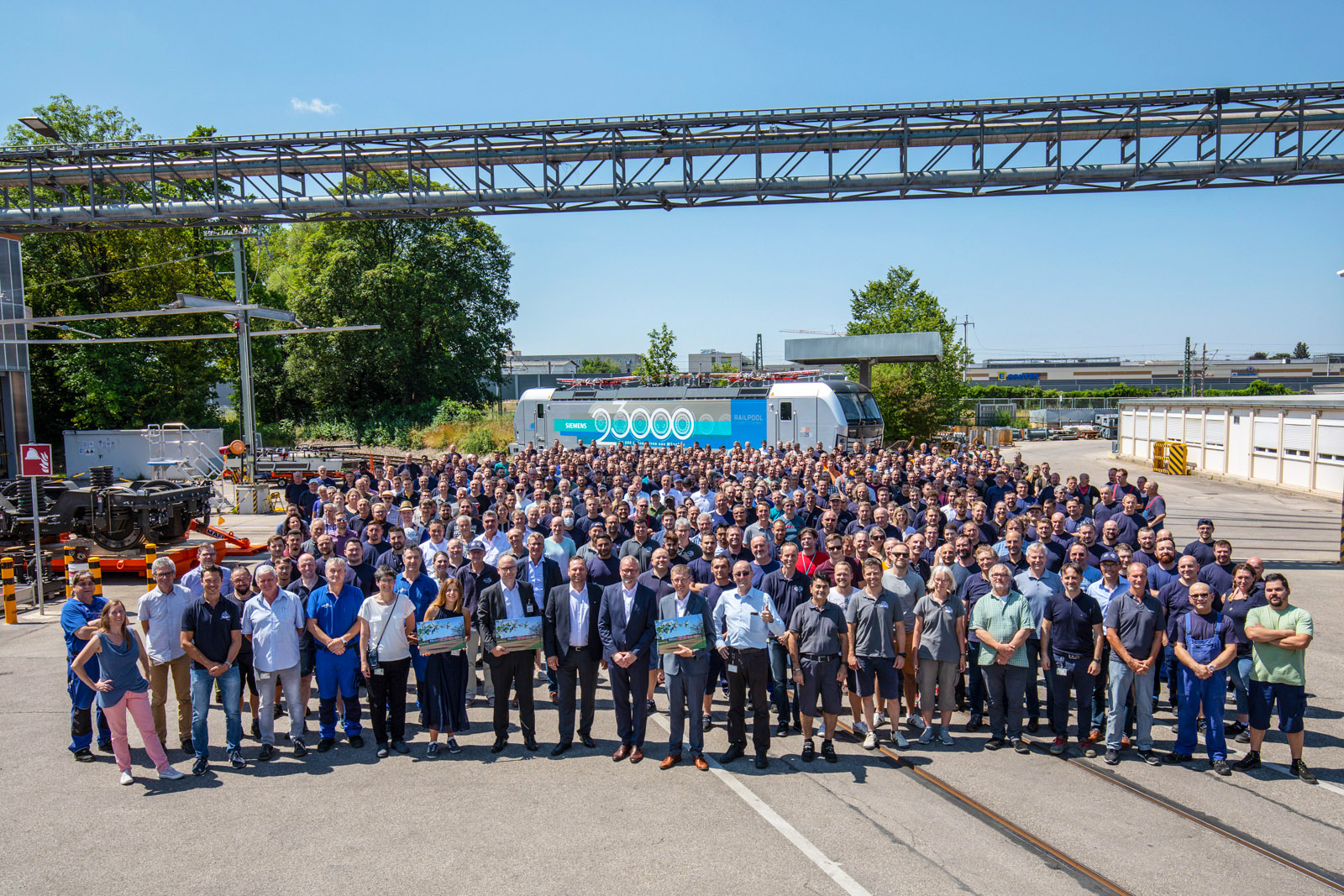 ---
"Lok 23,000"  is a design project by 50-50 joint venture RailcolorOntrack executed for Siemens Mobility and Railpool
Concept, production, and project management by:

&

commissioned by:

---
Is one anniversary Vectron loco not enough for you? Then check out the 1000th Vectron of DSB (and grab a subscription while you're at it).
[EU] 1000 TAK! Siemens and DSB celebrate arrival of the 1.000th Vectron locomotive
More details about the new Railpool A17 Vectron order below:
[EU / Expert] "6193" overview: The new Railpool A17 Vectrons [updatedx4]