We thank (in order of appearance) João Morgado, Nelso Silva, Iñigo Arranz, Pierre Colson, Romain Viellard, Enrico Bavestrello, Bahnfotos Austria, Herbert Pschill, Matej Pleško, Nino Belovič, Norbert Tilai, Norbert Pócza, Josip Petrlić, Mladen Žarković, Pierre Colson, Magalios Giannis, Konstantinos Kalpakidis, Andritsos Georgios, Xenophon Arampatzis, Krassen Panev , Ivo Radoev, Mihnea Cristian Paraschiv and Tim Roux for sharing their nice pictures with us. This article was originally published on 06.09.2021 and is being updated continuously.

---
New: Follow the CEE GPS tracker to find the train's location in real-time and plan your pictures.
---
Announced in March, the Connecting Europe Express started its journey in Portugal just last week. At Railcolor News we decided to bring all the pictures into a single post, so make sure to bookmark this page and check back for updates from our live coverage. Let's go!
Portugal: CP LE 5604 (and CP 5617)
João Morgado sent us the following view of the Talgo IV trainset for the Iberian Peninsula. It features the specially-themed EuroSprinter of CP, LE 5604 stickered with green side panels, promoting the #EUYearofRail: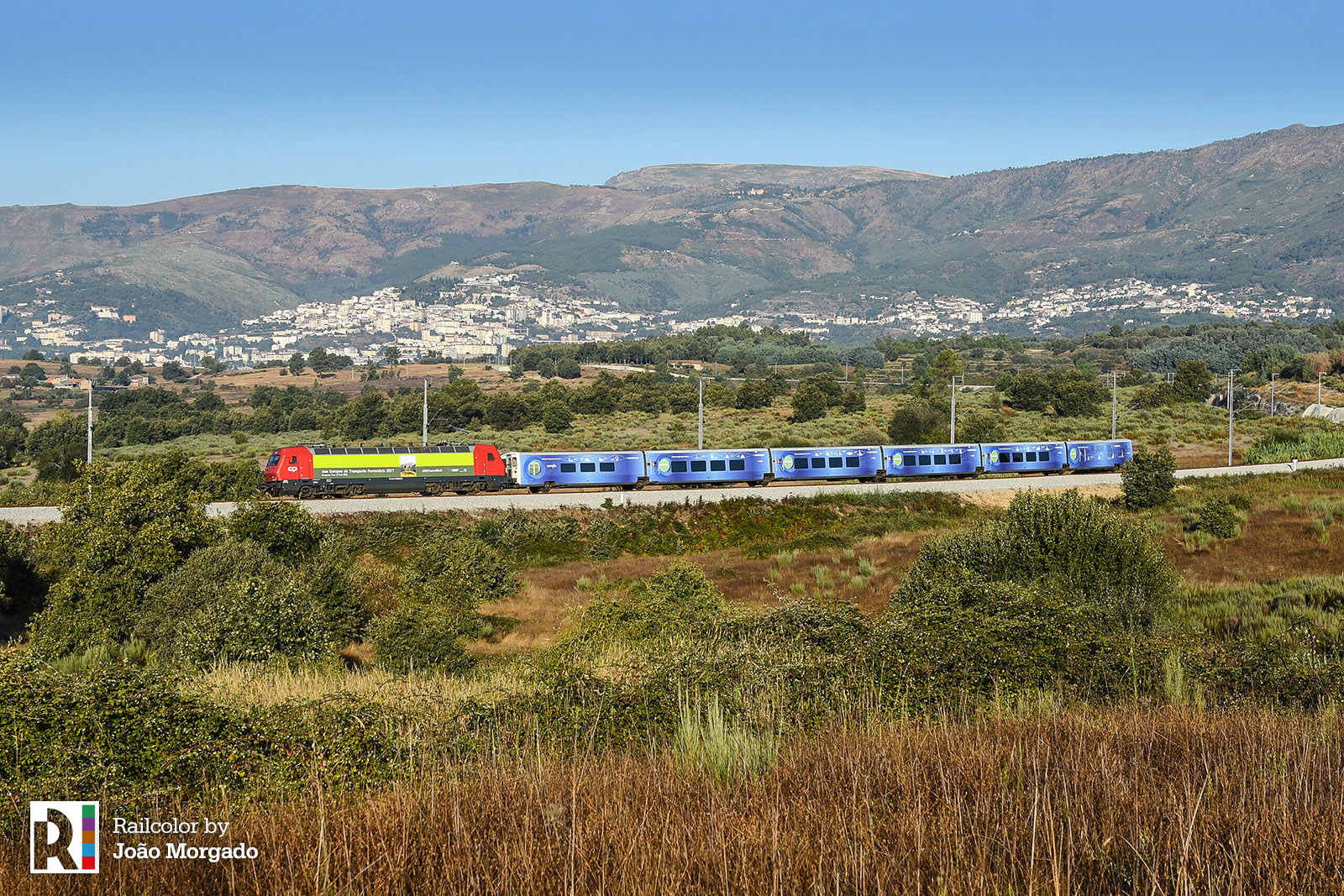 However, the very first pictures of the CEE train were taken on 01.09.2021 by Nelso Silva, as seen in this article, showing the empty train's transfer from Vilar Formoso to Lisbon: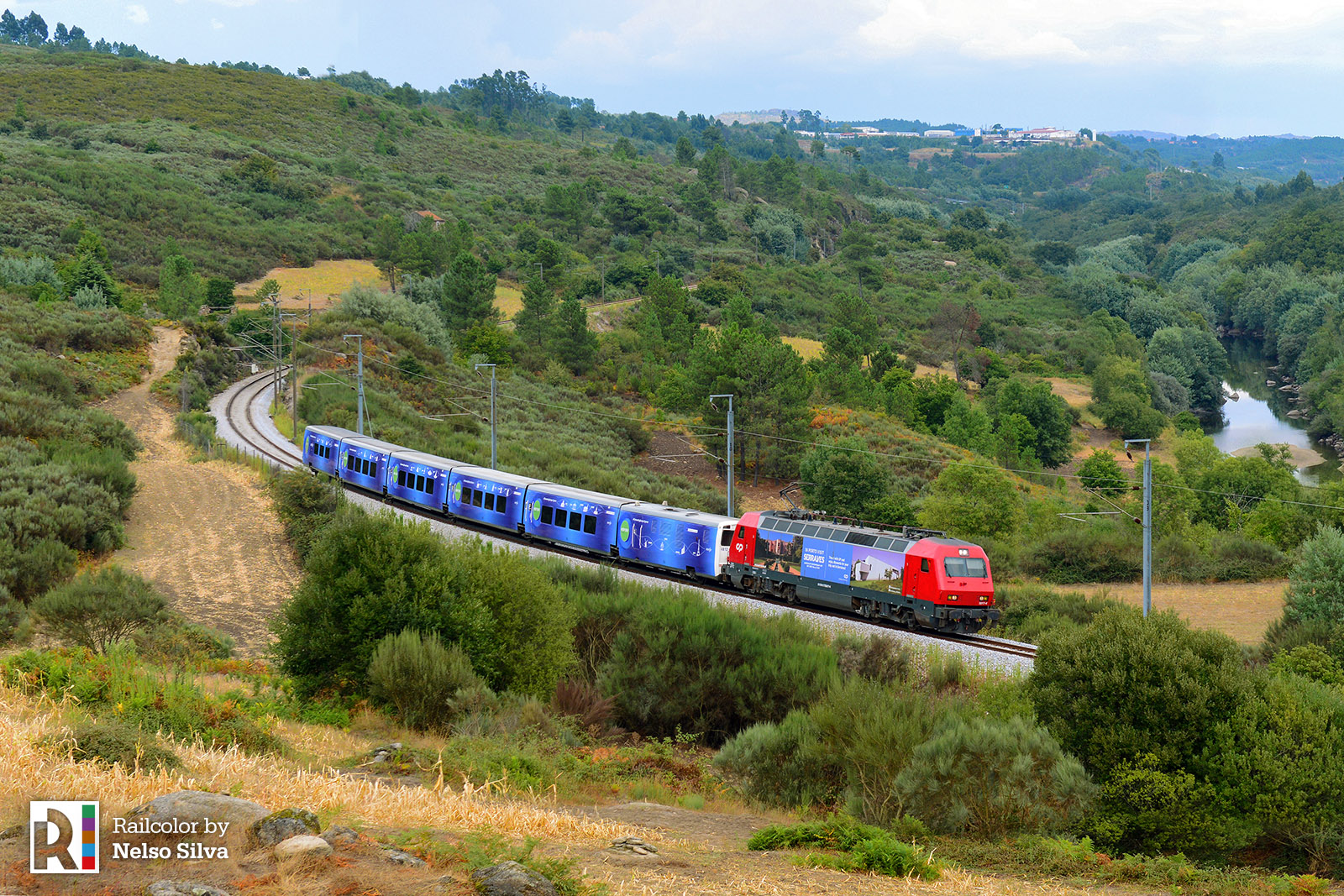 ---
Spain (and France): Renfe 252 075 + 047; SNCF 7296, 122319
Up next come Spain and France. In Spain, Renfe used not one but two Series 252 to allow faster transit of the blue Talgo train. That means EuroSprinters once again. First, there was 252 075 driving the train from Madrid's Principe Pío station to Hendaye at the Spanish/French border.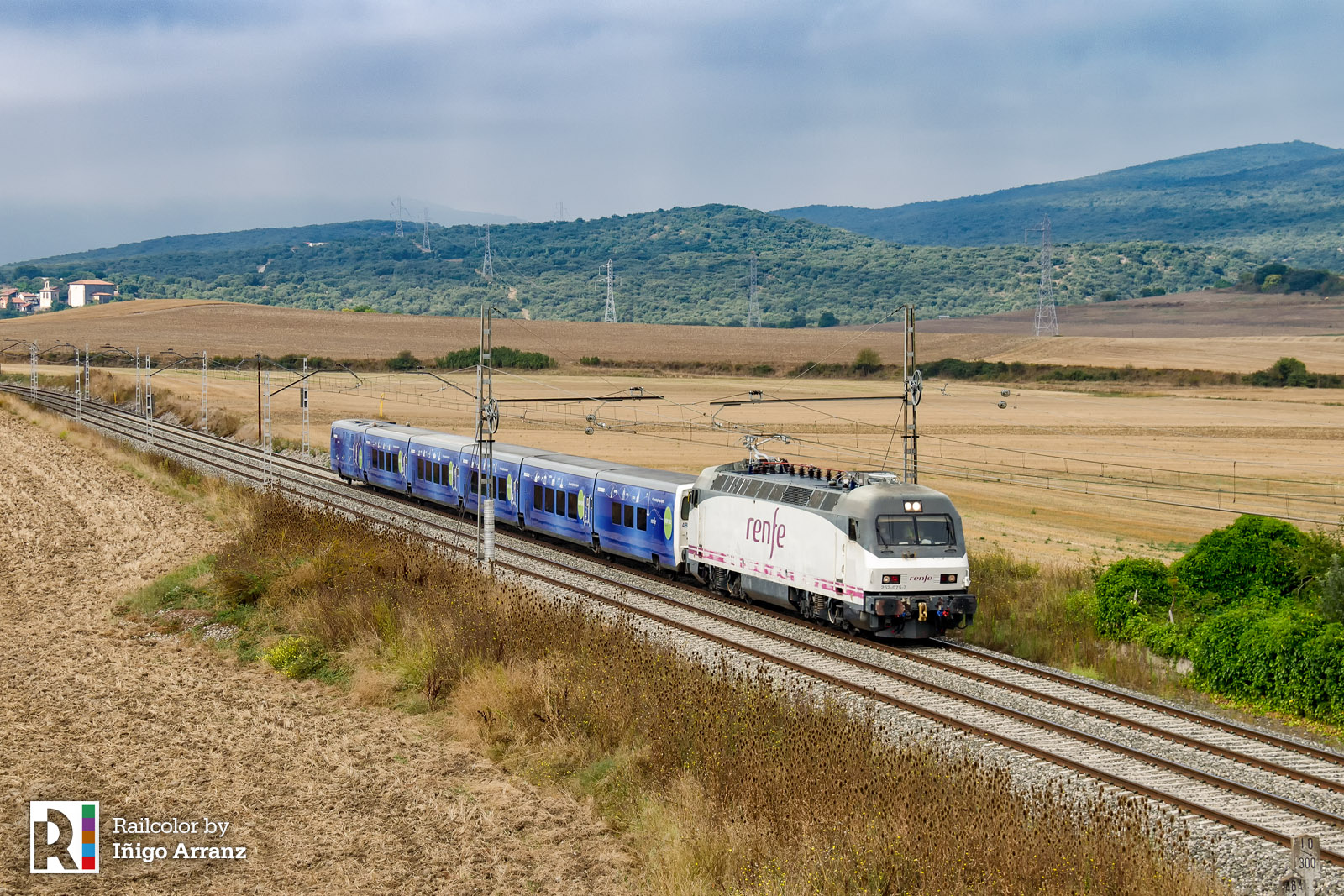 Hendaye is also that special place where the Iberian gauge (1668 mm) train met the one with standard European gauge (1435 mm):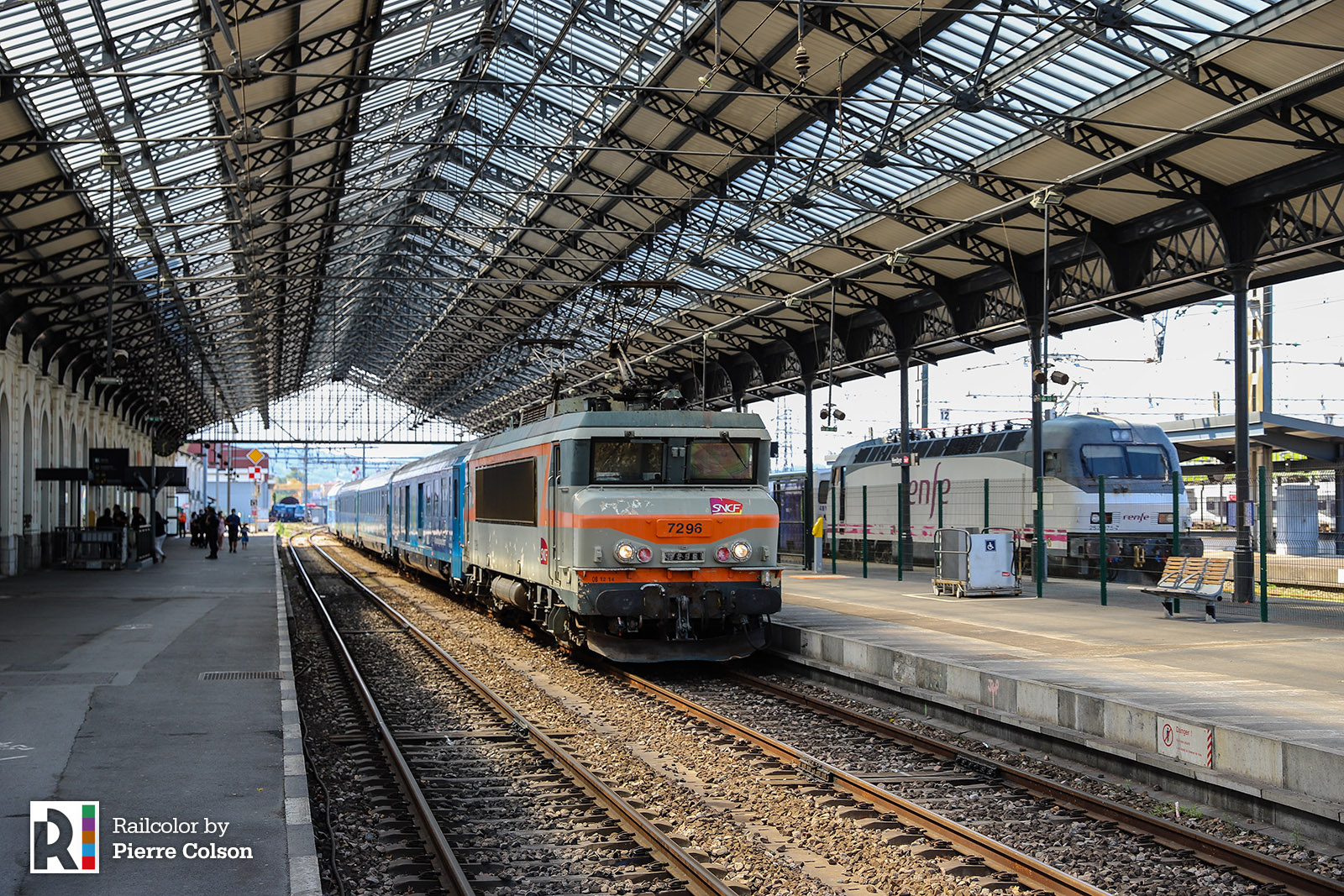 On the way back, a special sighting occurred, featuring 252 047 with "Renfe Integria' stickers (added to the train from Irún to Hendaye to avoid additional shunting). According to Iñigo Arranz, the 'sandwich' set-up below is quite a rare sight in Spain: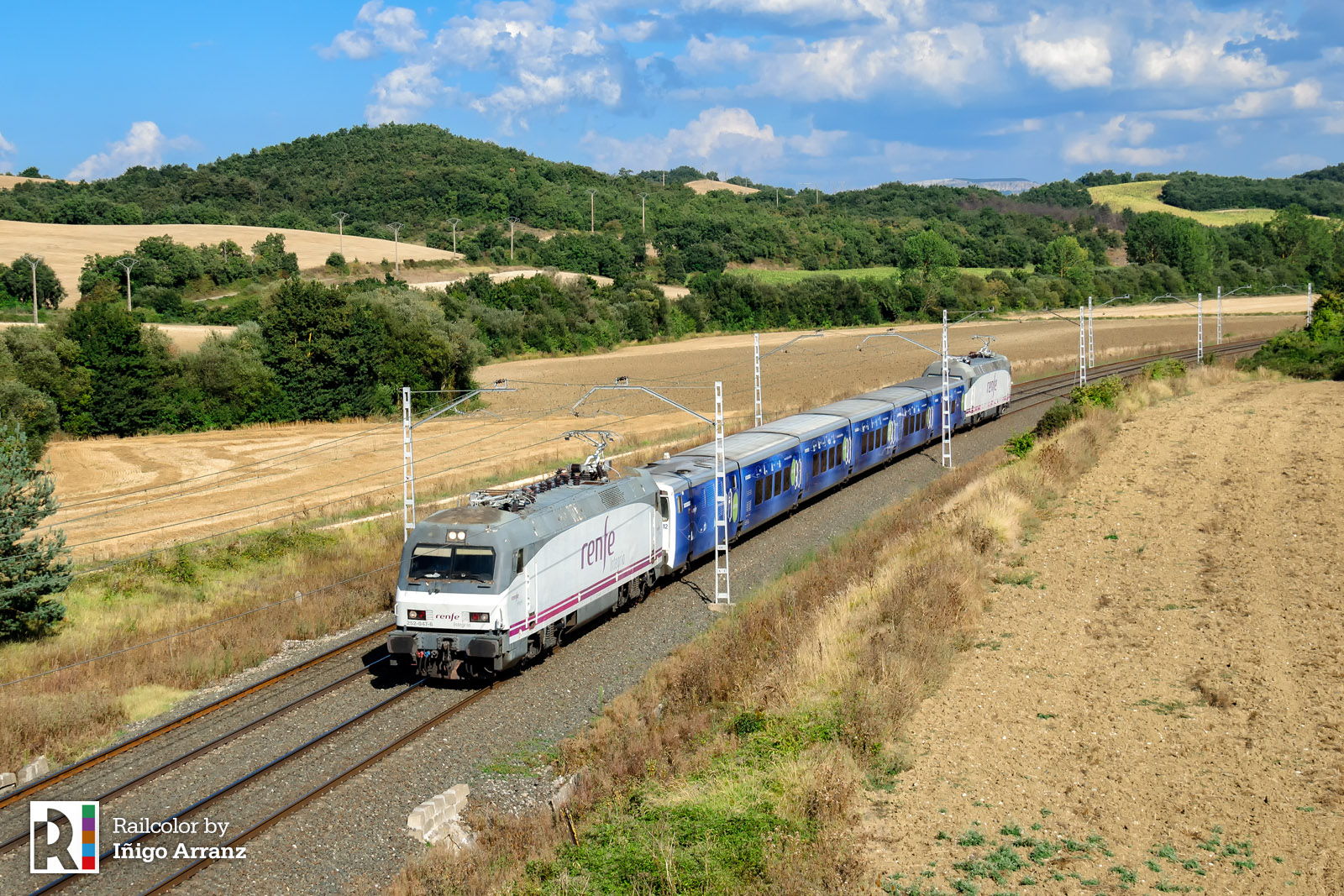 ---
On the next day, Pierre Colson caught the normal-gauge trainset in Névian (FR), between Bordeaux and Chambéry. Notice the panorama car included in the six-car consist: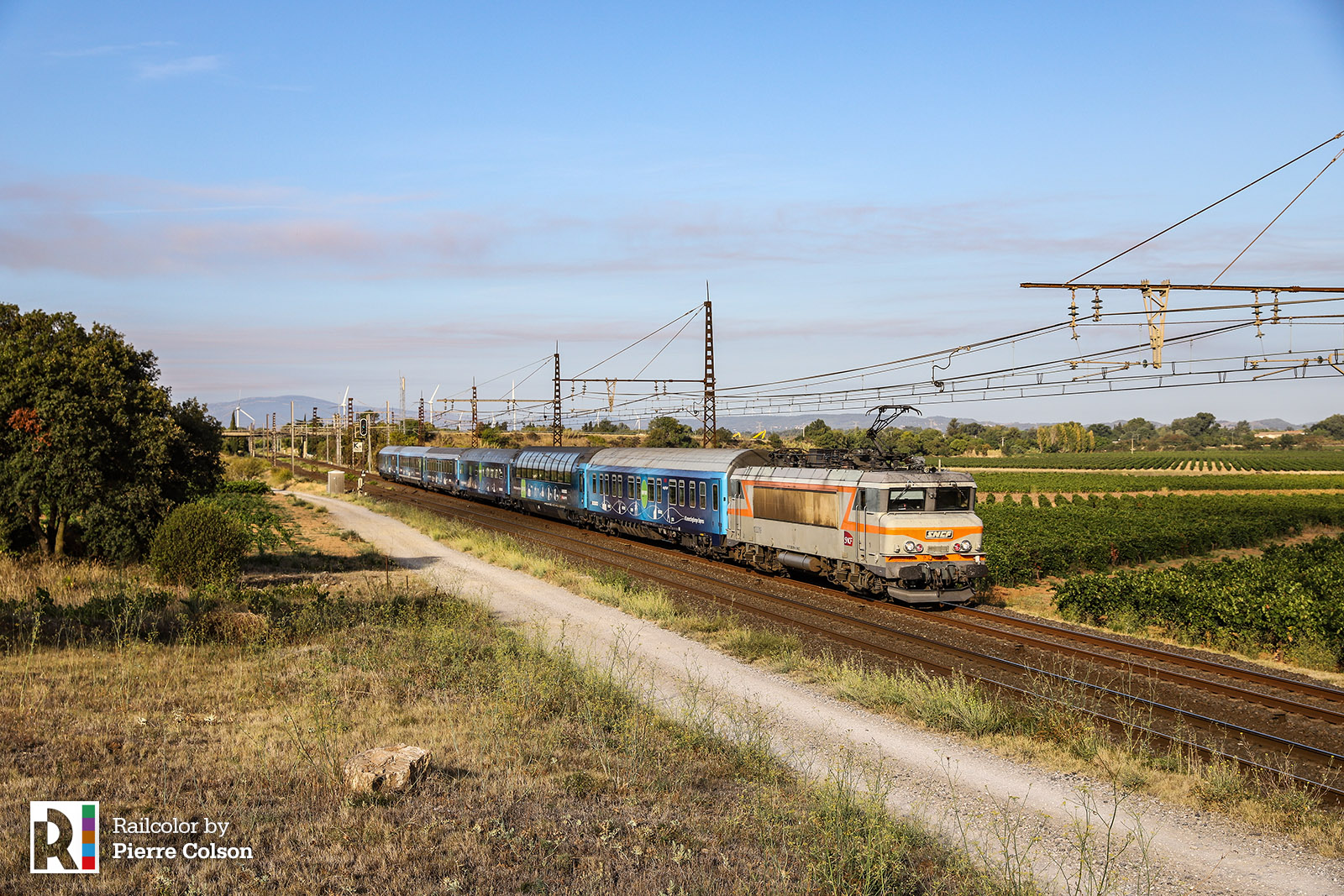 Although we are seeing the train driving through France now, remember that according to the schedule, its official presentation there will be taking place only on 07.10.2021 in Paris which is the last stop of the journey.
---
Later the same day, Romain Viellard who was the lucky driver of the Connecting Europe Express (CEE) between Narbonne and Modane in France caught this view at the France-Italy border station. An E.402B electric took over the train: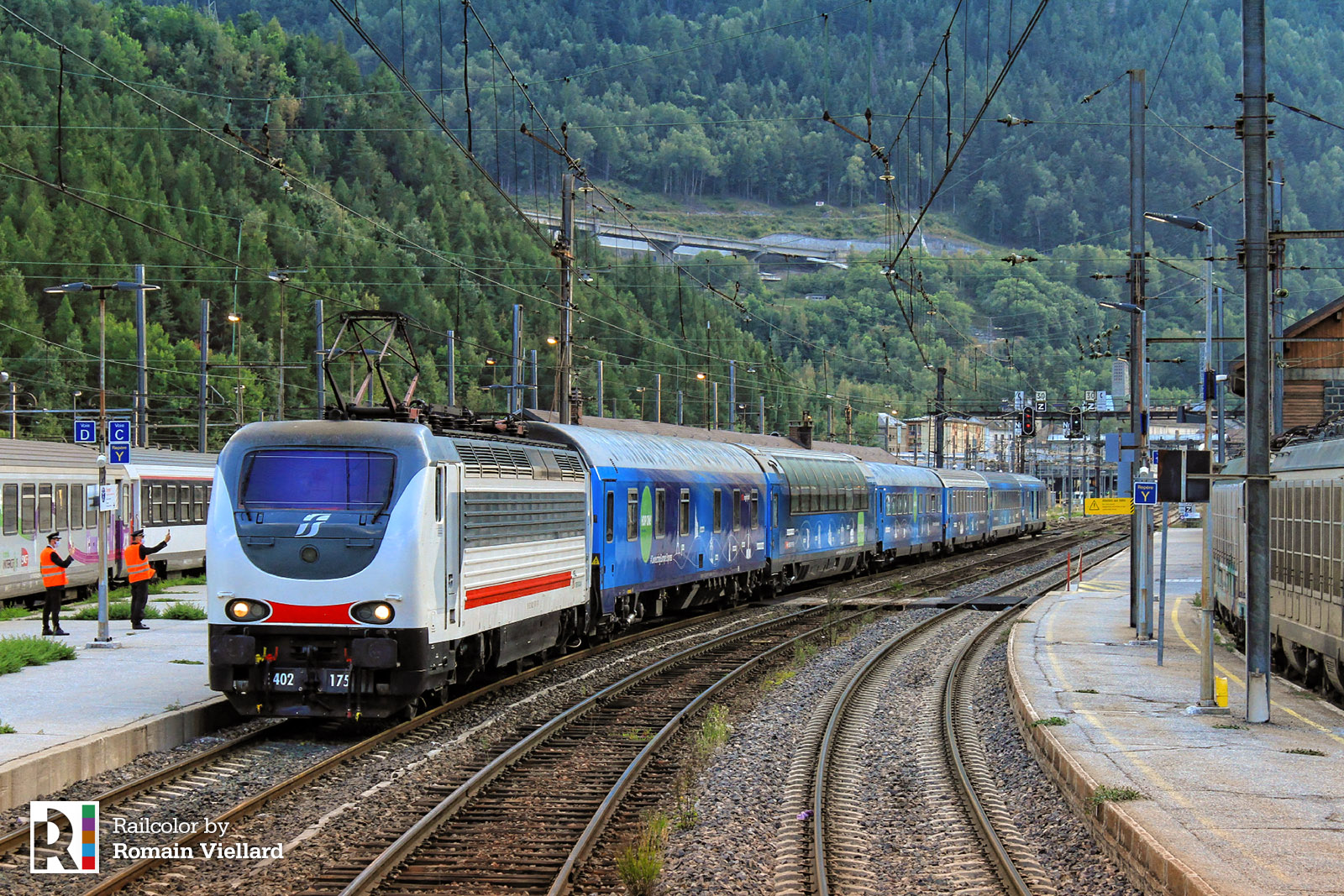 Italy: FS Italiane E.402B 175
On 07.09.2021, Enrico Bavastrello took this beautiful beach impression from Cavi di Lavagna in Italy's Liguria. Pulled by two E.402Bs (that's 12.000 kW!), the train during its transit from Milano Centrale to Roma Termini: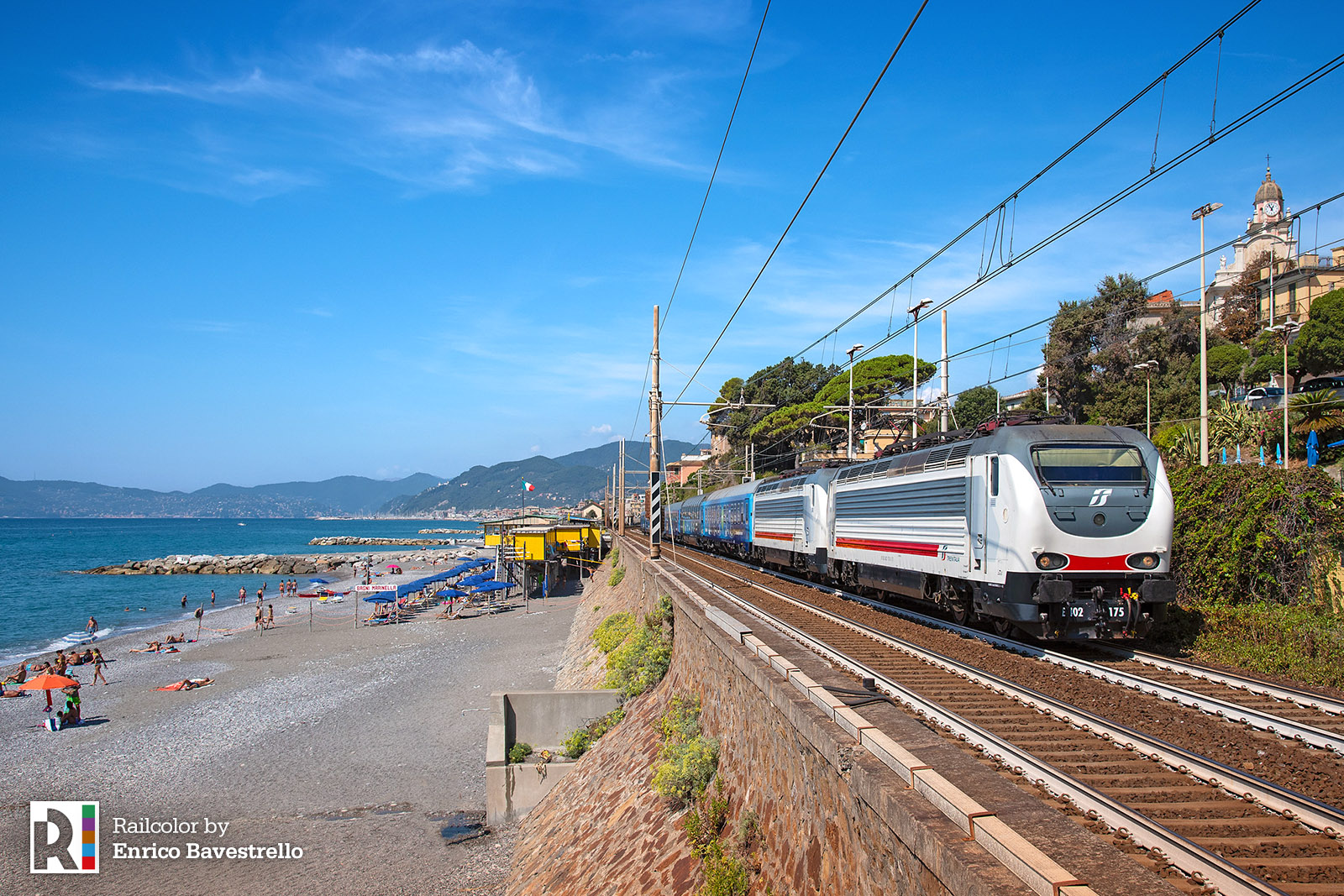 On 09.09.2021, coming from Bolzano (IT), the train made it to the Brenner mountain pass at the border between Italy and Austria. The beautiful panorama below by Bahnfotos Austria shows it passing by St. Jodok am Brenner: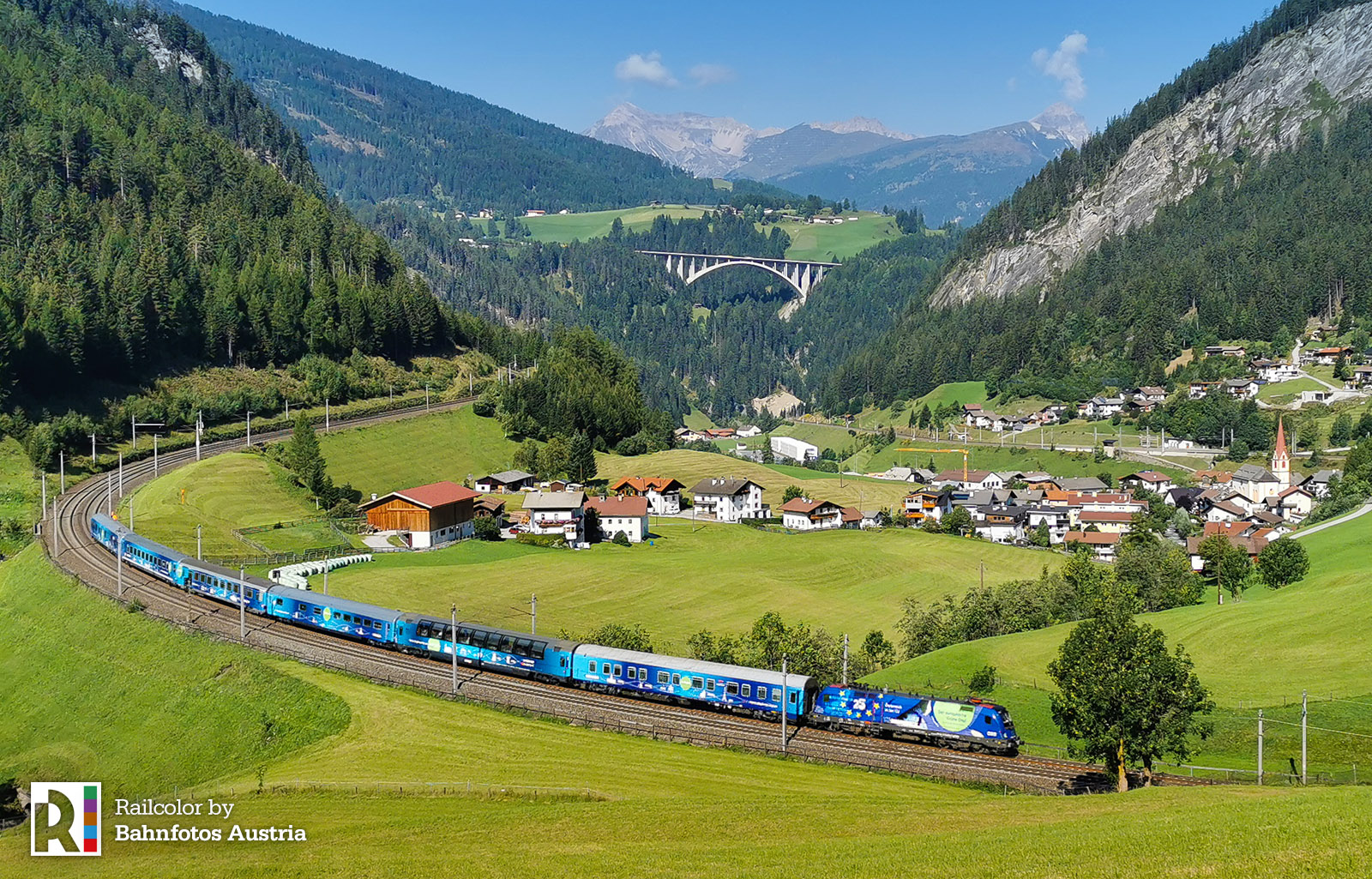 As expected, ÖBB took over with its #EUYearOfRail Taurus 1116 276. Here's a close-up featuring ÖBB's CEO Andreas Matthä doing a fist bump with the train driver: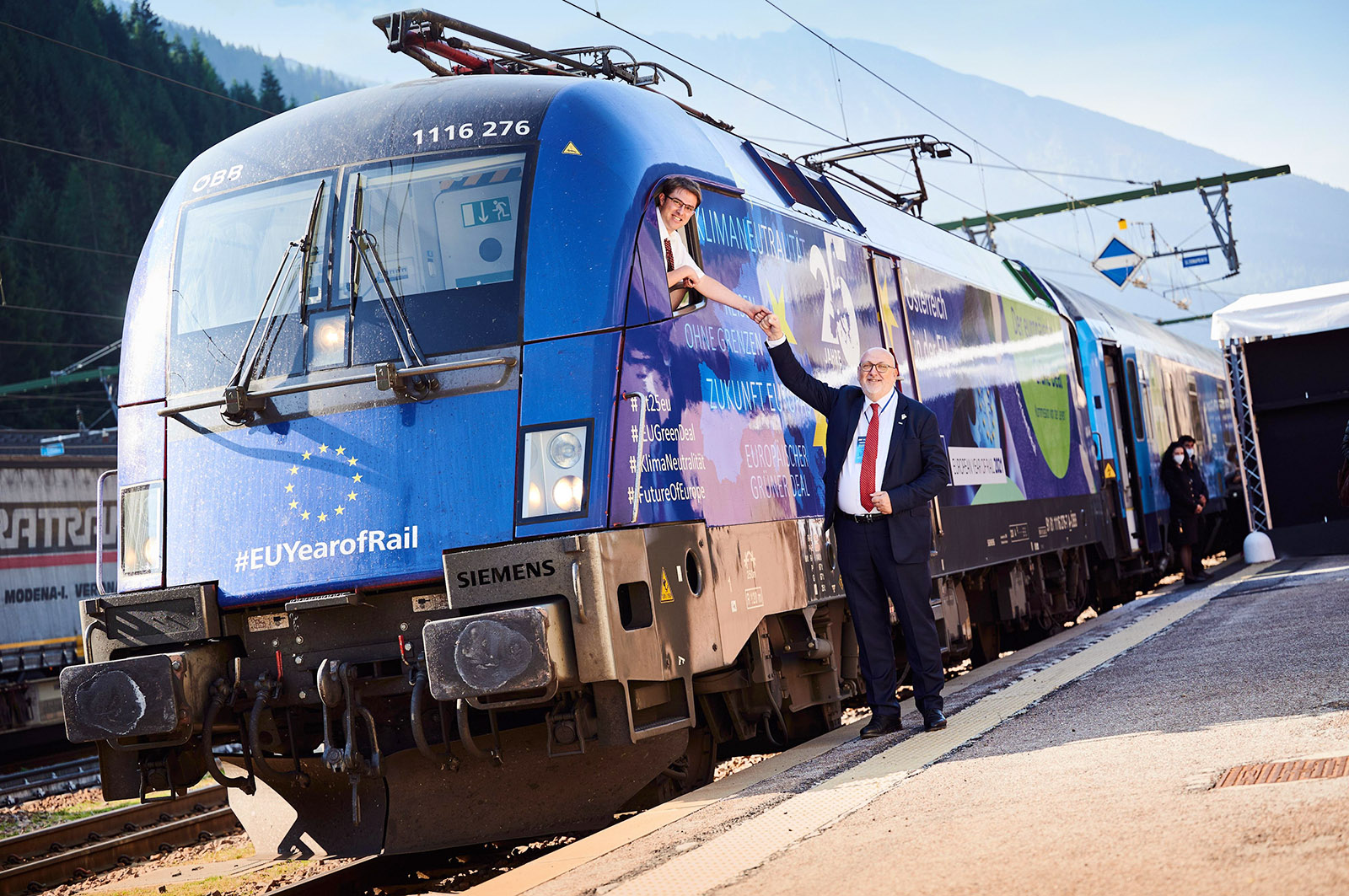 It's 10.09 and the CEE is en route to Bratislava with the newly-liveried 383 110 of ZSSK, which the operator is hiring from Rolling Stock Lease. Herbert Pschill took the beautiful photo below in Wilfleinsdorf (we're still in Austria):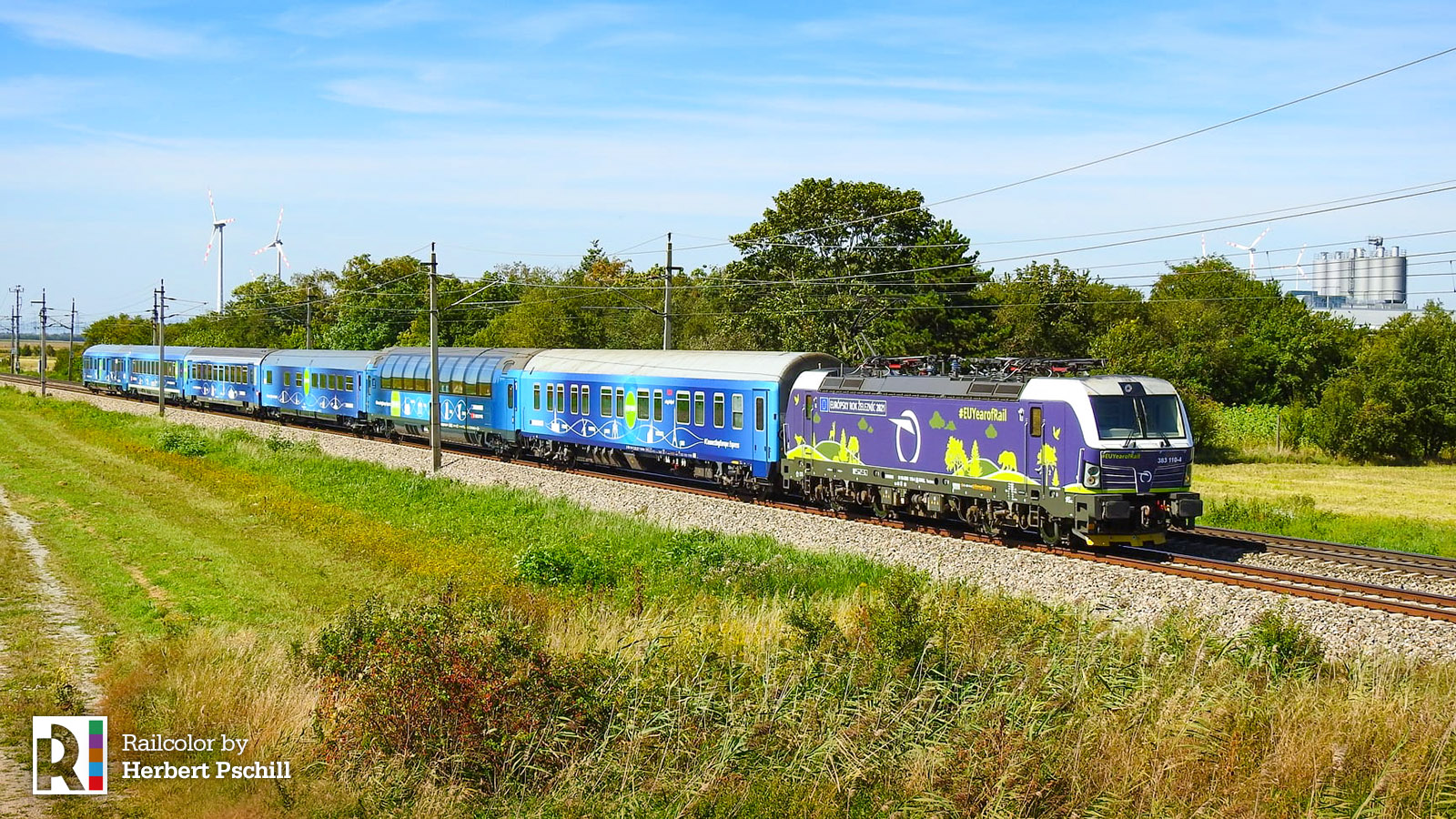 We saw the Slovak Vectron in Austria (above), and now it's time to witness its arrival in Slovakia's capital, Bratislava. The nice picture below comes from Matej Pleško just a few kilometers before Bratislava central station: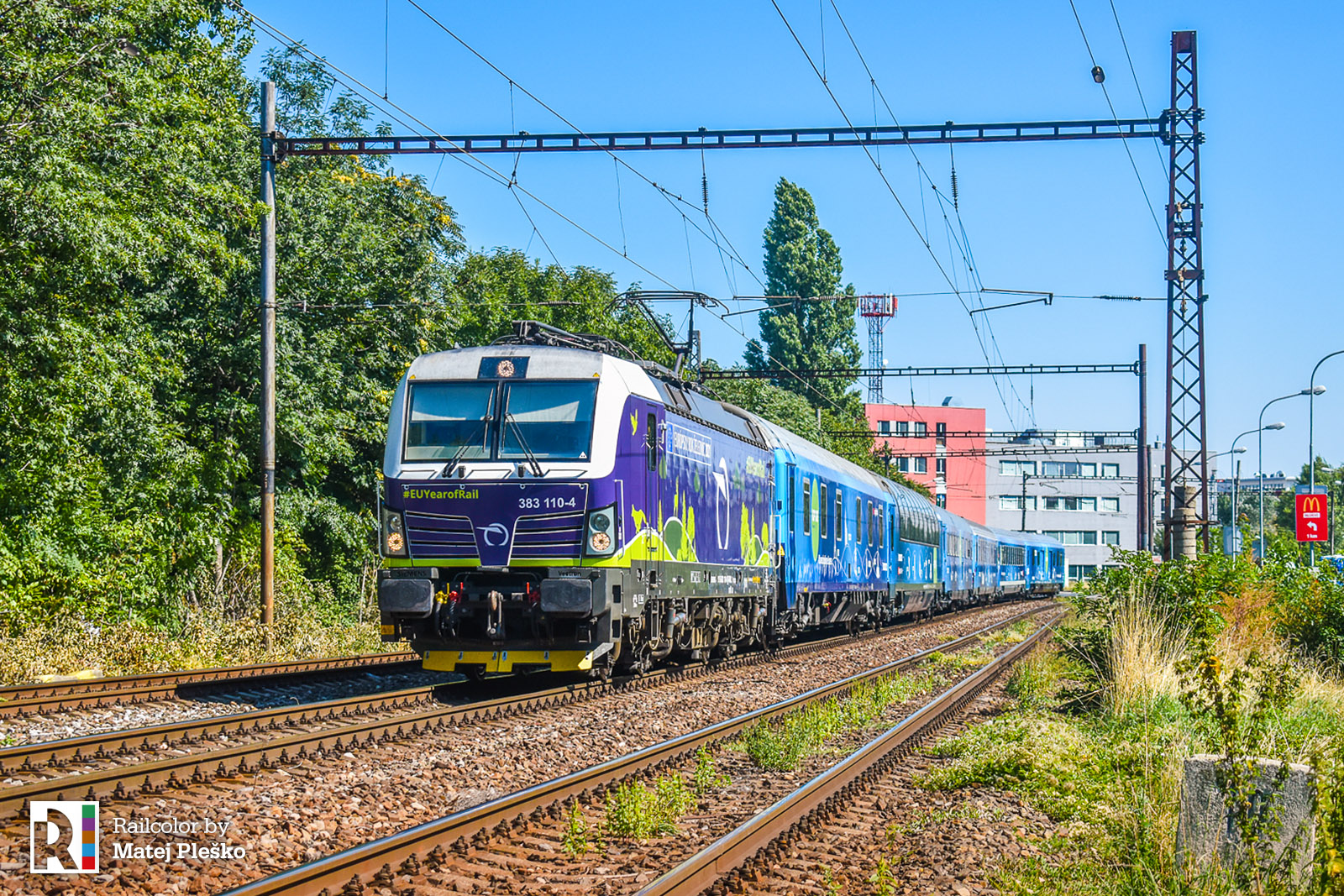 Another beautiful view from Slovakia, again on 10.09.2021, but this time from Nino Belovič: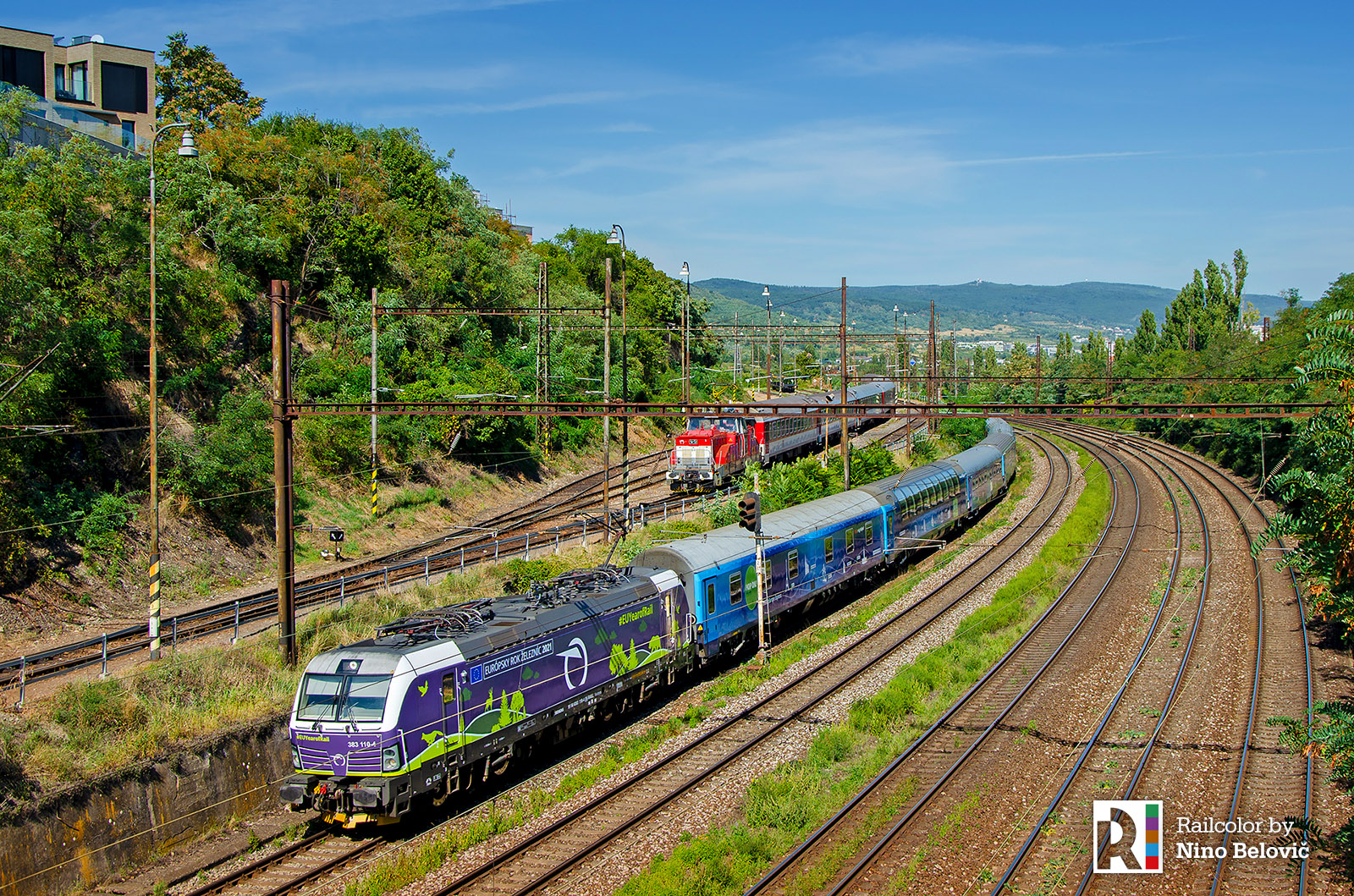 ---
Hungary: GYSEV 193 837
On the next day, the train headed to Croatia passing through Hungary. Norbert Tilai caught two CEE locomotives: ZSSK's 383 110 and 193 837 of GYSEV Cargo at the point of traction change, Rajka in Hungary:
But the official presentation in Budapest comes only on 19.09.2021, so this is only a transit pass. Still, GYSEV Cargo's specially foiled 193 837 makes for a nice addition to the train, especially with the blue gradient side facing the cars. The picture below was taken by Herbert Pschill and shows the train in the operator's headquarters, Sorpon: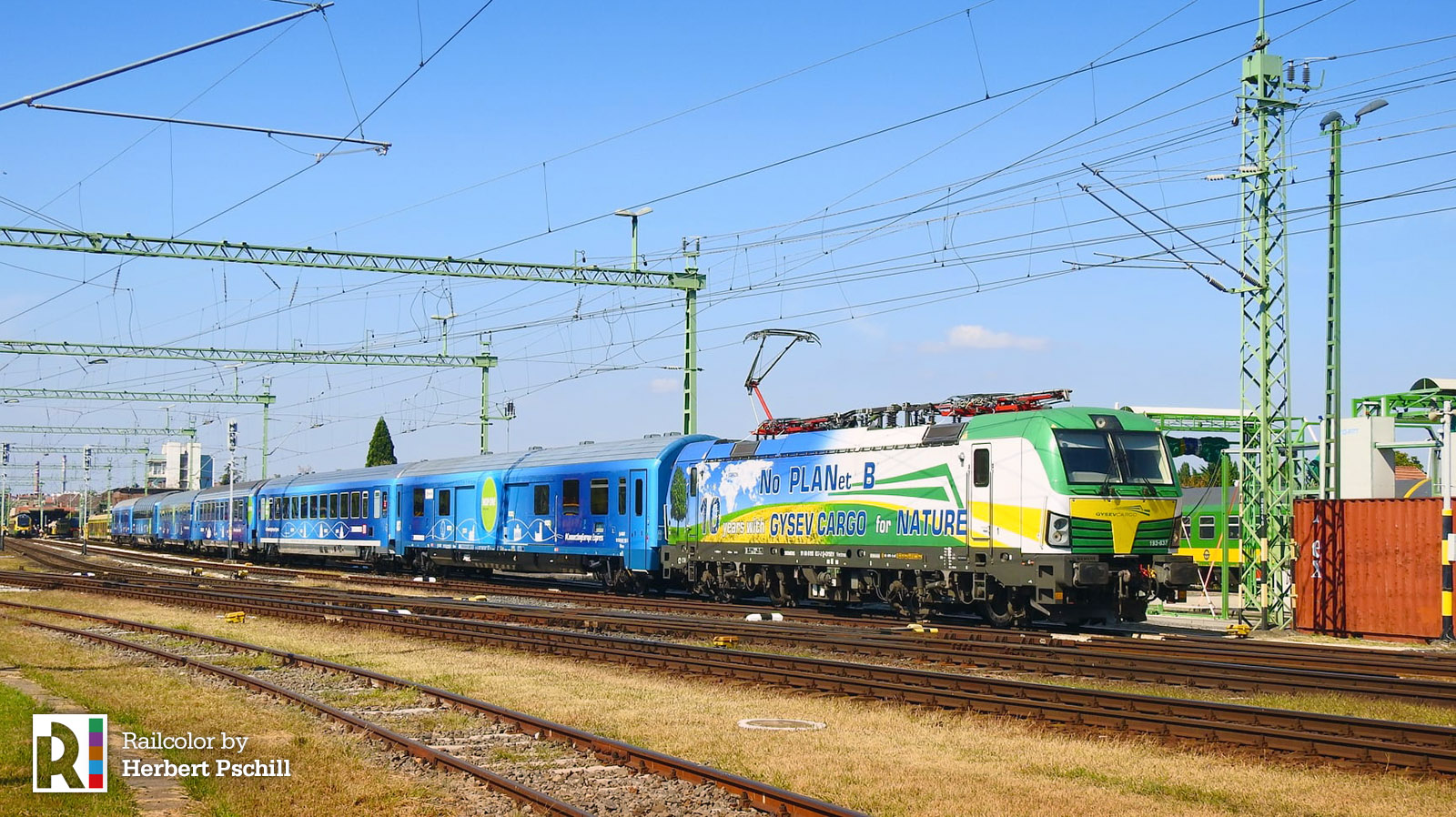 As reported by Norbert Pócza (who took the nice image that follows), there was actually a small event in Sopron, where GySEV's CEO, Szilard Kovesdi, gave a speech about railway transport as the greenest and safest way of traveling. The CEE's rout in Hungary was, as follows: Rajka – Csorna – Sopron – Szombathely – Zalaszentivan – Nagykanizsa – Gyekenyes.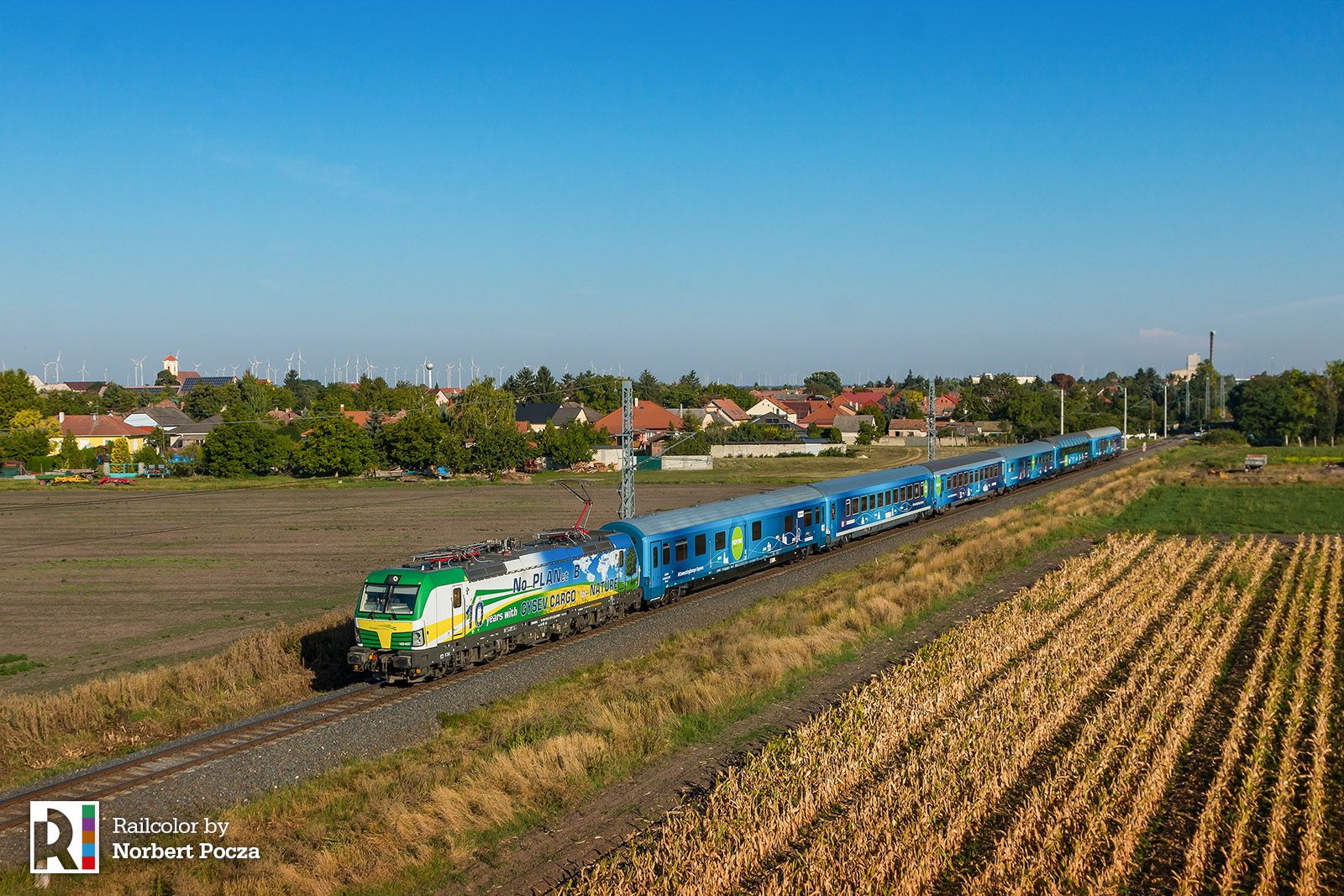 ---
Croatia: HŽPP 1141 389 + 390
On 12.09.2021 the official presentation of the CEE in Croatia's Zagreb took place. And get this, the state passenger operator went the extra mile by branding two of its classic Class 1141 locomotives in a matching livery. Josip Petrlić brings us the following visual: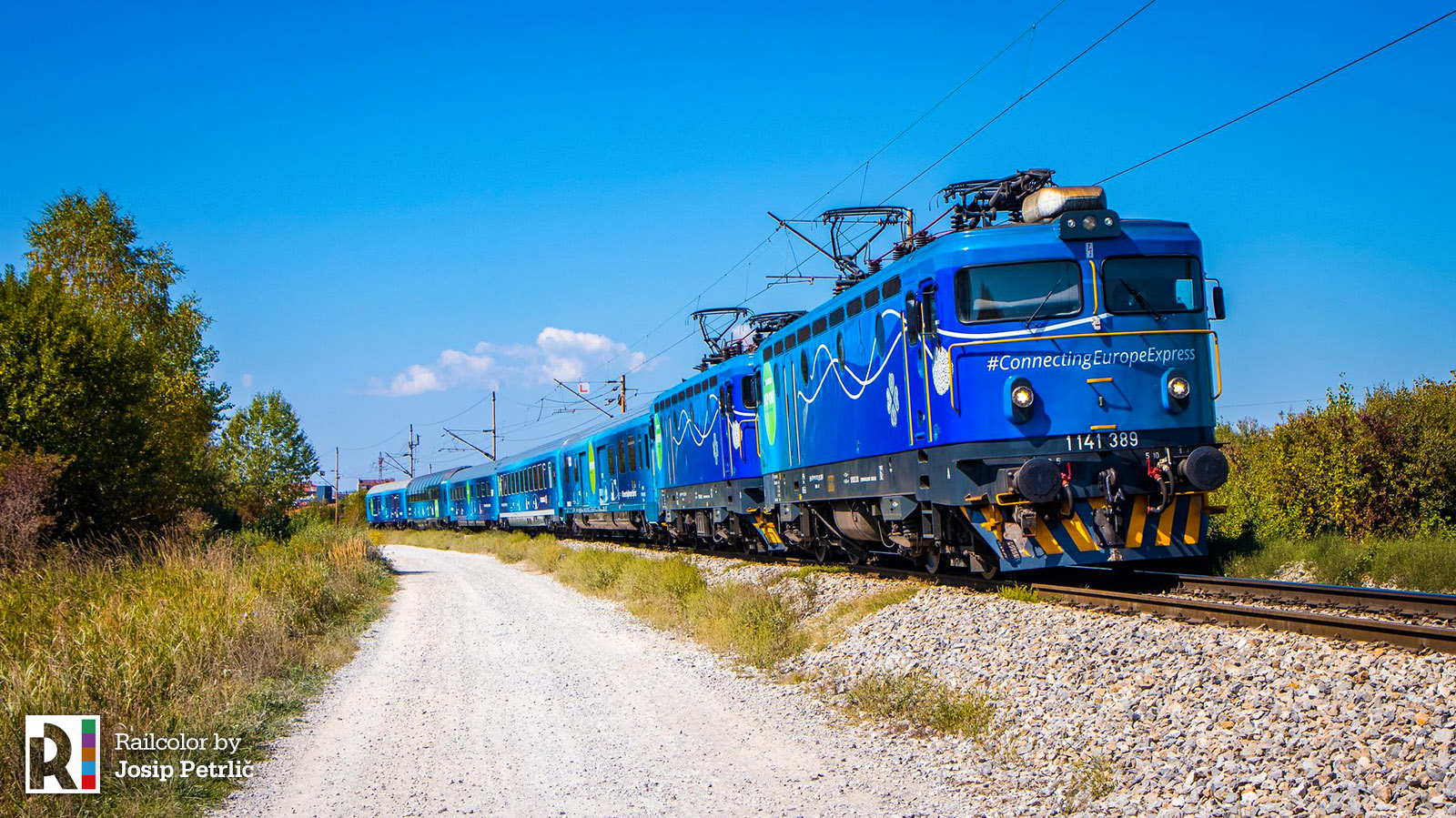 ---
Curious fact: Did you notice it? One car (the French) is missing from the train. It was removed from the consist due to technical failure shortly before departure from Croatia towards Serbia, Josip Petrlić told us. However, we expect it to reappear soon!
---
Serbia: Srbija Voz 441 601 + 751
A breathtaking view from Serbia follows. It was taken in the village of Parcani by Mladen Žarković (check out his Facebook page). The CEE passed from there on 13.09.2021, hauled by Srbija Voz's ASEA-designed 441 601 and 751: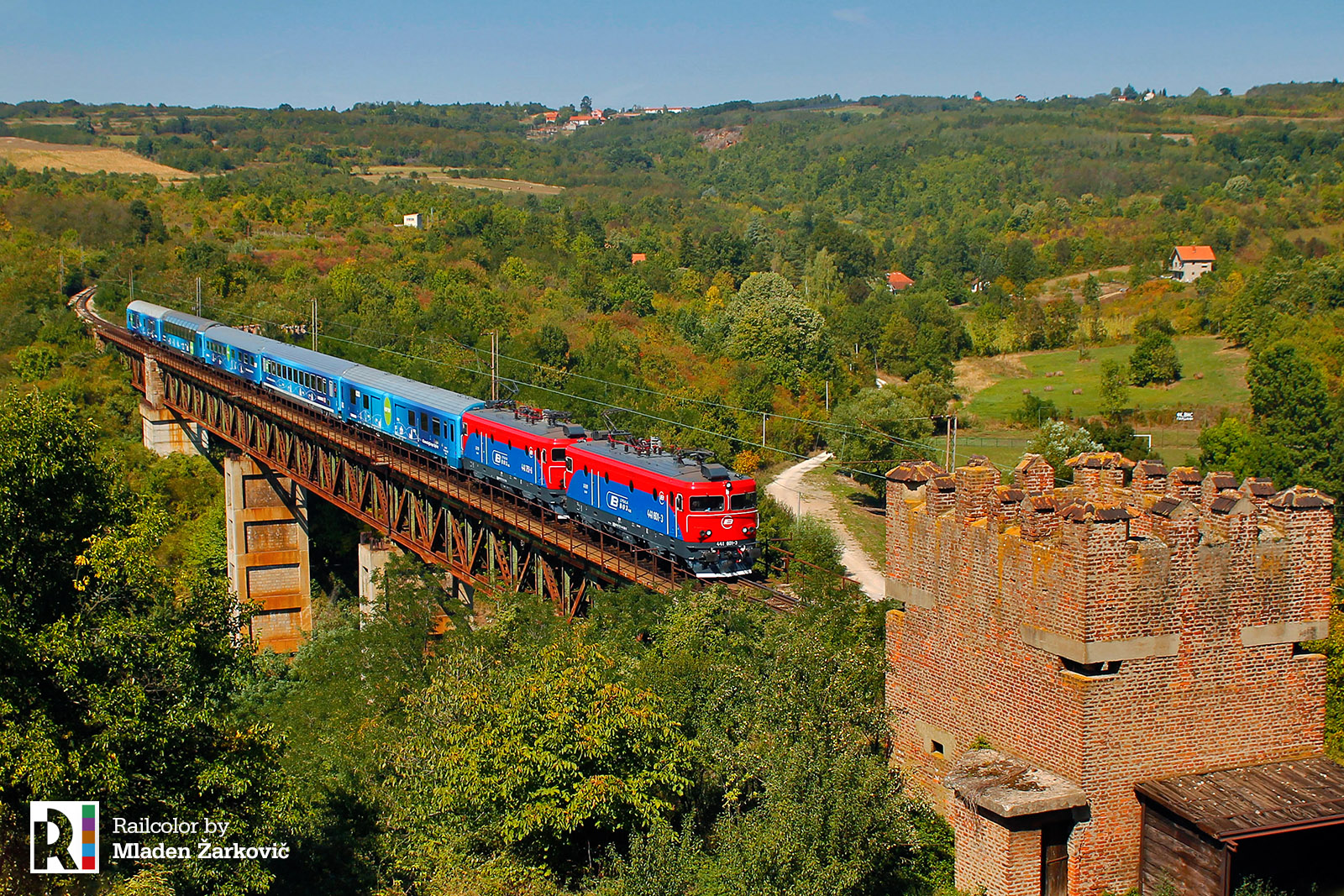 Northern Macedonia
Ealy in the morning of 14.09.2021 the train was seen in North Macedonia's capital, Skopje. We're still working to get a visual from there. In the meantime, let's focus on the next stop:
Greece: TrainOSE 120 021 and 220 007
There is something about first-generation EuroSprinters and southern countries don't you think? Portugal and Spain gave the start of this unique Crusade with such locos, and now Greece follows with TrainOSE's Class 120 leading the CEE. Thanks to Pierre Colson we publish not one but two photos of the train, both taken in Acharnes on 14 and 15.09 respectively. Enjoy!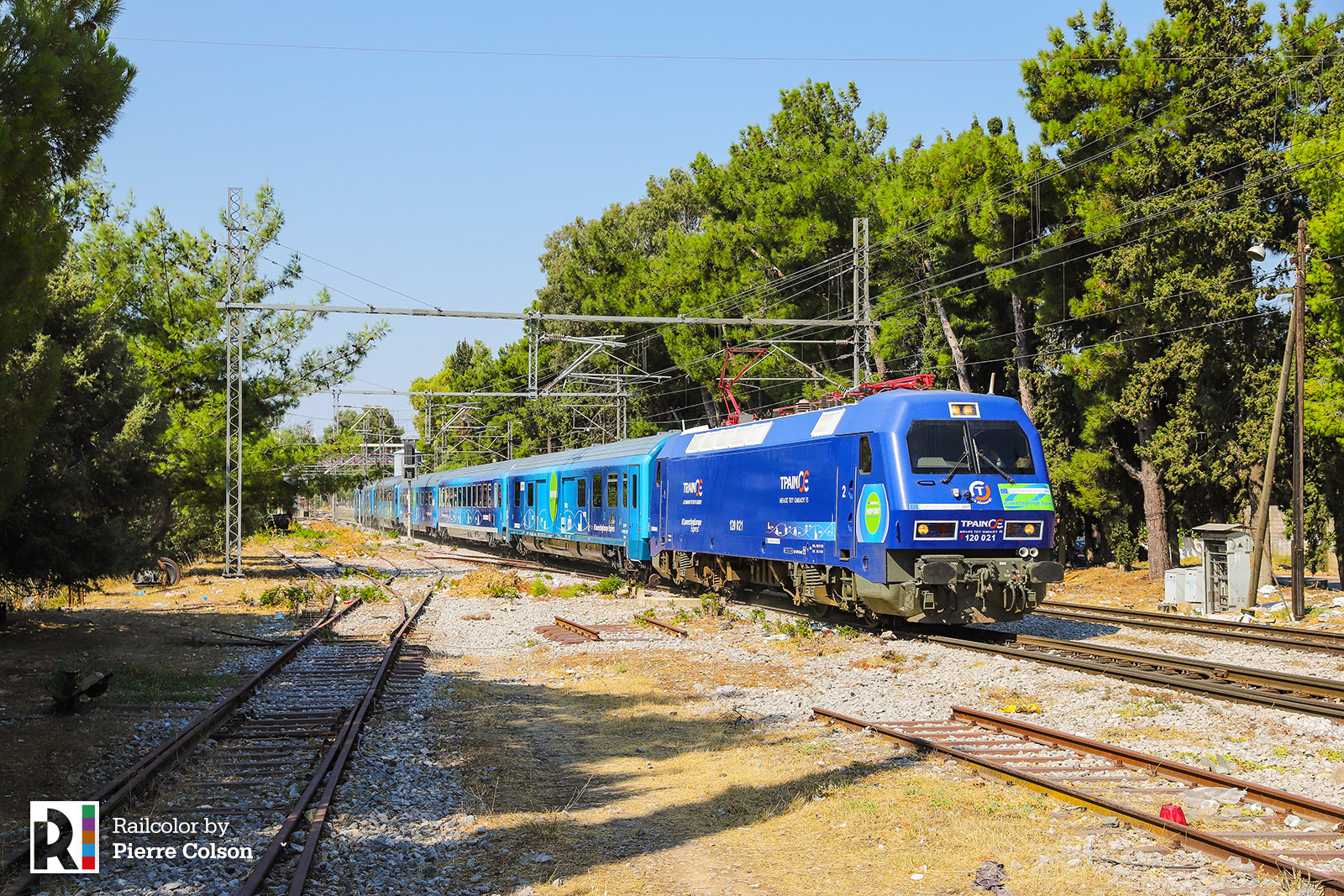 Two more pictures follow by Magalios Giannis and Konstantinos Kalpakidis: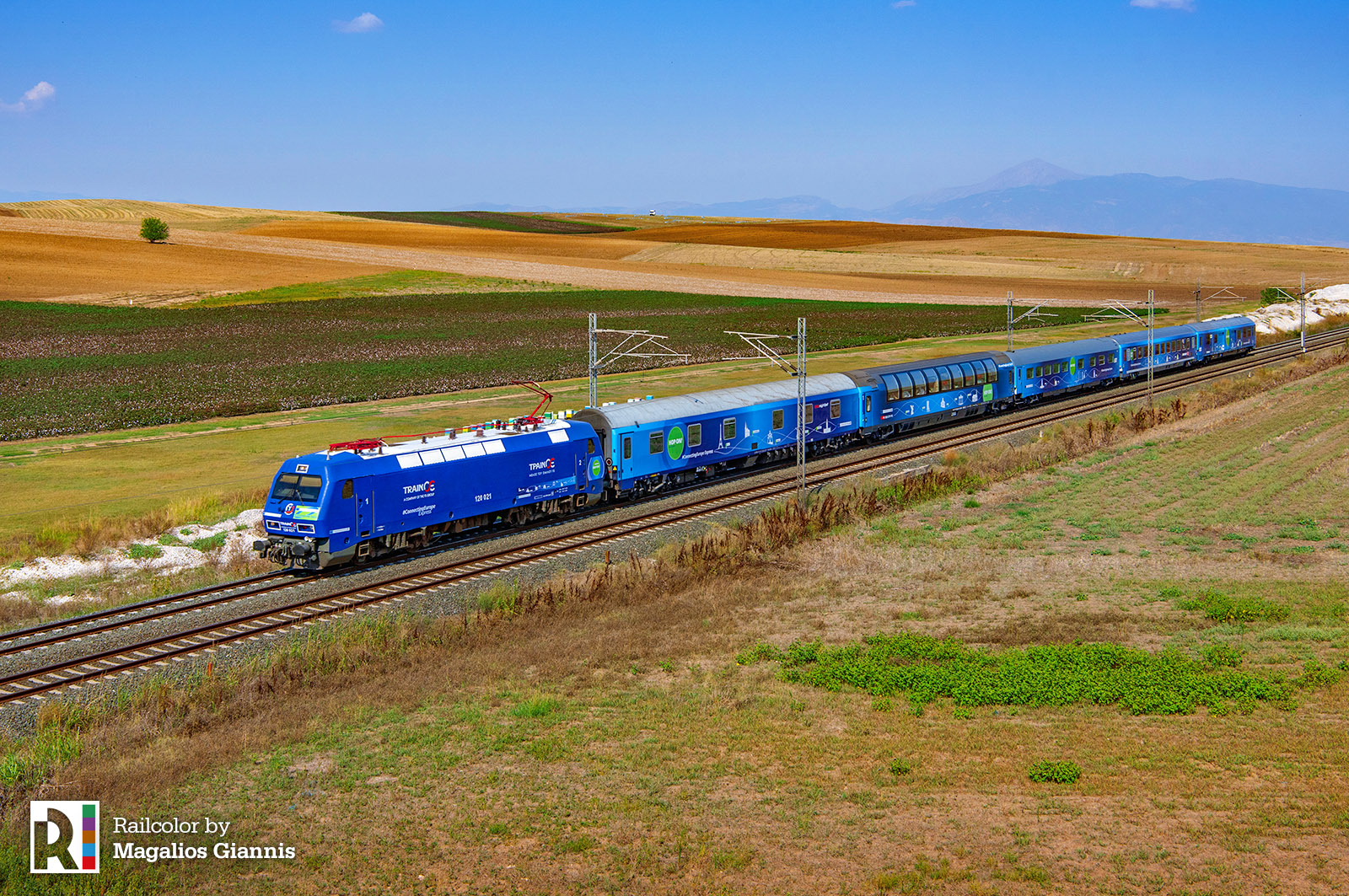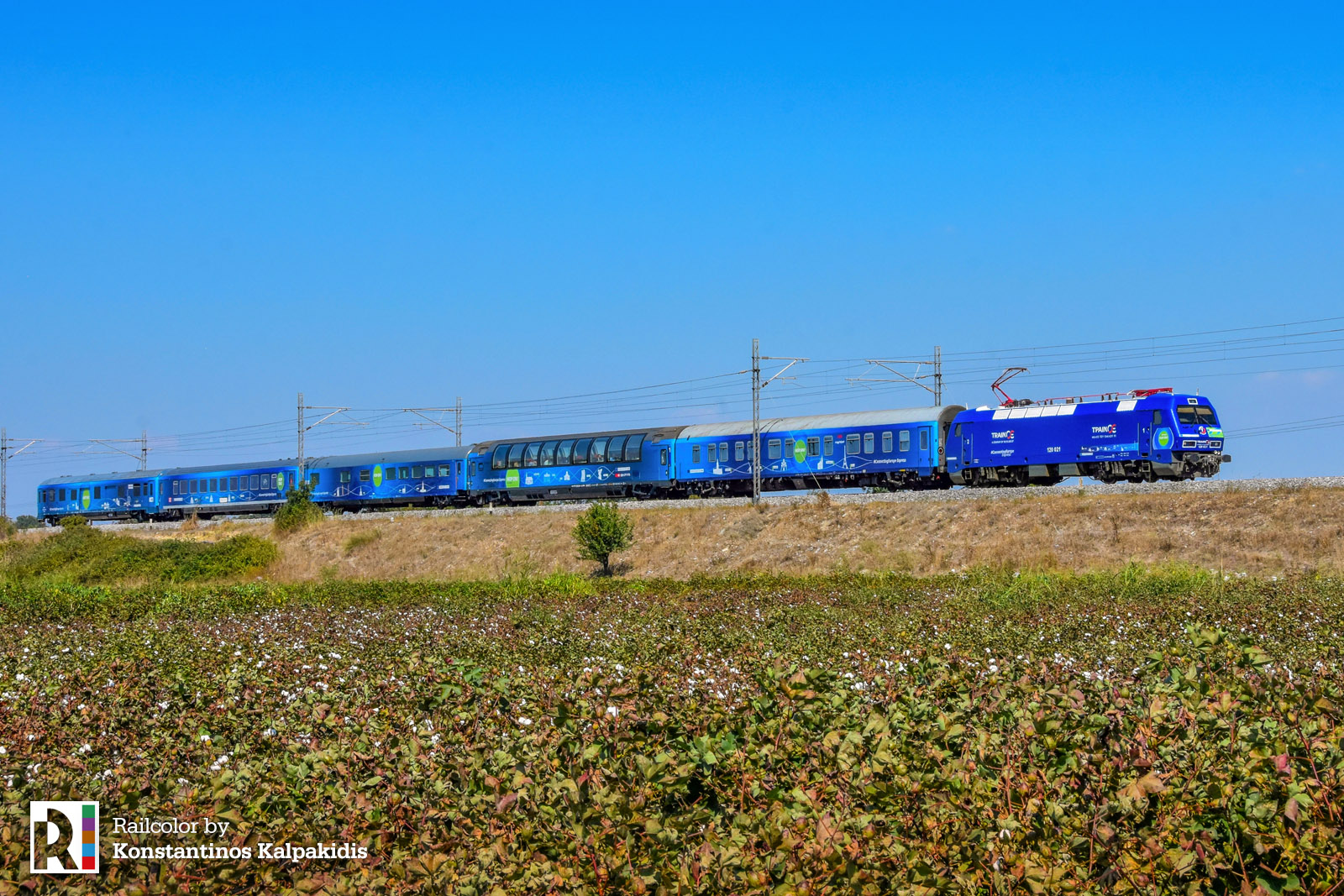 On its way to Kulata in Bulgaria, the train was hauled by TrainOSE's ADTranz-built 220 007. Two more beautiful landscapes by Andritsos Georgios and Xenophon Arampatzis show the train with the diesel traction: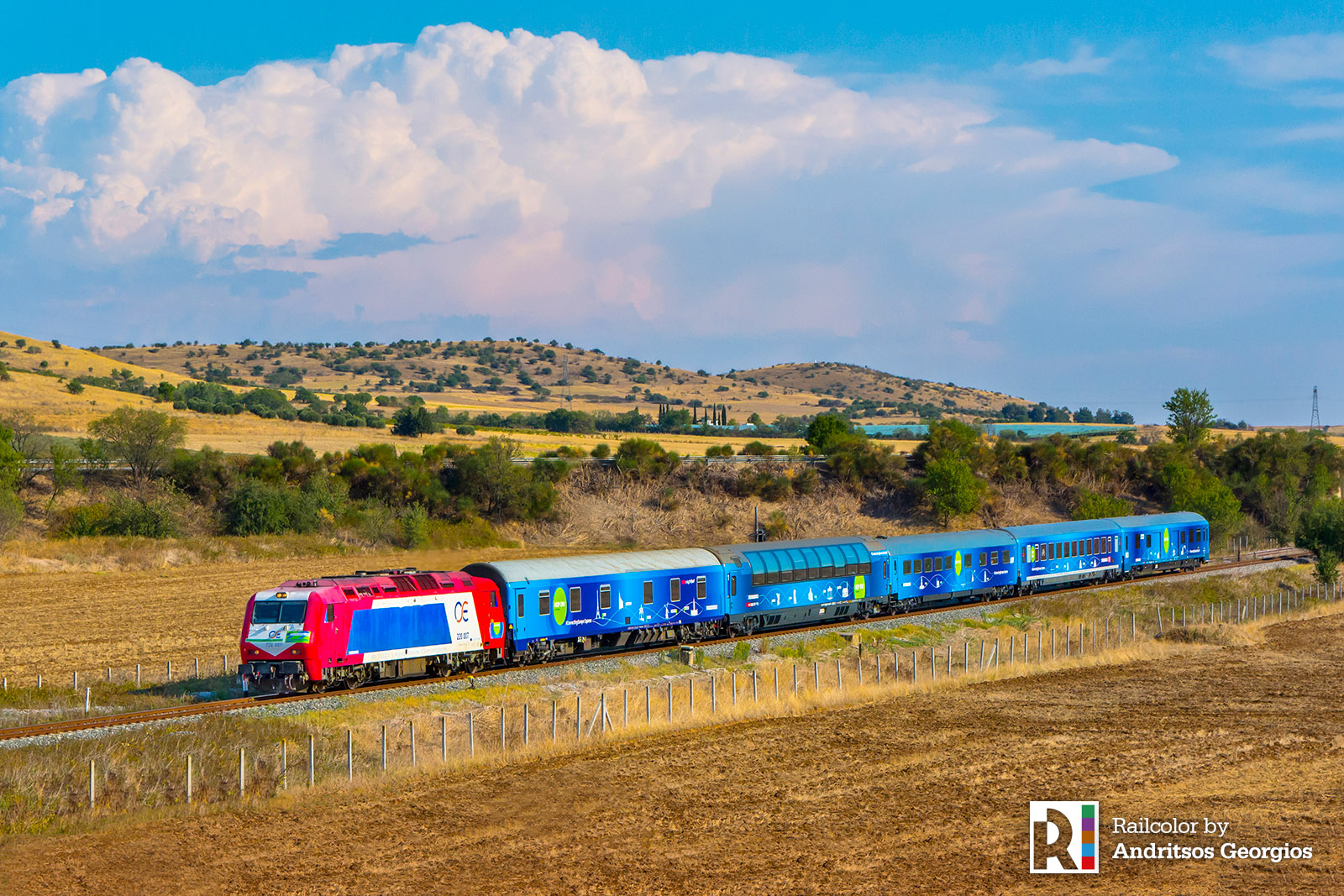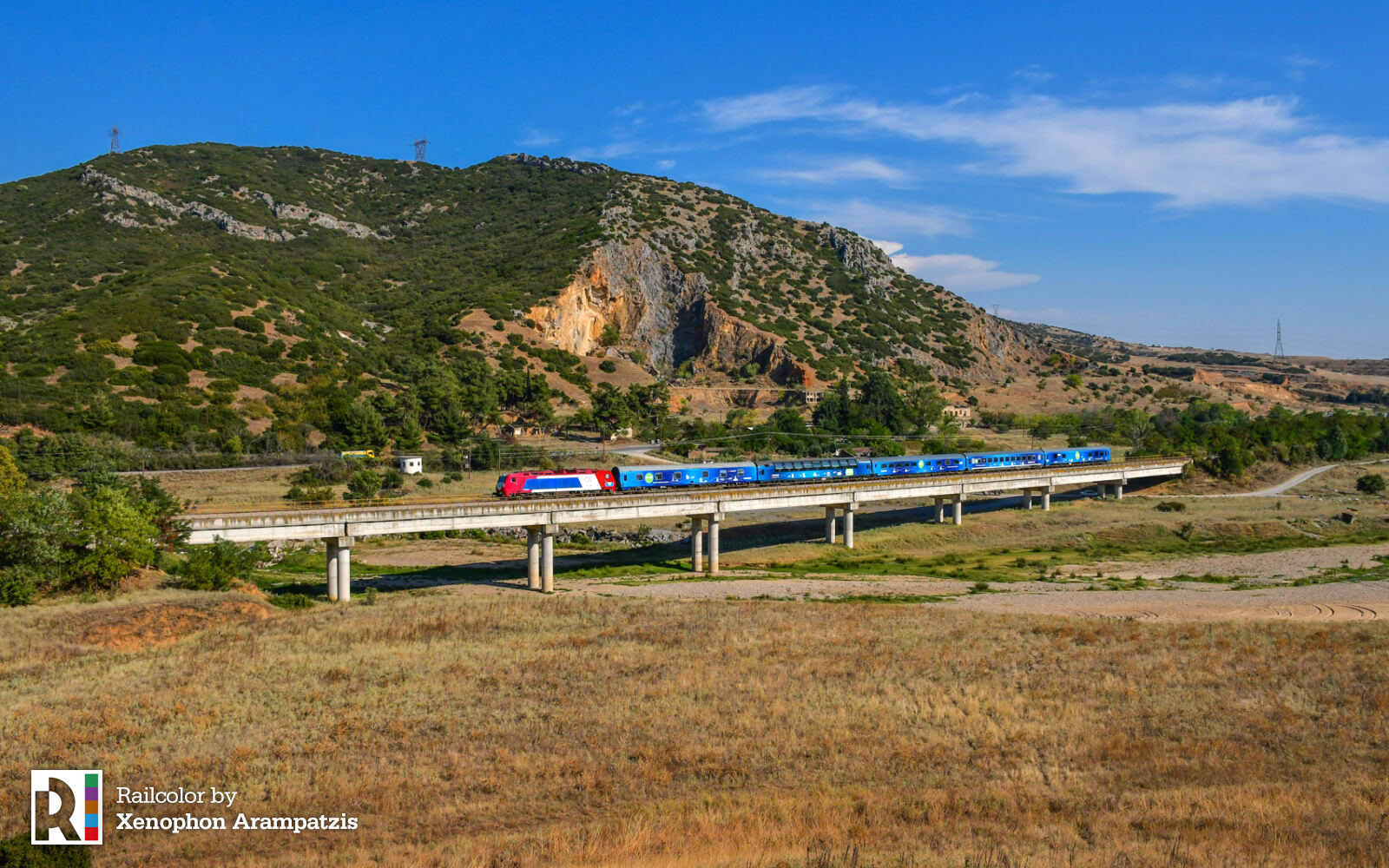 From first-generation EuroSprinters to Smartrons, we shift to Bulgaria where the first representative of Siemens' Vectron platform took over the train. On the night of 15.09.2021 the recently delivered "Tsar Kaloyan" or 80 044 of BDZ PP pulled the train from Kulata at the border with Greece to Bulgaria's capital, Sofia: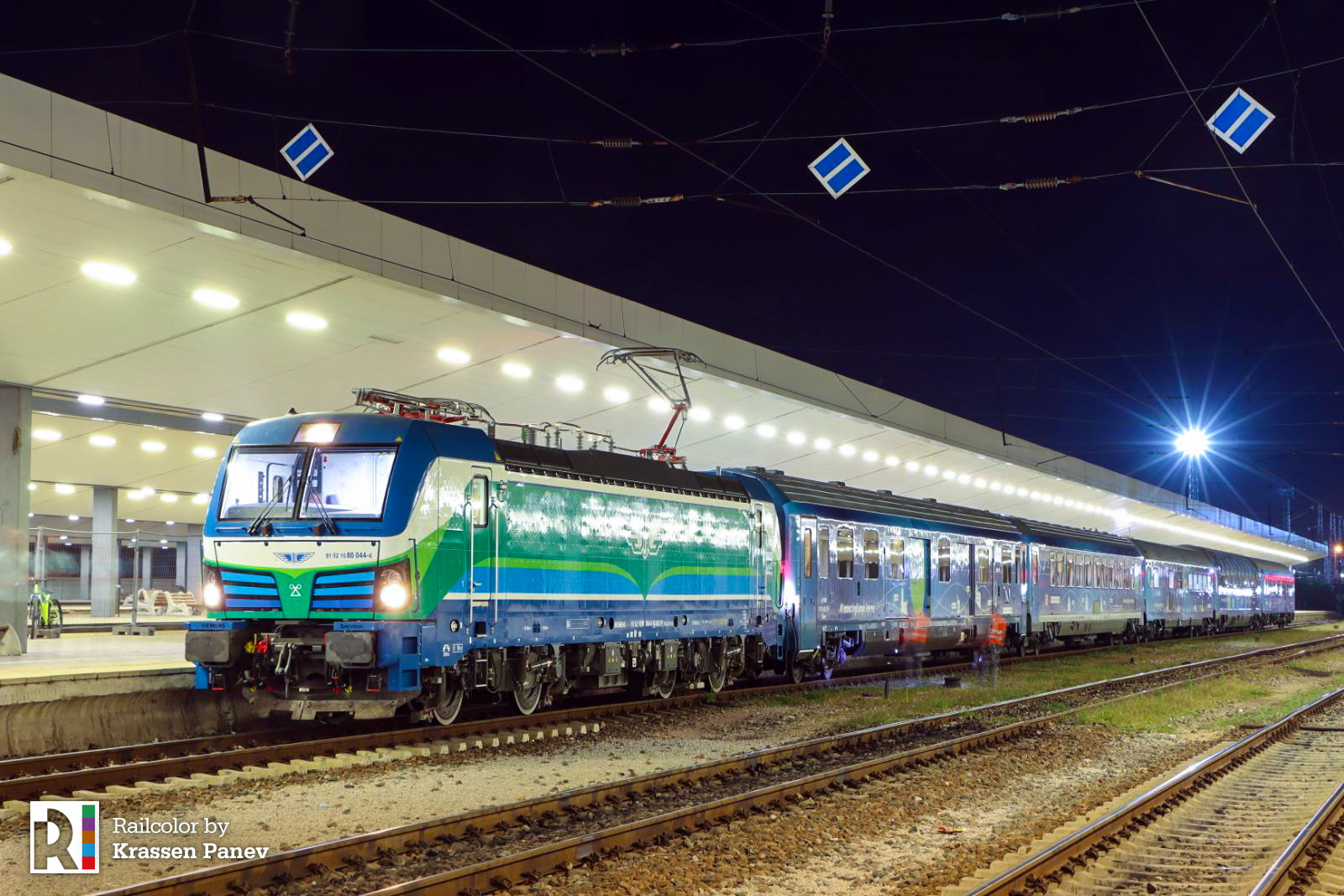 On 16.09.2021 the journey continued towards Romania through the beautiful Iskar Gorge. Ivo Radoev caught these pictures of the train at the station in Svoge. We have another match between the locomotive and the train's liveries with the Green Force design for BDZ PP. And guess what – the missing car is back!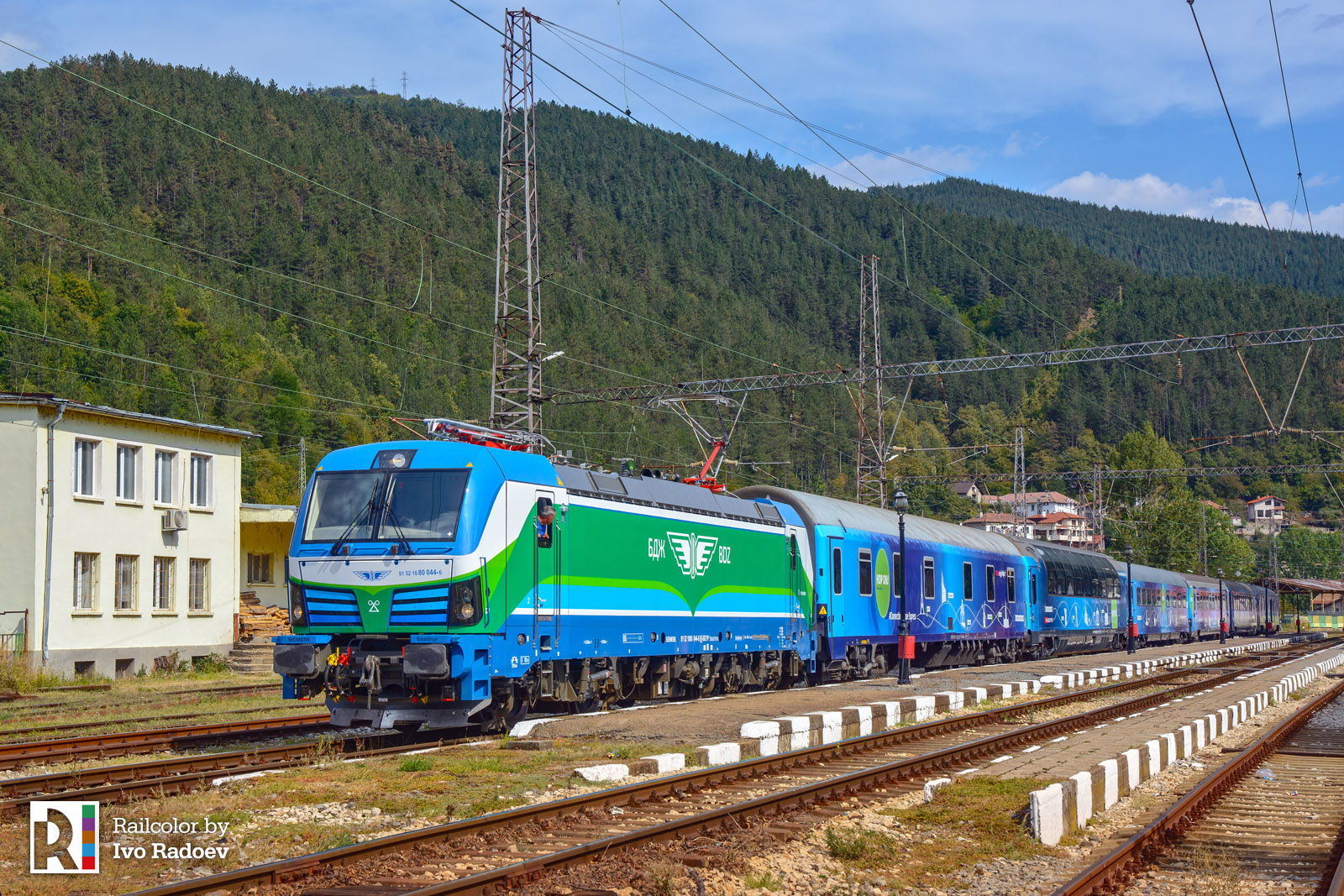 An aerial view from the same location follows and Ivo Radoev also made a video which you can check by clicking here.
Romania: CFR 640 943 and 990
Diesel power action followed in Romania, and electric traction in Arad followed from where the train was sent to Hungary. Mihnea Cristian Paraschiv brings us the following view of the train from Bartolomeu near Brașov in Romania, showing the train on its way to Sibiu: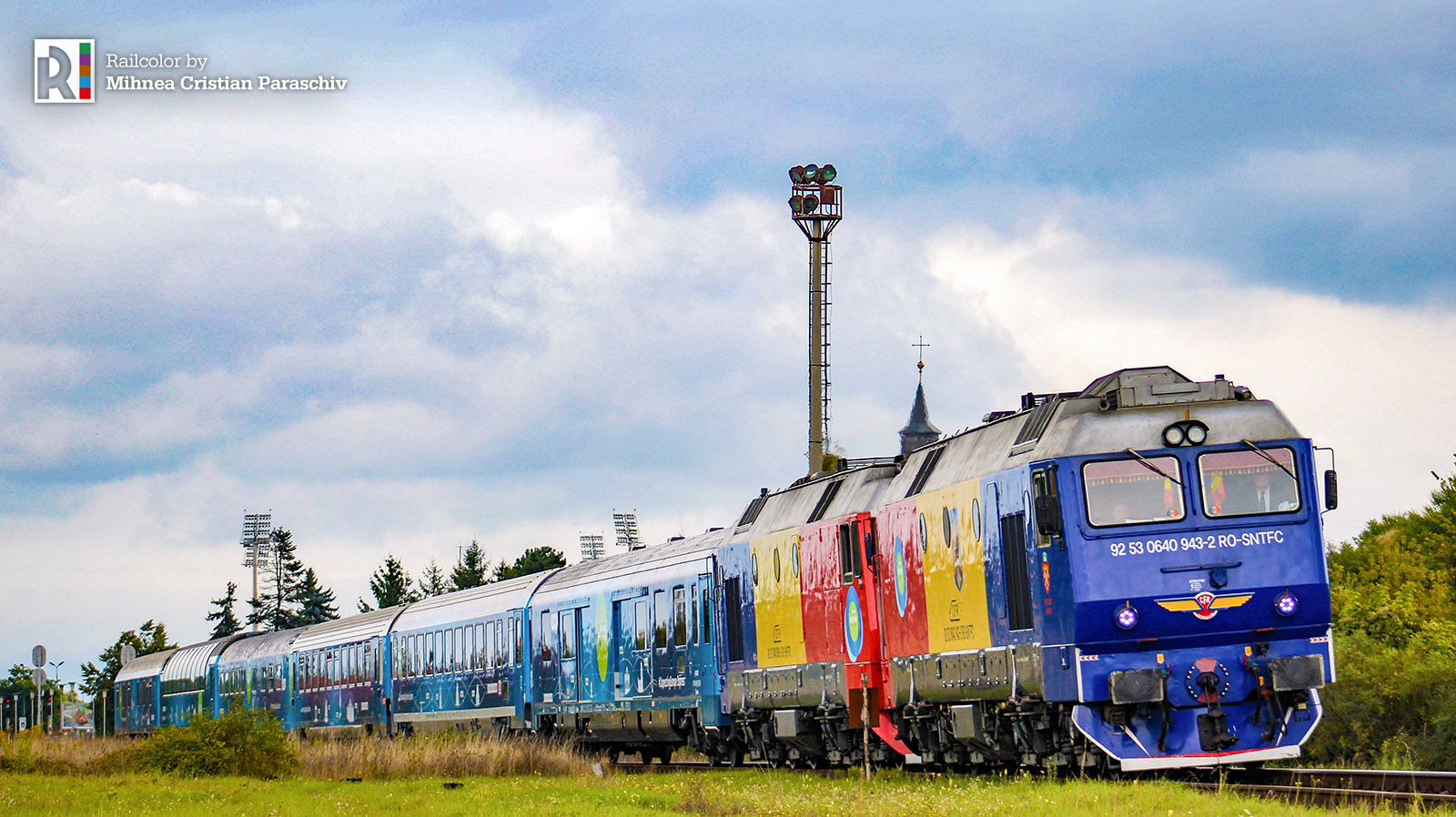 Hungary: MÁV Start 480 010
A lot happened on 19.09.2021. First, the train made its official visit to Hungary's Budapest (the train was already there a few days ago), with the specially decorated 480 010 of MÁV Start in the lead. Two more countries and locomotives followed that same night! Thanks to Tim Roux we bring you visuals of all of them: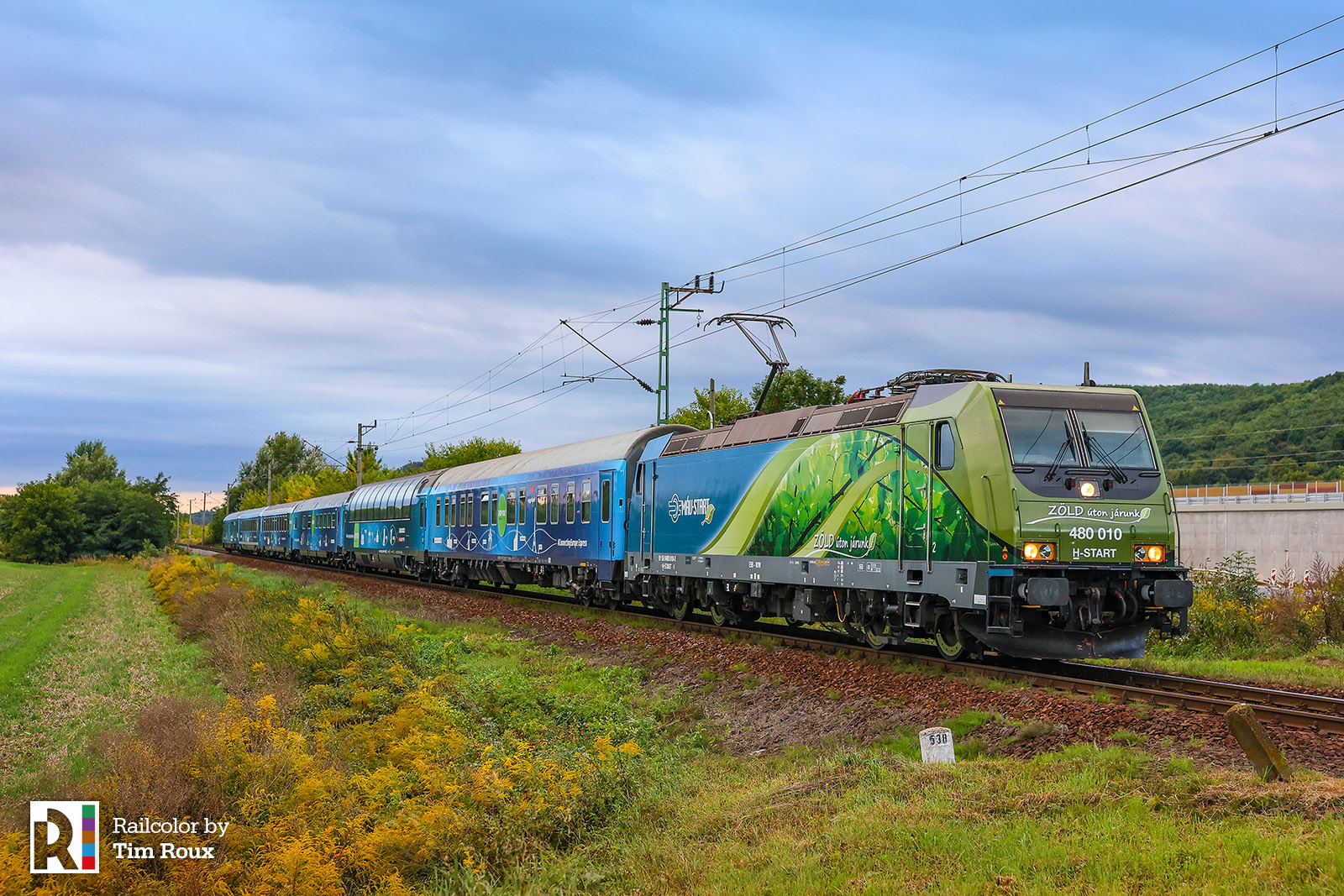 ---
A second pass also through Slovakia, this time with a freight electric: 363 095 of ZSSK Cargo: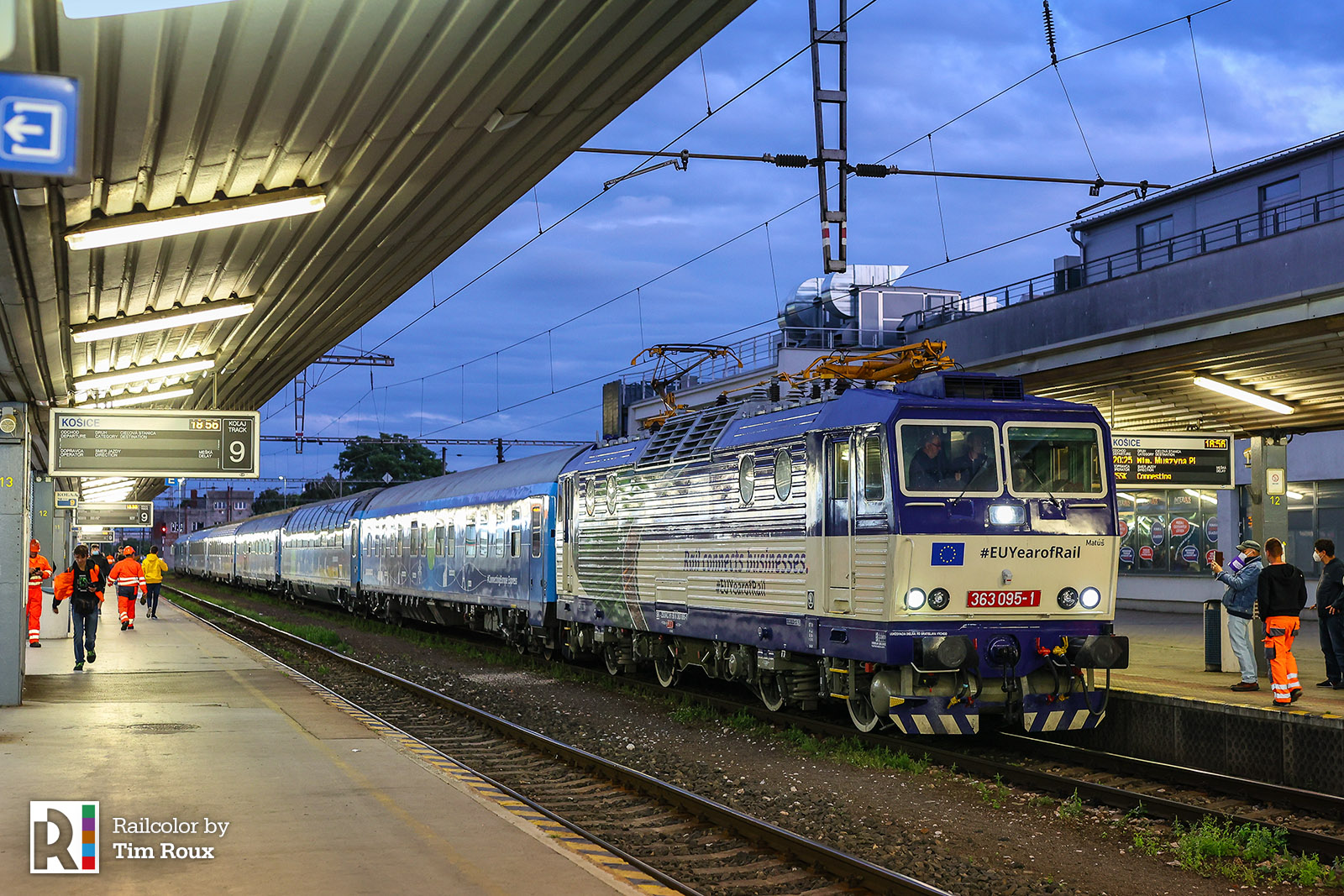 And finally, arrival in Poland's Muszyna station where the specially-foiled EU 160 – 015 of PKP IC took over. Today, the train will be presented in the country's capital, Warszawa.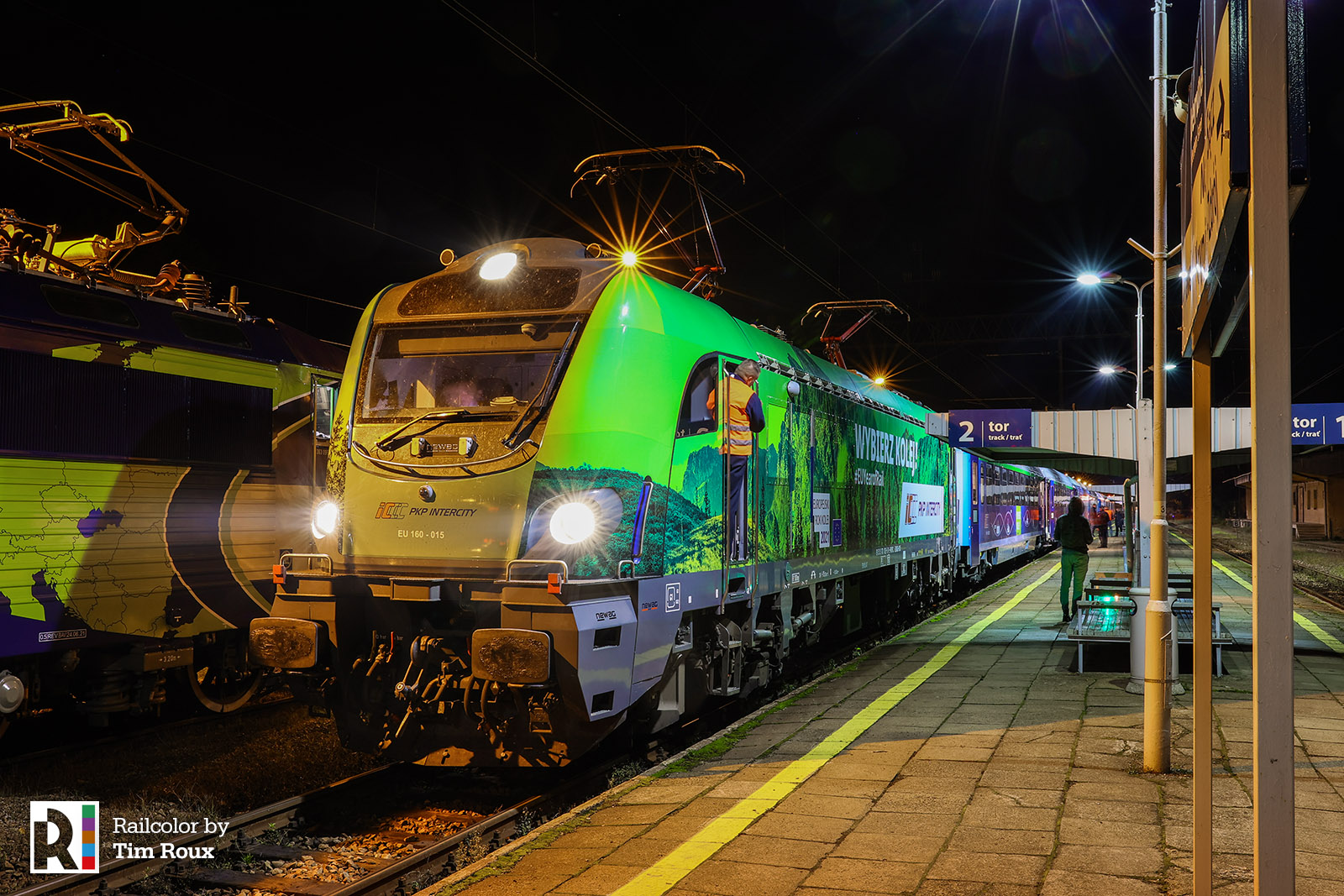 And tomorrow it's Estonia, where the CEE will be moving on broad gauge. Expect a surprise there!
Submit your Connecting Europe Express pictures
Want your pictures featured here? Find where the train is now, take your picture and hurry up as we have limited space and only a few pictures per country will be published for the sake of the brevity of this post. Head on to our picture submission form or simply drop us an email. Check this article for the full timetable and plan ahead your shots.
Become an Expert subscriber now!

Did you know that 2021 is also a special year for Railcolor, as it celebrates its 20th birthday? This is why we wanted to surprise you with a Birthday Deal valid only by the end of the month: