The region of South Moravia has chosen a path of purchasing new Skoda 7Ev/14Ev EMUs that will later be leased to whichever operator wins the operational tender. So far, this is a unique approach in Czechia. To make these trains stand out, they will get a unique design. Now, local politicians voted on their favorite, out of four options.
As revealed by the Czech transport portal Zdopravy.cz, local politicians of the South Moravia region that have approved the contract for purchase and maintenance of 37 new EMUs made by Skoda Transportation now have the opportunity to vote for their final design.
Four different liveries have been made by Aufeer Design, which is responsible for the facelifted Skoda EMUs design for ZSSK. All of the liveries have commonly requested features – a unique design irreplaceable by the ČD colors or designs of any other region. For example, also the Ústecký or Plzeňský regions decided to brand their new regional trains with their own colors.
Out of a total of 4 options, a magenta & white livery has won. This will be complemented by a silhouette of the most remarkable regional sights and landmarks.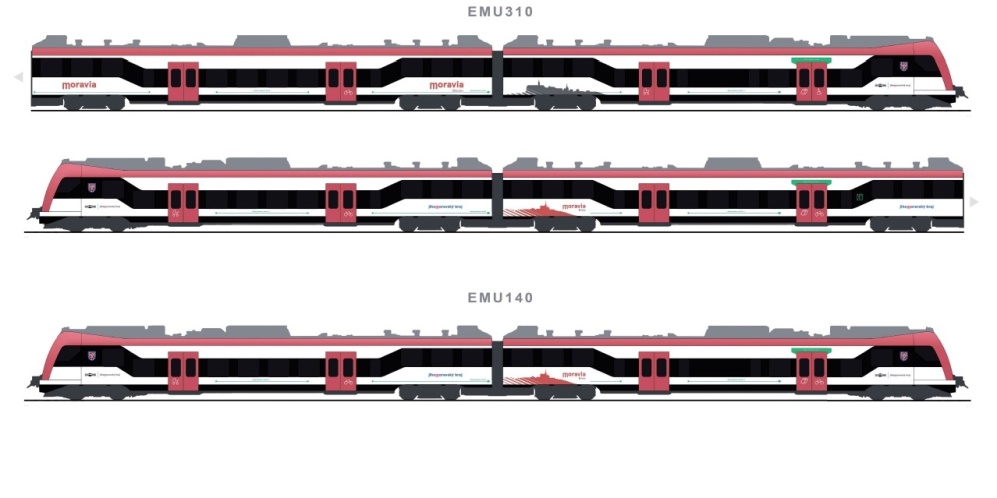 Remarkable: These new trains will get a name too. Instead of 'Regiopanter', they will be called 'Moravia' – named after the first train that arrived at the regional capital Brno on 11.11.1838.