The Mitteldeutsche Eisenbahn GmbH (MEG) is celebrating its 20th anniversary. A perfect moment for Alstom to officially hand over three new Prima H3 locomotives to the MEG. The ceremony took place on 20.09.2018.
Alstom hybrid  Prima H3
The hybrid Prima H3 locomotive uses up to 50 percent less fuel and emits up to 70 percent less CO2, compared to conventional shunting locomotives. Depending on usage, a Prima H3 will operate on battery power between 50 and 75 percent of its operating time. This makes emission-free rail transport possible in urban areas or in production halls. The locomotive can be integrated into regular train traffic due to its maximum speed of 100 km/h. The locomotives are equipped with the Alstom TrainTracer technology and can therefore be monitored remotely.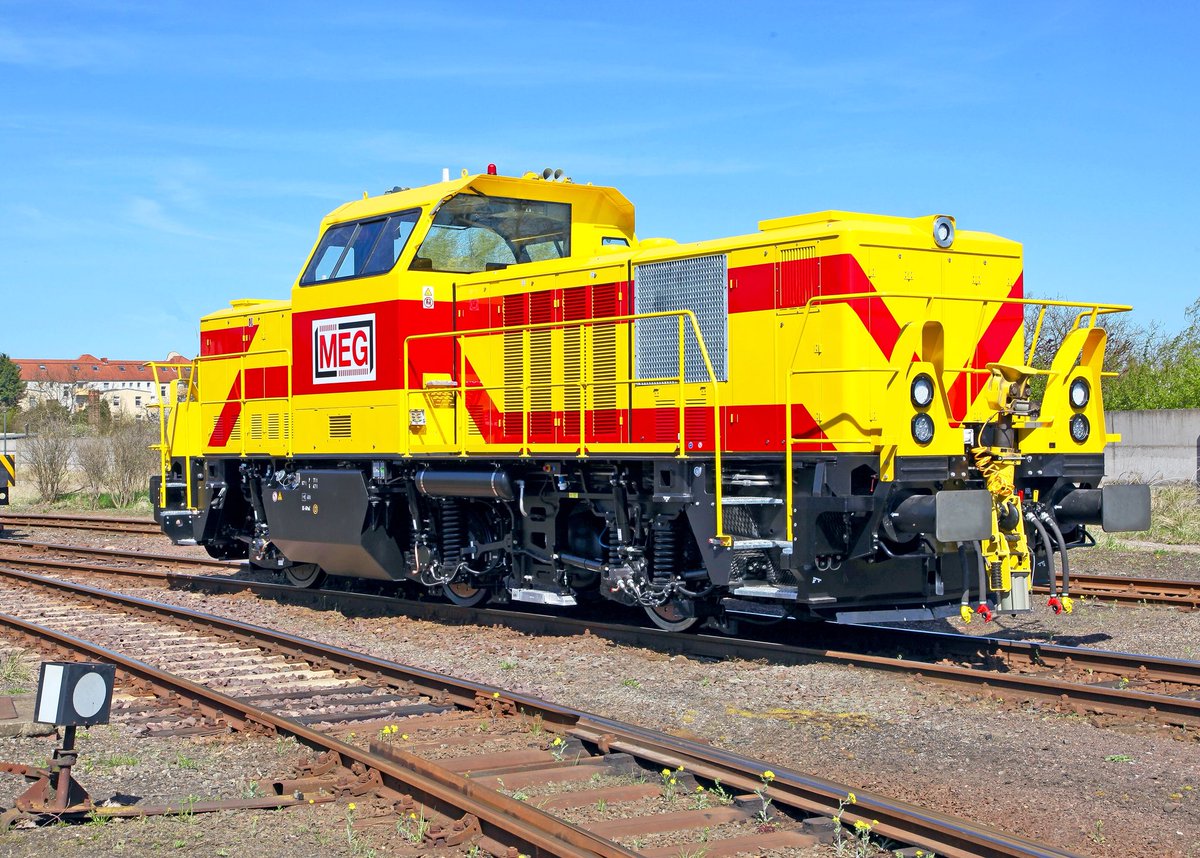 MEG hybrid fleet overview
With the arrival of locomotive 130, 131 and 132, MEG now has four H3s in its fleet:
2015: MEG 127 = 90 80 1002 006-7 D-MEG = Alstom no. H3-00005, first used a demo locomotive
2018: MEG 130 = 90 80 1002 026-5 D-MEG = Alstom no. H3-00026
2018: MEG 131 = 90 80 1002 027-3 D-MEG = Alstom no. H3-00027
2018: MEG 132 = 90 80 1002 028-1 D-MEG = Alstom no. H3-00028
Until March 2019 Alstom will deliver another two H3 locomotives.
20 years MEG
Mitteldeutsche Eisenbahn GmbH (MEG) was founded on 01.10.2018 as a joint venture of DB Cargo and Transpetrol (now VTG Rail Logistics). MEG focuses on the transport of coal, chemicals, mineral oil, cars and intermodal trains between the central German economic regions, Rostock Seaport and Regensburg in Bavaria. MEG is also responsible for the shunting services at the industrial tracks of Dow Olefinverbund and Cemex Zement.