The transport company of Ostrava, DPO (Dopravní Podnik Ostrava) has selected Škoda Transportation for the delivery of 40 high capacity, low-floor trams The purchase price is 1.9 billion Czech crowns (EUR 76 million). The purchase has been approved by DPO's management and its supervisory board.
Text and Photos by Quintus Vosman
The first new trams will start operation in the Autumn of 2020 at the latest. The entire purchase will be paid via a loan from the city of Ostrava which is the statutory authority for DPO. The City Council already approved this loan, which has been confirmed by general manager and chairman of the board of directors, Daniel Morys.
It concerns large capacity trams for about 200 passengers. Their length is 26.5 meters. The new Škoda single articulated trams are to replace the present T3 type trams which are operating mostly as pairs. DPO is unhappy with coupled tram pairs because of vandalism and other bad behaviour in the rear vehicles.
The new trams will feature a CCTV camera surveillance system, air conditioning, WIFI and USB sockets.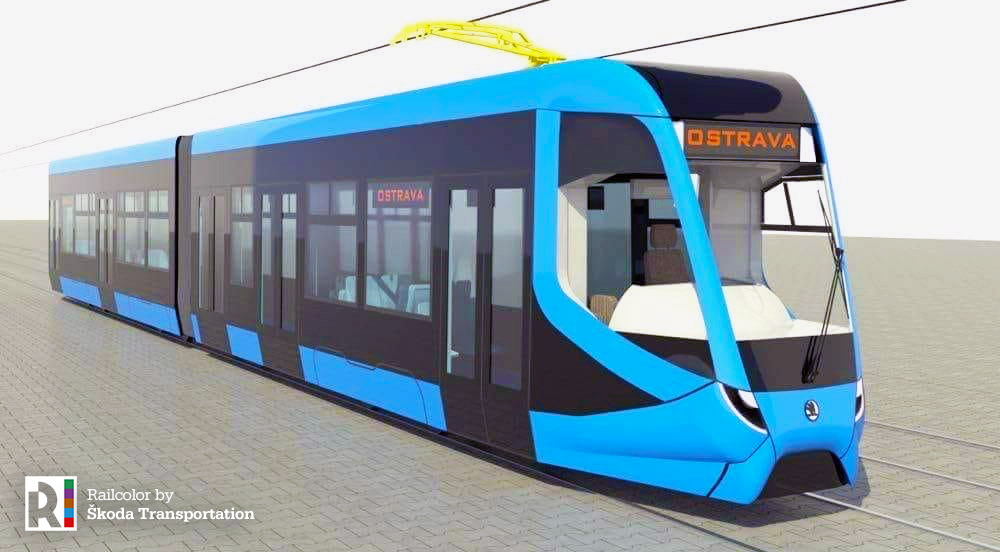 Škoda offered the ForCity Smart
Škoda Transportation won from four other manufacturers. Škoda is reported to be the only one bidder that met all conditions and requirements, while offering the lowest price as well. One tram costs about 48.75 million CZK. Ostrava is the first Czech/Central European customer for Škoda's new generation 'ForCity Smart' design. Logically the design will be tailored to meet specific local requirements.
Ostrava: the most modern tram fleet in the Czech republic
Currently, Stadler Rail is building forty Tango to DPO. One Tango for Ostrava has ran trials on the Brno tram network during the summer. All these single articulated trams will be in operation medio 2019. If all goes according to plan, Ostrava will have the most modern tram fleet in the Czech republic, an important ambition of DPO.
The purchase of the large capacity trams is connected to an increase in ridership in public transport in the 'steel and coal' city of Ostrava. In 2017 91.1 million passengers were recorded, +2.6 million in comparison to 2016.