Alstom has received an order to supply 32 additional Citadis Dualis tram-trains to Île-de-France Mobilités and SNCF Transilien. The order is worth approximately 170 million euros, with Île-de-France Mobilités covering 100% of the investment cost of the trains. The new trams will run on the following lines:
22x on line T12 Express > Massy – Evry
10x on line T13 Express > Saint-Cyr – Saint-Germain
These options are part of the tram-train frame contract signed by SNCF in 2007 for the French regions, covering the delivery of up to 200 tram-trains.
The Citadis Dualis seamlessly links the centre of town with the suburbs by combining the advantages of the train with those of the tram. It has the same dimensions as a tram, meaning it can circulate in town, while its performance, the same as that of a train, enables it to transport passengers at speeds of almost 100 km/h in outlying areas without the need to change transport modes.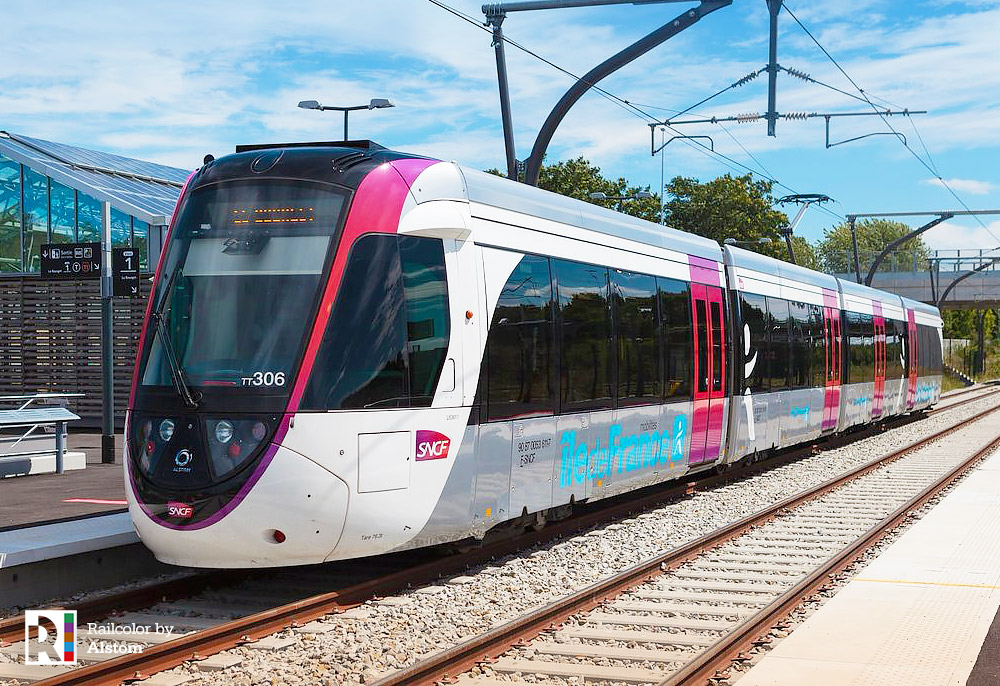 To date, 63 Citadis Dualis tram-trains are in circulation in France (Railcolor: Nantes+Lyon+Paris). A total of 15 other tram-trains have gradually been delivered to Île-de-France since October 2017 (Railcolor: the TT401-TT415). These are scheduled for commercial commissioning on the T4 tram line in September 2018, then on its extension on the Clichy-sous-Bois/Montfermeil section at the end of 2019. The deliveries will take place between 2020 and 2022.
Railcolor: Citadis Dualis in France
24x Pays-de-la-Loire (Nantes) > U 53501/02 – 53547/48 (TT101-TT124)
24x Rhône-Alpes (Lyon) > U 52501/02 – 52547/48 (TT201-TT224)
Ordered 2014: 15x Île-de-France Mobilités T11 > U 53601/02 – 53629/30 (TT301-TT315)
ordered 2016: 15x Île-de-France Mobilités T4 > U 53701/02 – 53729/30 (TT401-TT415) Currently under delivery
ordered 2018: 32x Île-de-France Mobilités T12/T13
Interesting: Île-de-France in Paris already operates tram-train rolling stock on line T4; the 15 units of the U 25500 type (TT01-TT15). These have been built by Siemens and are of the Avanto S70 type.