The Canberra Metro Consortium is constructing a light rail network in the Australian capital city Canberra (approx. 405.000 inhabitants). The consortium won the 2015 tender for the first tram line which will link the northern town center of Gungahlin to the Canberra city center. 
The Canberra Metro Consortium will design, construct, maintain en operate the new tram line for 20 years. Construcciones y Auxiliar de Ferrocarriles (CAF) from Spain is the consortium member responsible for the rolling stock. Recently CAF delivered the first of fourteen Urbos trams for Canberra to the Australian continent. The tram arrived from Spain in Port Kembla on board a car carrier(!). After unloading, the tram was transported by truck for the last 280 km to Canberra.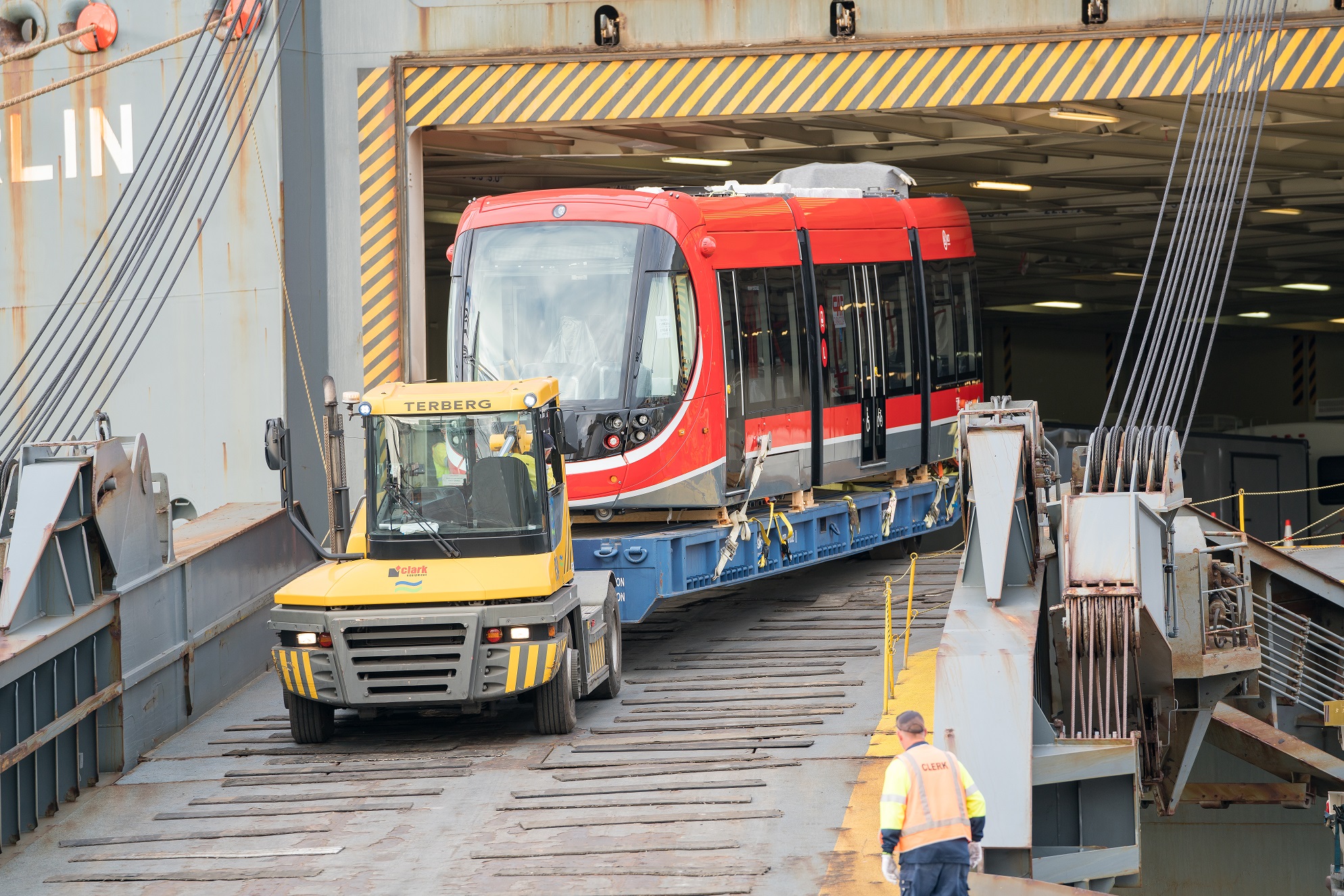 Urbos 3 trams for Canberra Metro
The Canberra 5-module trams are Urbos based, bidirectional and have a 100% low floor. A future retrofit with an on-board energy storage system for catenary-free operations between stations has been taken into account. The 33 m long trams have a capacity of 276 passengers (6p/m2), 4 doors on each side and a maximum speed of 70 km/h. Further equipment includes air conditioning for cab and passenger saloon, an audio-visual passenger information system, power & automation traction equipment, a flat start up battery system and CCTV cameras.The AU$ 65 mln. order includes 20-year maintenance for the fleet. This delivery adds to CAF's presence in Australia as CAF provided six Urbos 3 trams for Sidney in recent years. These trams are providing revenue service on the Inner West Tram in Sidney.
The Canberra Metro Network
The Canberra network will start of with a 12 km tram line from the northern suburb of Gungahlin into Canberra city center and will have 13 stops. A complete journey will take 24 minutes. This is only the first stage of the network, initial planning for stage 2 of the network has started. The second line will be extended from Canberra city center to the southern suburb of Woden, via the governmental buildings at Parliament House. The extension will stretch 10–13 kilometres (6.2–8.1 mi) with 8 to 13 stops depending on the route. Services on the first stage are expected to start operating towards the end of 2018. Further line variations are under consideration, including a line to eastern suburb of Barton and an extension of the stage line beyond Woden. A new depot is being built halfway down the line in Mitchell.