CAF wins tram contract in Seattle
The Seattle Department of Transport (SDOT) has awarded CAF with a contract to supply ten 3-car trams based on the Urbos platform and 100% low floor. There is an option for up to ten additional vehicles. The contract is worth over $ 50 million. The new vehicles will be equipped with CAF's Onboard Energy Storage System, allowing them to run on the catenary-free sections of the network. Much like the future downtown part of the Luxembourg Luxtram project.
Seattle is developing a modern tramway system to strengthen connections with the most populated districts in Seattle. The new 1,9 km Center City Connector will link the present 2,1 km long South Lake Union line (opened to public in 2007) and the 4 km long First Hill (opened to public in 2016) line to create new connections across downtown Seattle. The project starts construction early 2018 and should be completed in 2020. After its completion the CAF trams will be used on both the of the new Center City Connector and the South Lake Union line. A part of the excisting Czech build Inekon trams will be sold. Portland Streetcar has expressed interest in these trams.
Additional trams for Kansas City 
The Kansas City Streetcar Authority purchases two additional Urbos 3 trams from CAF to add to the four trams previously supplied for the Kansas City tram network. This 3,5 km long network, mostly along Main Street, is connecting River Market to Union Station. Due to the increasing numbers of passengers (it's free!) the two additional trams are needed.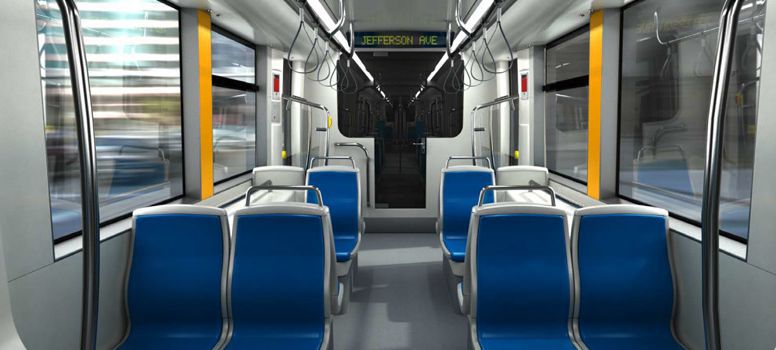 The four previously supplied trams are numbered in series 801-804, following the numbering by the original Kansas City Public Service Company. The trams arrived between November 2015 and April 2016. Revenue services started 6 May 2016. The 2 new units are expected to be delivered in 2018.
Technical data of the Kansas City CAF Urbos trams:
length: 23,62 m
percentage low floor: 100%
weight: 35 tonnes
voltage: 750V DC
maximum speed: 70 km/h
capacity: 207 passengers (6p/m2)
number of cars: 3
trailers: 2 
doors: 2 double doors (middle car), 2 single doors (end cars)
further equipment like CCTV, event recorder and video surveillance.
Both the Seattle and Kansas City trams will be produced at the CAF plant in Elmira, in the state of New York.  Besides the initial four Kansas City trams, CAF delivered trams to Cincinnati and is currently manufacturing trams for Boston and Maryland.