Swiss rolling stock manufacturer Stadler Rail Group has successfully shipped the first double-decker KISS train, ordered by Russian railway operator Aeroexpress, to Moscow. The train immediately starts the homologation process with dynamic tests in the examination ring of Russian Railways in Scherbinka.
According to the plans, commercial operation of the first train is to start in the summer of 2015, while the last train is expected to enter service one year later during the Summer of 2016. The new trains will carry passengers between Moscow and the international airports of Domodedovo, Sheremetyevo and Vnukovo.
The first six-car double deck train arrived from Stadler's recently built factory located in the outskirts of Minsk in Belarus to Moscow Depot of Aeroexpress, where it was officially presented to the media and officials including the Moscow Mayor Sergey Sobyanin, Maxim Liksutov, Deputy Mayor for Transport and Traffic Infrastructure Development, Pierre Helg, Ambassador of Switzerland to the Russian Federation, and Igor Petrishenko, Ambassador of Belorussia to the Russian Federation.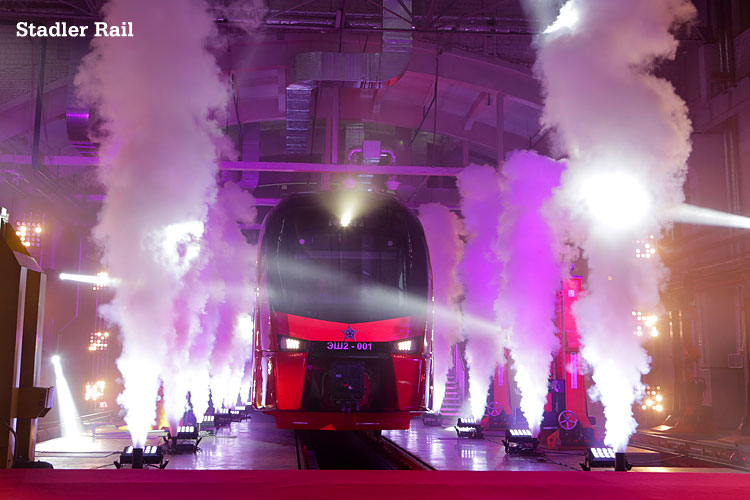 The new double-deckers are 3,400 millimeters wide with a height of 5,240 millimeters. The trains are designed to cope with the specific Russian climate, which can range from –50 degrees Celsius to +40 degrees Celsius and in this respect are based on the FLIRT vehicles delivered to Finland, Norway, Estonia and Belarus. The trains will have a speed of 160 km/h and have comfortable, bright interiors in two classes (business and economy). The carriages are made from lightweight aluminum, which makes the vehicles much lighter than the traditional steel carriages. The reduced weight means that the train operator can make significant energy savings on everyday services.
Stadler Rail Group has become a strategic partner of AeroExpress after participating and winning an international tender in Moscow in 2013. The parties signed contract on May 28 last year. The contract includes the supply of 25 double-deck KISS trains consisting of altogether 118 coaches, out of which 16 units will be four-car and 9 will be six-car vehicles. The first 4 units are produced by the factory of Stadler in Altenrhein, Switzerland, while the remaining 21 are being made in the latest investment of Stadler in Minsk, Belarus. Aeroexpress purchases trains at its own expense, therewith investing into the development of railway passenger transport. The new double-deck fleet will allow a 35-50% increase in the transport capacity of Aeroexpress trains.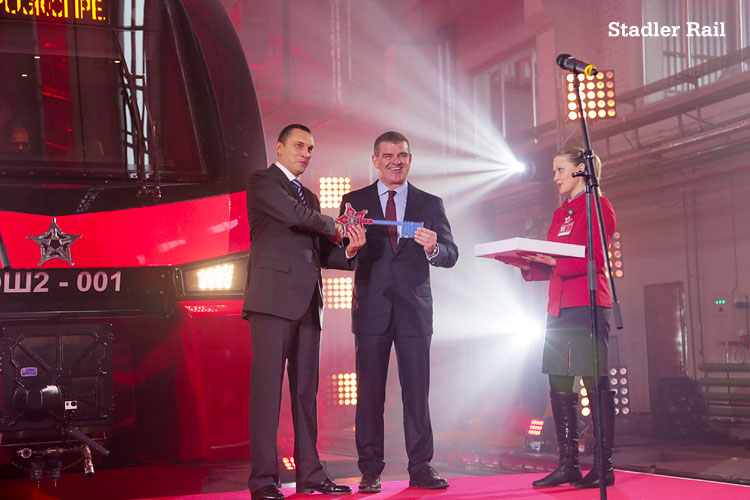 The next stage will include dynamic testing and different strict authority examinations, including tests for winter operation on the test ring in Scherbinka, which are to result in obtaining the homologation. According to the contract, commercial operation of the first train is to commence in June 2015, while the last unit is expected to enter service in June 2016.