"(..) which means we are now overseeing ₤3 billion of investment into 1.700 new carriages across all our franchises."
It was this quote from Dominic Booth, Managing Director of Abellio UK, in a press release about West Midland Trains, that caught our attention. It inspired us to make an overview of the trains ordered by, built for and delivered to Abellio related operators. We will bring this information in three parts, and this is part 2 about Greater Anglia.
Scotrail – published in part 1
Greater Anglia – scroll down for part 2
West Midlands Trains – coming soon
Part 2: Greater Anglia
In June 2015 three operators were shortlisted for the East Anglia franchise: First Group, National Express (former East Anglia franchisee) and an Abellio/Stagecoach (60%/40%) joint venture. In December 2015 Stagecoach pulled of of the joint bid and Abellio continued the bid alone. Eight months later it was announced Abellio was the successful bidder for the franchise. This meant Abellio keeps the franchise it ran since 2012. The franchise runs until 2025. In January 2017 Abellio announced they sold a 40% stake in the business to Mitsui, an Abellio partner in the West Midlands Trains operations.
As Abellio targeted lower journey times without extensive modification and the fact ageing stock is not compliant with accessibility requirements beyond 2019, Abellio committed themselves to purchase 1043 new carriages. Greater Anglia ordered the folowing trains from Bombardier and Stadler Rail:
101 Electric Bombardier Aventra trains in 5-car and 10-car formations (Class 720)
20 Electric Stadler Rail FLIRT trains in 12-car formation (Class 745)
38 Bimodal Stadler Rail FLIRT trains in 3-and 4-car formation (Class 755)
New Bombardier Aventra based Class 720 electric trains
The Class 720 train is a new member of the electric Aventra family by Bombardier Transportation for the UK. Several other British operators have Aventras on order in AC (25kV overhead), DC (750V third rail) or dual voltage versions. The Class 720 Aventra trains for Greater Anglia are equipped for 25kV AC overhead line. Greater Anglia ordered 89 5-car trains and 22 10-car trains for the West Anglia Main Line (London Liverpool Street – Cambridge) and Great Eastern Main Lines (London Liverpool Street – Norwich and sidetracks). The 10-car trains will be numbered in Class 720/1, the 5-car trains will be numbered in Class 720/5. Both the 5-car and 10-car train sets will have a maximum speed of 161 km/h (=100 miles/h).
The 5-car train set has a length of 122 m and seats 544 persons besides room for up to 145 standing persons.  The 10-car train set has a length of 243 m and seats 1145 persons besides room for up to standing 290 persons.  The trains have a 3+2 seats formation in Standard Class and a 2+1 seats formation in First Class. A mock up of the Class 720 train's interior was presented in September 2017.
Each 5-car train will be offered with:
four cycle spaces;
an accessible toilet;
wheelchair spaces,
plug sockets and USB ports
for increased legroom the seats are hanging from the wall, their is no nuisance from chair legs.
The new trains will be built by Bombardier's Derby Litchurch Lane Works, England. Approximately 70 firms will deliver parts, 40% of them is from the UK. The trains come into service in 2019 & 2020. The £900 mln. deal is financed by Angel Trains and Commonwealth Bank of Australia.
Stadler Rail enters UK market with FLIRTs
In August 2016, Stadler Rail received its first major contract in the UK rolling stock market, awarded by Abellio. A contract worth £600 million to supply and maintain 58 FLIRT trains comprising 20 Class 745 Intercity electric trains and 38 Class 755 Regional Bi-mode regional trains. Rock Rail funds the rolling stock project comprising a total of 378 carriages. Stadler Rail will provide maintenance at Crown Point depot in Norwich.
Both Class 745 and Class 755 are Stadler FLIRT 160's. They have a maximum speed is of 160 km/h (=100 miles/h) and have Stadler's FLIRT 200 front end design. The same combination of front end design and type (FLIRT 160) has been ordered by BLS and SOB. The new trains will be built in Bussnang in Switzerland. Commissioning of the new FLIRT trains is planned for 2019.
Basic FLIRT trains technical data:
floor height (low floor): 0,96 m
total width: 2,72 m 
doors: 1x double door/car
Class 745 FLIRTs for Stansted Express and Londen-Norwich Intercity services
There are two types of the Class 745, both 236,60 m long 12-car Intercity trains. Class 745/0 (numbered 745001-745010) for the London-Norwich Intercity services. Class 745/1 (numbered 745101 – 745110) for the Stansted (Airport) Express. The intercity trains have 80 First Class seats in the first two carriages, 624 Standard Class seats and 53 tip-up seats. The Stansted Express trains has no First Class seats, 722 Standard Class seats, 45 tip-up seats and extra luggage space. All Class 745 FLIRTs have five toilets. The Class745 will replace the Class 90 locomotives and Mk3 carriages on the Londen-Norwich route and Class 379 trains on the Stansted (Airport) Express.
The axle arrangement for these trains is Bo'2'2'+2'2'2'+2'2'Bo'+Bo'2'2'+2'2'2'+2'2'Bo'. Which means three bogies per two carriages, the middle one being a Jacobs bogie. A full train has six sets of two carriages. The motor bogies, each with two powered axles, are under carriages 1, 6, 7 and 12. All others are trailer bogies. The electrical power at the wheel is 5200 kW.
Class 755 Bimodal FLIRTs runs under electric or diesel power
Greater Anglia ordered fourteen 3-car and 24 4-car trains. These 38 Regional bimodal trains can run under electric (AC 25kV) or on diesel power. The five bimodal Stadler FLIRT trains for Valle d'Aosta have a similar hybrid configuration. The maximum electrical power output at wheel for the 3-car and 4-car trains is 2.600 kW. As the 3-car trains are lighter, their acceleration is faster while under electric power. Under diesel power the 4-car trains are accelerating faster as they have twice as much power installed (1.920 kW) as the 3-car trains (960 kW). The diesel engines are installed in 6,69 m long separate power cars.
The 80,70 m long 4-car trains (and the power car in the middle) rests on six bogies. The outer most bogies are motorized, the other are trailer Jacobs bogies. The 4-car trains of Class 755/4 (numbered 755401-755424) have 202 Standard Class seats, 27 tip-up seats and two toilets. The 65,00 m long 3-car trains (and the power car) rests on five bogies. Like the 4-car trains the outer most bogies are motorized.The 3-car trains 755/4 (numbered 755301-755314) has 144 Standard Class seats, 23 tip-up seats and 2 toilets.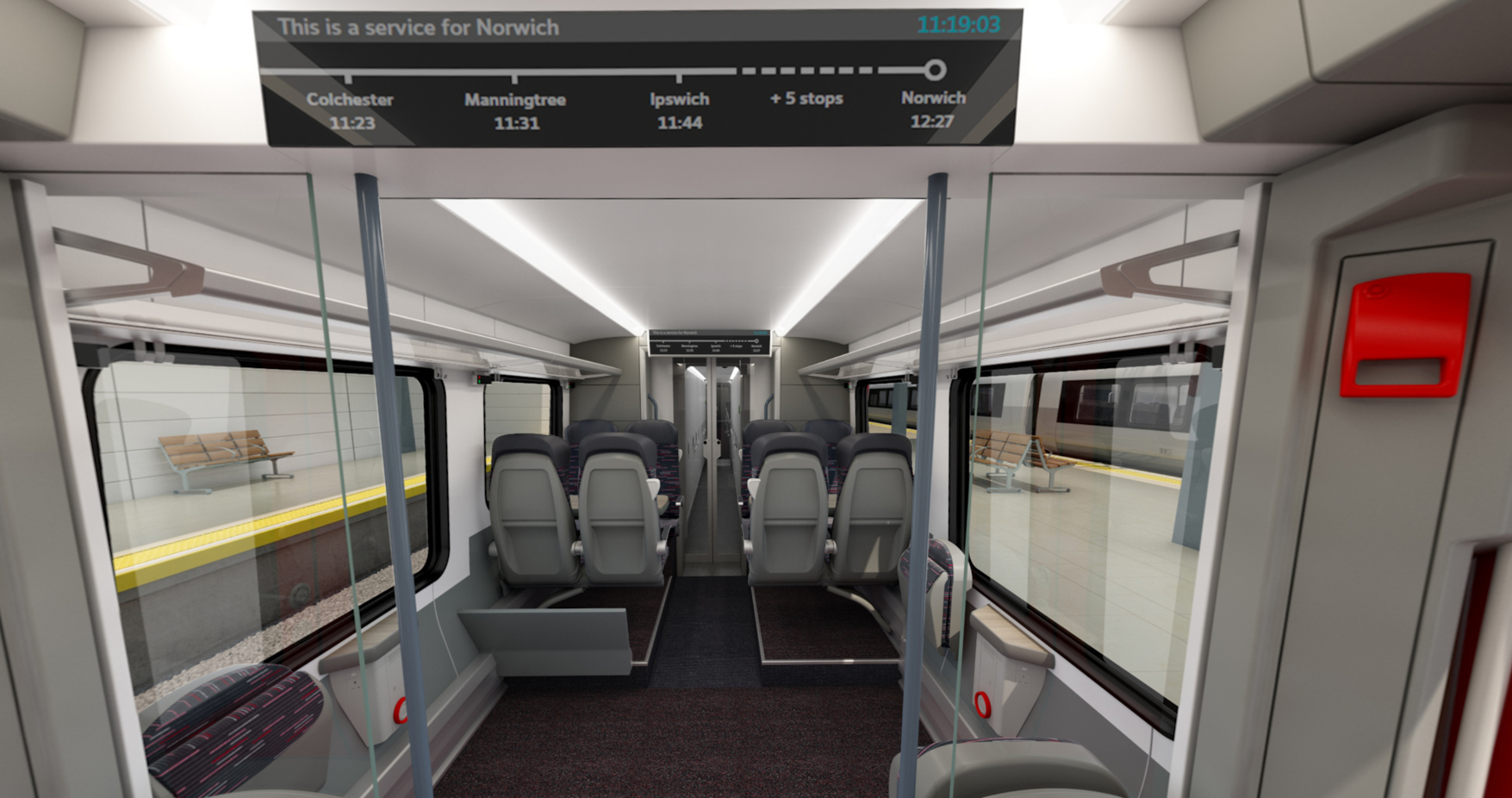 The trains will be equiped with:
air conditioning;
2+2 seating in Standard Class;
WiFi throughout the train;
wheelchair spaces;
plug sockets and USB ports;
passenger information systems with real-time information;
regenerative braking.
New Aventra and Flirt trains together at virtual Greater Anglia station
To show passengers what is coming, Greater Anglia is giving people across the network the chance to experience its brand new trains through virtual reality. With a headset people will be able to walk onto a station platform where all three new types of trains are parked. Once on board, people will be able to look around them to see the new seats, carpet, finishings, plug points, large picture windows and even visit the toilet(!). The station is online available, click the picture below to visit the website:
The Greater Anglia virtual reality experience runs on specific dates and locations until late December 2017. Seats for the new trains are available for testing also.
Come back to Railcolornews.com for the upcoming part 3 (West Midlands Trains) and see more Abellio trains.